If you're eyeing up the Undersun resistance bands, then the premium price tag may have given you second thoughts. But the question is are they worth the money? This is my hands-on review of the Undersun resistance bands (also known as pull-up bands and exercise bands!).
Overall, the Undersun bands are solid performers. Even though they cost more than their budget competitors, the Undersuns have superior weight increments and durability. This makes them worth the extra money, especially for those looking to build muscle and lose fat.
I've been using my Undersun bands for 2 years now.
And I've finally got myself round to reviewing them!
Yup, that's two years' worth of hands-on testing there!
Who's excited?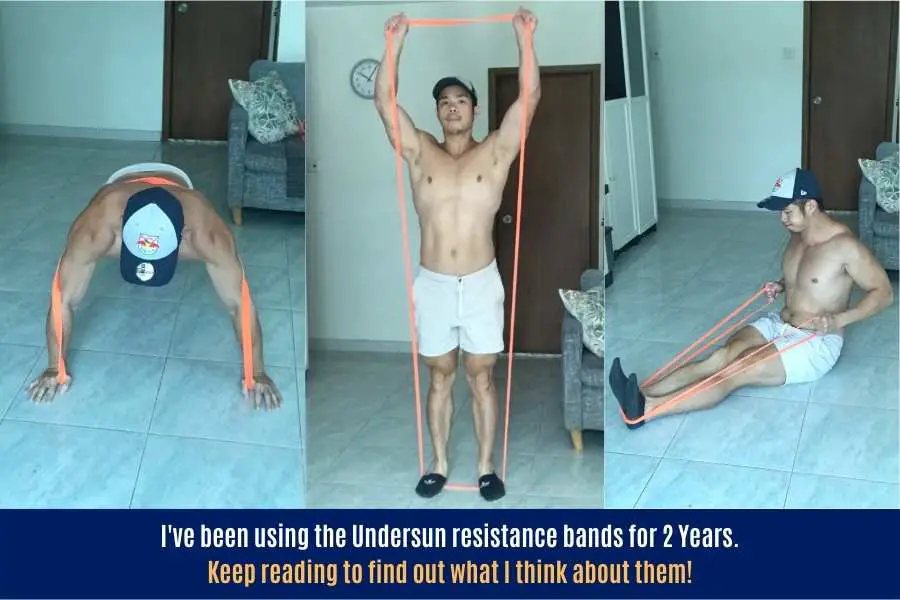 Why You Can Trust This Undersun Review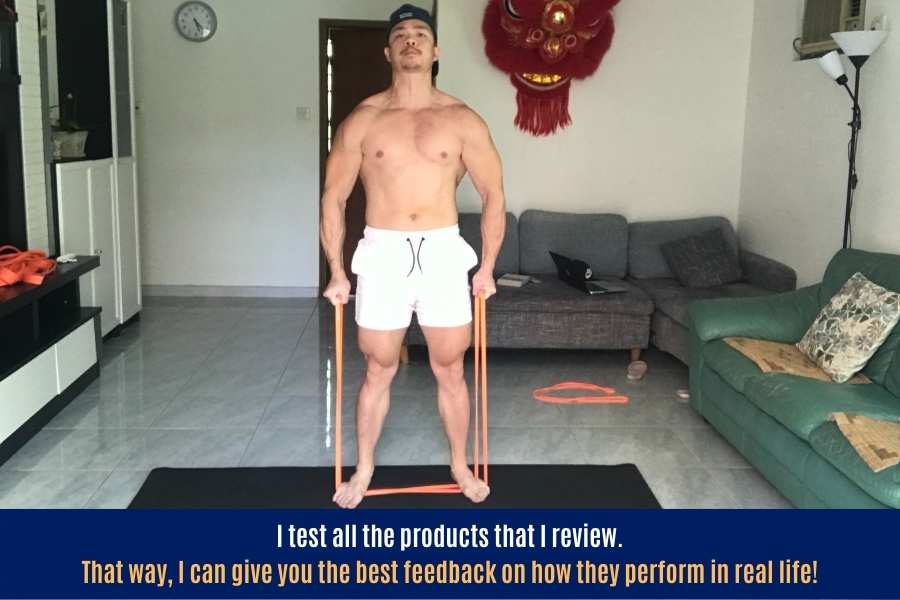 I've been on my muscle-building and fat-burning journey for 11 years now!
Resistance bands have featured heavily in my workouts for 5 of those years.
And in my 5 years of home band workouts, I've cycled through a variety of different brands.
I've tried cheap, midrange, and expensive brands.
Now, I may not be an expert on resistance bands; but I'm confident I know how to spot the difference between models that are good value and ones that are downright overpriced!
My reviews don't necessarily recommend the most expensive products.
Because in my opinion, money does not always buy quality.
Instead, I recommend products that I feel provide the best VALUE FOR MONEY; products that I would recommend to friends and family.
Most important of all I USE AND TEST the products I'm reviewing to give you a non-biased opinion!
In other words, I'm not just compiling Amazon reviews and product descriptions!
Undersun Band Vs Competitors Summary
Undersun Fitness Resistance Bands Key Points
The Undersun resistance bands are an effective training tool to build muscle, lose fat, and build a ripped physique. They are versatile and can be used to work the full body including muscles in the arms, shoulders, chest, back, abs, and legs.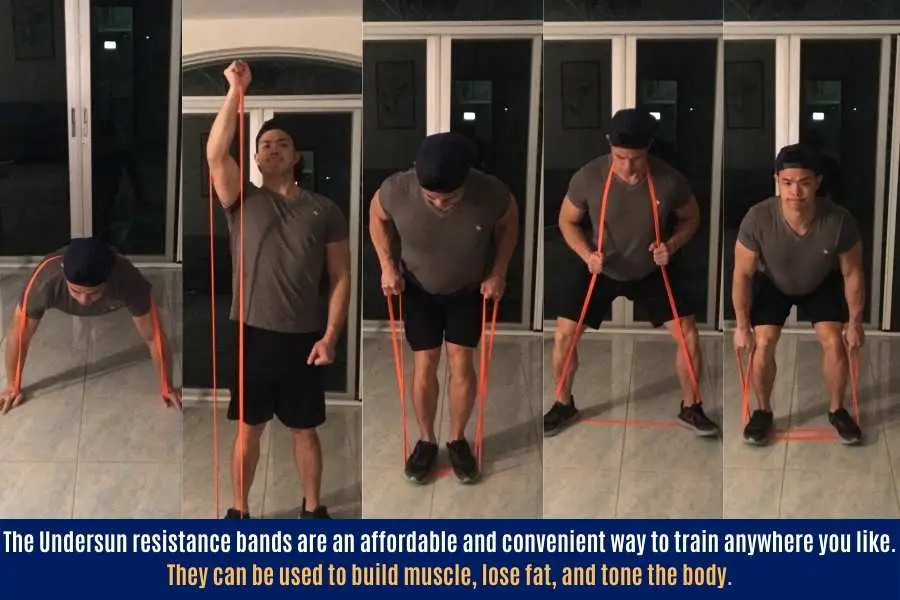 For the Girls and Boys who want the quick takeaways; here's a brief review of the Undersun resistance band key metrics:
---
To see examples of people building muscle and losing fat with bands, you can check out my other post which shares resistance band before and after transformations!
Undersun Resistance Band Specifications
Here are the key specs for the Undersun Fitness resistance bands:
Disclaimer:
Undersun Fitness claim their bands are "100% natural latex". I had no way to reliably test this. But I can say there's not a strong industrial chemical smell often associated with man-made latex. The rubber smell is pungent at first but not overpowering. It dissipated quickly.
They also claim their bands are "manufactured overseas" without explicitly stating the country. I presume this to be made in China. However, I have no proof of this. The concept was developed by American Founder, James Grage.
Undersun Resistance Bands Pros and Cons Summary
Here's an overview of what I like and dislike about the Undersun Fitness resistance bands:
If you are interested in the Undersun bands, you can find the cheapest price here!
Who Is James Grage?
James Grage is a bodybuilder, fitness instructor, and Founder of Undersun Fitness. His current work focuses on teaching people how to use resistance bands. James has also founded other companies in the Health and Fitness industry, such as BPI Sports.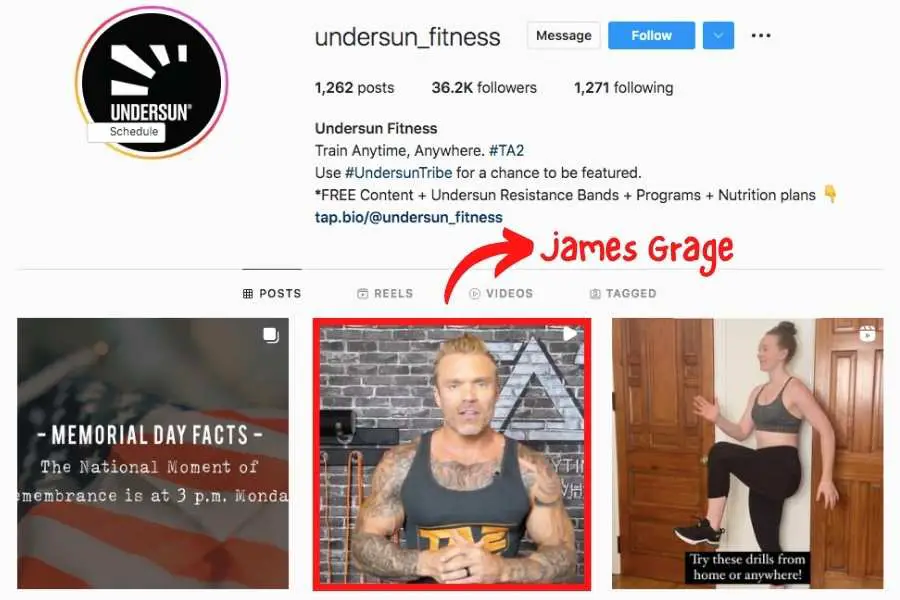 The bands that I'm reviewing- well, James Grage is the guy who makes them (or his company anyway!).
The guy knows his stuff.
He also has an Undersun Fitness Youtube channel dedicated to sharing free workouts for beginners and intermediates.
This is what drew me to his products in the first place.
His Youtube channel is a great place for finding workout inspiration as well as seeing his resistance bands in action.
James's other project, BPI Sports, is a reputable nutrition brand selling workout supplements.
Are The Undersun Bands Good And Are They Worth It?
The Undersun resistance bands are good. They are slightly more expensive than their competitors, but the premium is worth it. The majority of customer reviews are positive and they are also one of few brands on the market that offer a lifetime warranty.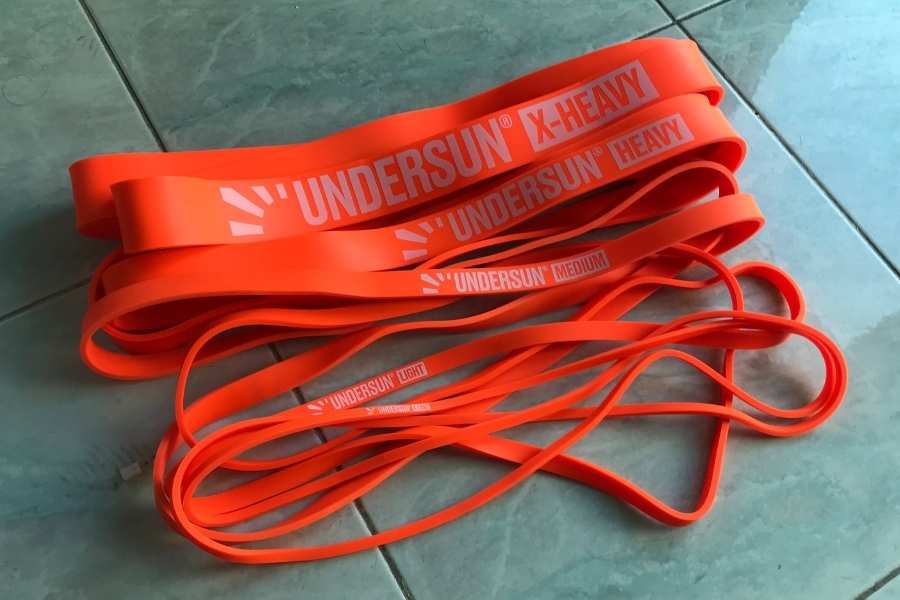 I've been using the Undersun resistance bands for 2 years now.
And honestly, I can't see myself going back to the cheap Amazon models ever again despite them being significantly cheaper (I explain why below).
Although the Undersun resistance bands are slightly pricier, they'll last you much longer.
I'd spend that extra 30 or so bucks for a high-quality set of bands any day!
But don't just take my word for it.
Other customers from Amazon and Reddit also agree that the Undersun resistance bands are good.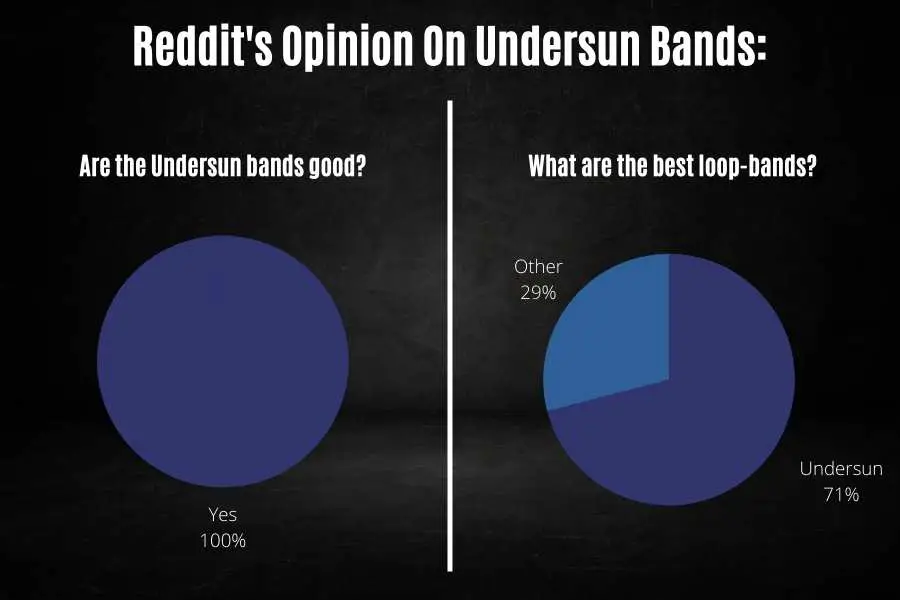 Reddit reviews for the Undersun resistance bands:
I took to Reddit to find out what other customers think of the Undersun resistance bands.
First, I tracked down the following threads:
Here, 100% of customers gave the Undersun resistance bands a positive comment.
Not a single respondent had anything negative to say about these bands!
That's not bad considering Redditors are typically much more critical compared to the average reviewer.
Secondly, I tracked down another thread:
Here, 71% of customers agreed they are some of the best (if not THE best) resistance bands out there.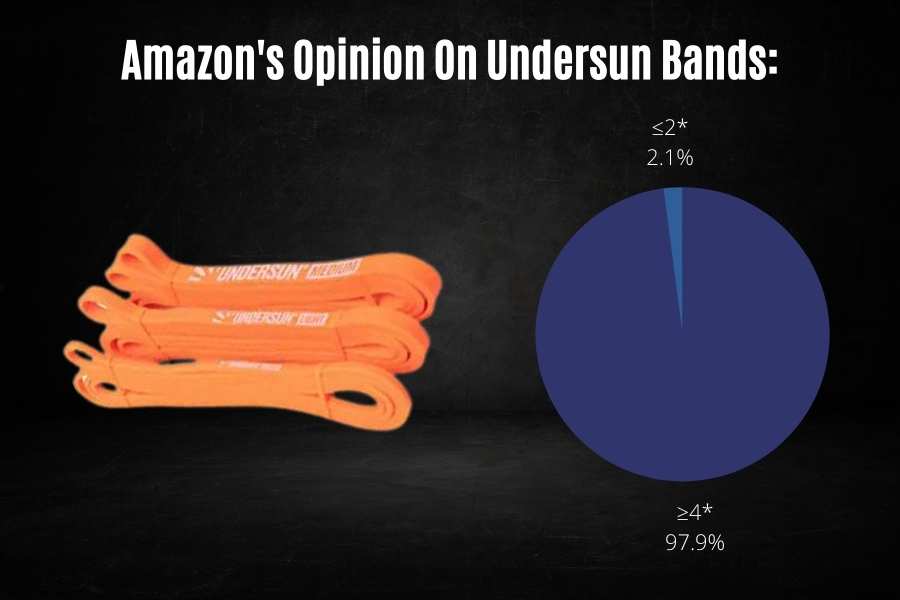 Amazon reviews for the Undersun resistance bands:
Next, I conducted a similar customer review survey for the Undersun resistance bands on Amazon.
Here's what I found:
95% of reviews were 4-stars or above.
Only 2% of reviews were 2-stars or below.
From the positive reviews, the most common remarks were that the bands are worth the money, are convenient for working out anywhere, have high-quality materials, and provide great customer service.
"The best [resistance band] on the market. Long-time free weight enthusiast converted!"

Barbara, Amazon
From the negative reviews, the most common remarks were that the bands came without the travel bag or door anchor, or that they snapped during use.
"Amazing bands but no bag and a diferent door anchor [than the one advertised]"

Victor, Amazon
Despite some sporadic bad reviews (normal for any product), the significant majority of customers still agree that the Undersun resistance bands (you can find the cheapest price here) are well worth the money and are a good product!
Next, I'll share my own opinions on different aspects of the bands and where I think they are great and not-so-great.
1) Value For Money Review For The Undersun Resistance Bands
Overall, the Undersun resistance bands provide great value for money. They are slightly more expensive than their rivals. But they are made from high-quality natural latex, come bundled with a door anchor and travel bag, and are protected by a lifetime warranty.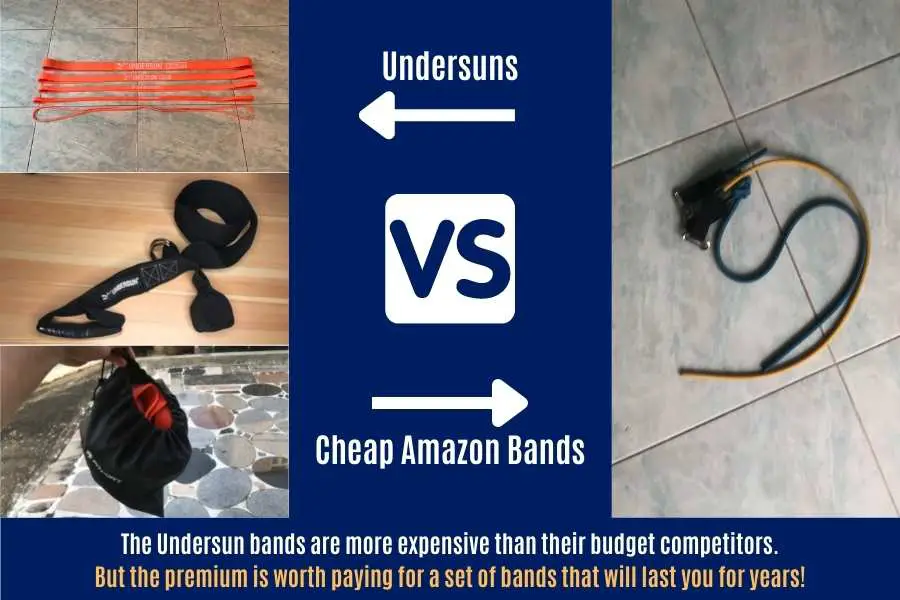 Ok here comes the elephant in the room:
The Undersun bands cost ~$30 more than their budget competitors (you know those rainbow-colored tube bands with handles).
So are they worth the extra price?
I think so.
I know it's tempting to make a snap decision to choose the budget brands based on price alone (I fell for the same mistake).
But having owned both, I can 100% say with certainty that the extra 30 bucks are worth it for the Undersun bands which are much more durable and come with a lifetime guarantee.
It's not just the bands themselves that are made with better-quality materials.
The bundled door anchor is also made from much thicker fabric and comes with a protective neoprene sleeve that prevents the anchor from sawing into your bands (which can cause them to snap).
2) Aesthetics Review For The Undersun Resistance Bands
The Undersun resistance bands have a smooth matte look. They are only available in two color variations- a bright neon orange or a dark camo-green. Each band features a company branding logo as well as a weight classification label.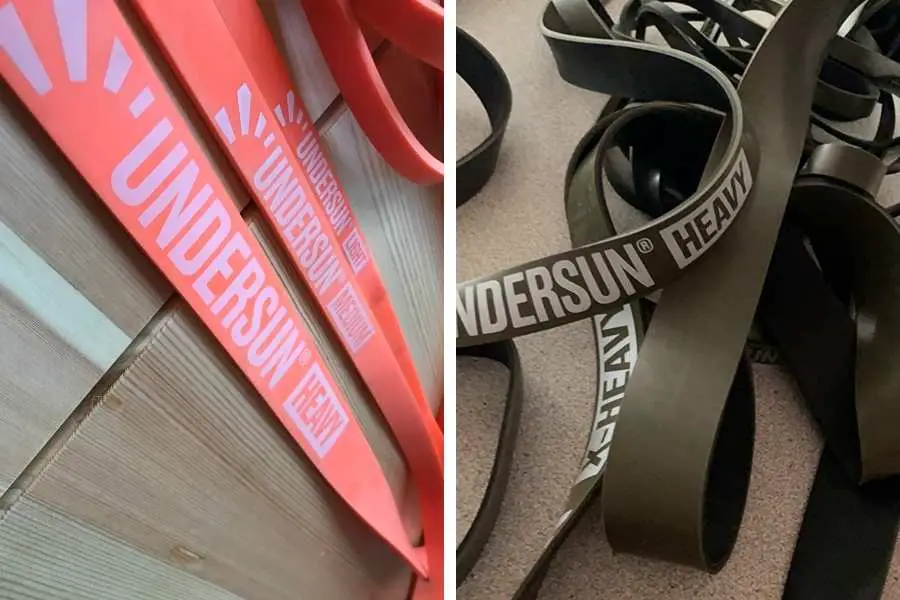 Opinions on aesthetics are subjective so I'll keep this short.
I'm not a fan of the obnoxious punch-me-in-the-face neon orange. But it was the only option at the time of ordering.
Undersun has since released a camo-green variant which I much prefer the look of.
A lack of color choice may or may not affect your buying decision.
But I can assure you that the underlying quality is there unlike their colored tube band rivals.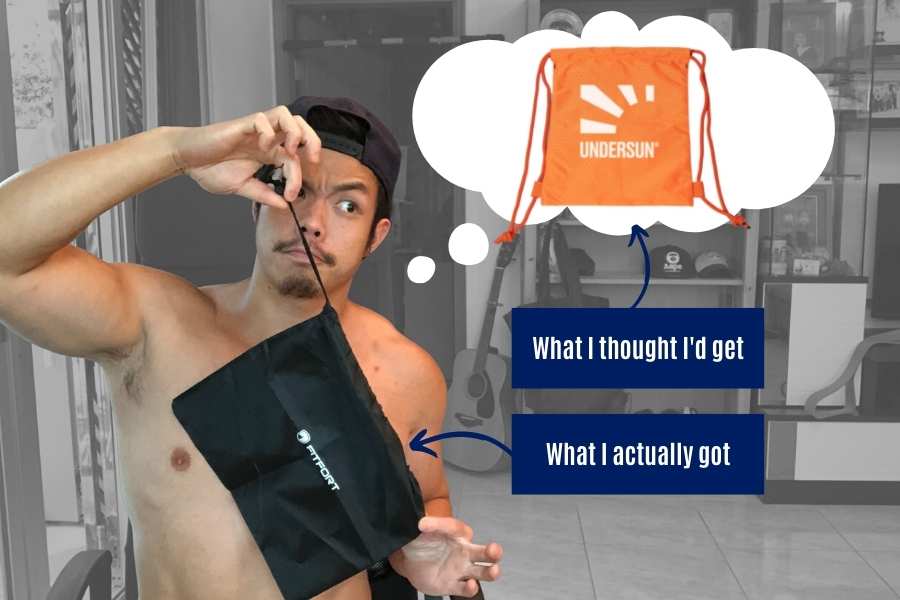 One thing to note, however, is that the travel bag was not the one advertised by Undersun.
Instead of their branded drawstring training bag, I received what looks to be a generic pouch.
This was quite annoying.
And it would have been even more agitating had it not been for the high-quality bands making up for it.
3) Ease Of Use Review For The Undersun Resistance Bands
The Undersun resistance bands are beginner-friendly. They are used just like any other type of resistance band. One end is anchored to the body or a secure mount. The other end can be pulled or pushed on to work a target muscle.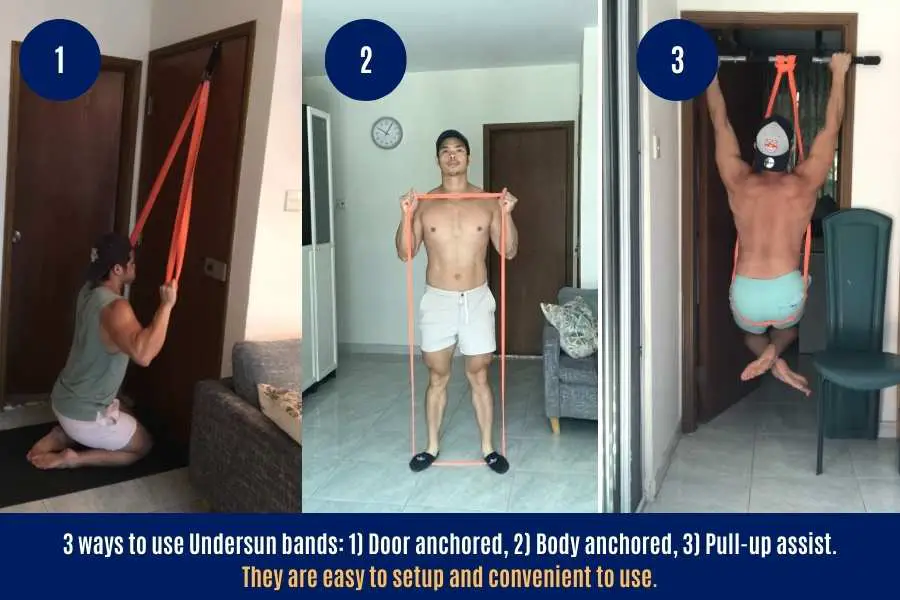 When they are used properly, resistance bands are highly effective and easy to use.
And it's no different with the Undersun resistance bands which can be used in three ways:
Body-anchoring. Loop one end of the band around the leg or torso.
Door-anchoring. Loop one end of the band around the bundled door anchor.
Pull-up assist. Loop one end around the pull-up bar for banded pull-ups.
This allows you to grab onto the trailing end for your exercises (you can go to my other post for my favorite beginner exercises with bands).
Both methods are easy to use.
The Undersun anchor can look odd for someone who's never used a door anchor before. But it's fairly easy to figure out (see the end of this post for a rundown).
It works just like any other resistance band anchor.
You simply slot the tail through the gap in your door and pull on it to lock it in place.
When used correctly, it's a safe and effective way to add different angles to your exercises (e.g. incline press).
If you're interested, you can find the cheapest Undersun price here (with bundled door anchor)!
4) Comfort Review For The Undersun Resistance Bands
The Undersun resistance bands are generally comfortable to use. They can feel stiff and rigged out of the box. But after 10-20 hours of use, the natural latex rubber is soft, supple, and highly durable at the same time. However, these bands do not feature handles.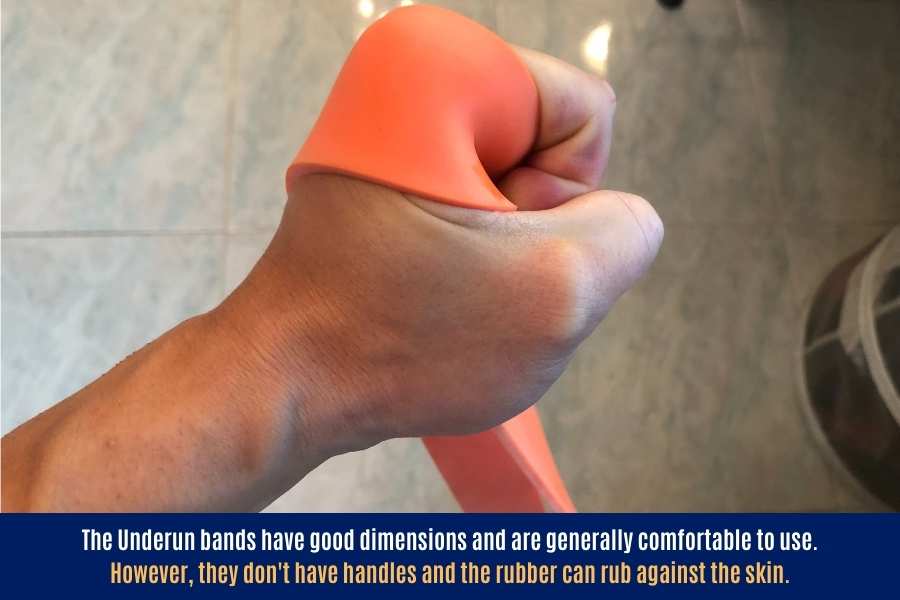 The Undersuns are loop bands (in case you didn't know).
This means there are no handles for you to grab onto.
If you're a beginner with delicate hands, then you may want to protect them from friction burn by considering buying gloves separately.
Workout gloves don't have to be expensive ones.
Cheap ones like these Ihuans act as a barrier between your hands and the rubber.
For anyone who is used to handling barbells, dumbbells, and other gym equipment, you probably won't need gloves!
However, I found that gloves CAN help you to lift heavier weights on exercises like the deadlift where the band is held under high tension.
---
New to band training? You can read my other article to find out why it may not be OK to use resistance bands every day!
5) Exercise Review For The Undersun Resistance Bands
The Undersun resistance bands are suitable for all exercises. They can be used to replicate all free-weight movements. Popular exercises that can be performed with these bands include squats, pressing, back rows, deadlifts, lunges, curls, and pull-up assists.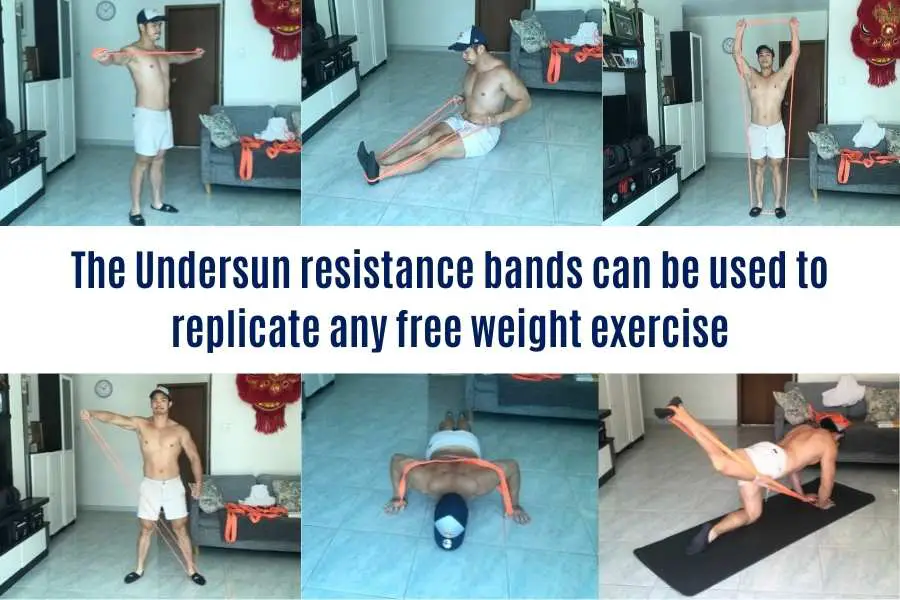 The Undersun bands can be used for any exercise out there.
Simply Google/Youtube search "[name of exercise] + resistance band" and you should find it.
These bands have a good resting length which is comfortable for all the exercises I've tested, including:
Squats.
Deadlifts.
Lunges.
Bench press and banded push-up.
Back row.
Ab crunch.
Bicep curl.
Tricep extension.
Lateral raise.
They can also be double-looped onto themselves to make them shorter and increase resistance where necessary.
It doesn't matter if you are squatting or doing bicep curls, these bands work well for hitting all muscle groups.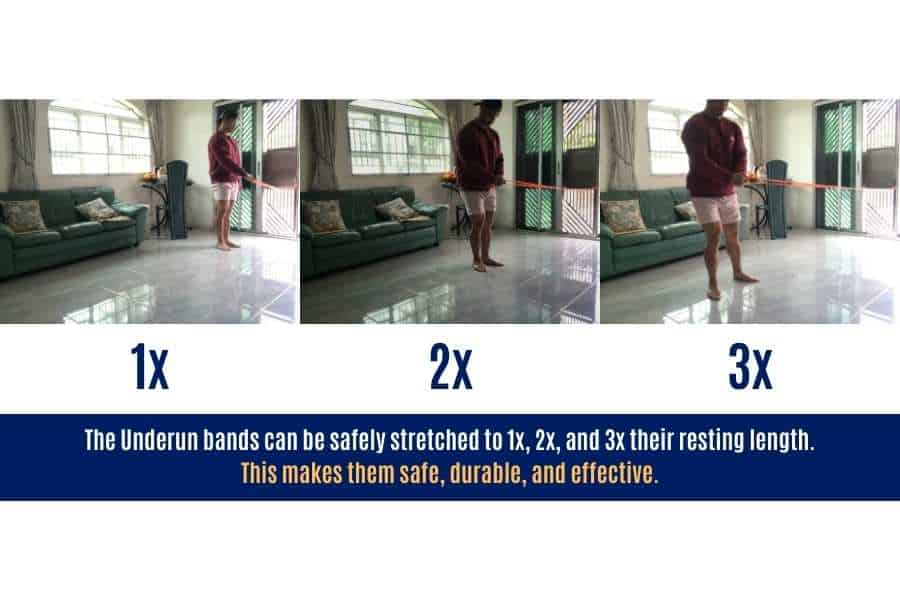 They also have a high elongation factor which means they can be safely stretched to 3x their resting length without snapping.
This is excellent for applications like pull-up assistance where a band typically undergoes higher stretch.
If you're interested, you can find the cheapest Undersun price here!
6) Weight Review For The Undersun Resistance Bands
The Undersun resistance bands come in 5 weight increments. These increments are extra light, light, medium, heavy, and extra-heavy. Combined, these tension levels are suitable for beginners and advanced lifters alike.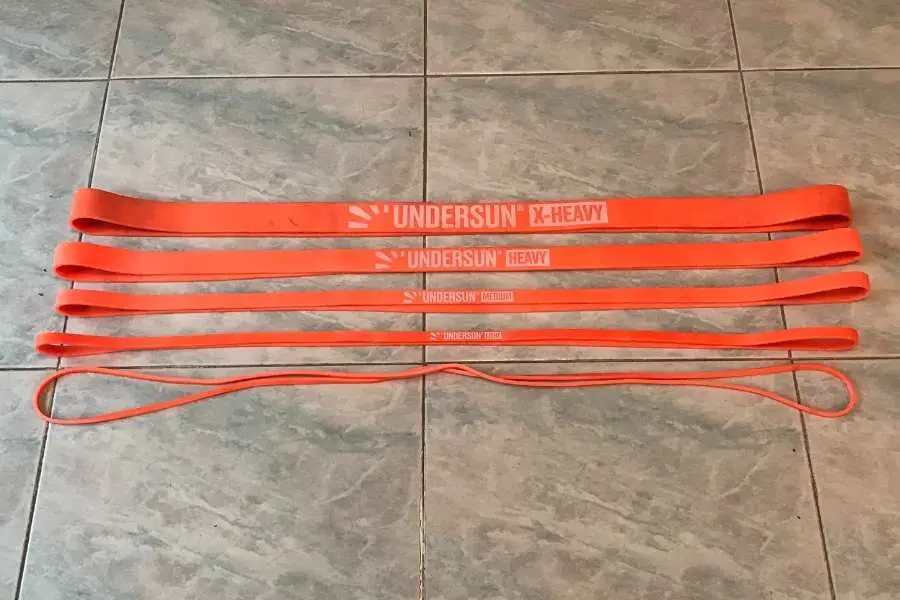 Each band is responsible for a range of weights (which varies depending on how far they're stretched).
As a beginner, you can simply progress through each band tier until you reach the extra-heavy band for a particular exercise
As an advanced lifter, you can stack and combine bands to form new weights.
Therefore the Undersuns are very versatile bands suitable for all training levels.
This is unlike the cheap tube bands which don't provide much weight and snap when pushed to their physical limits.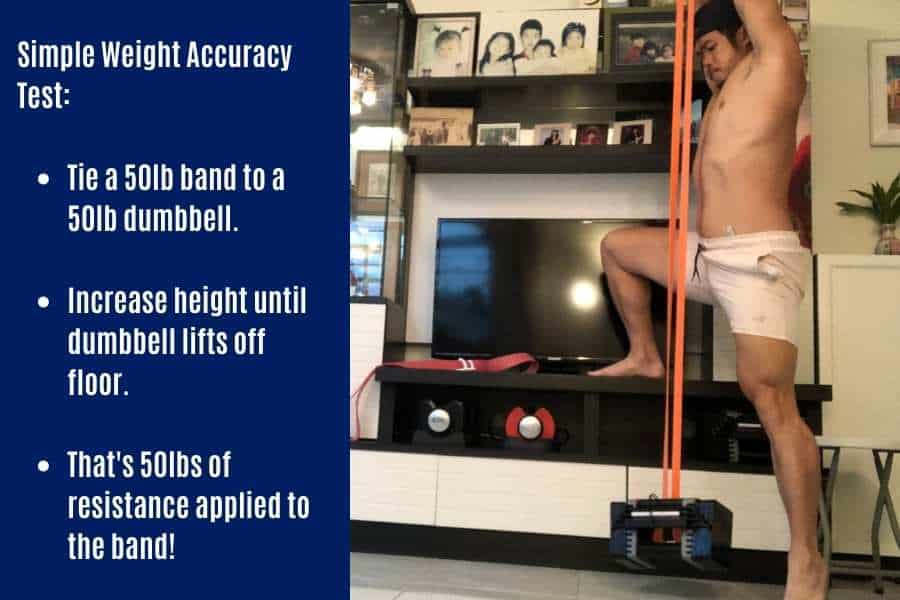 I also conducted a simple test to find out if the advertised tension levels are accurate.
This was done by tying one end of each band to a dumbbell which was set to the weight advertised for that band.
If, for example, a 50lb band was able to lift a 50lb dumbbell off the floor, then to me that indicates a degree of accuracy in the band's advertised weight!
You'll be glad to know that the weights advertised by Undersun are fairly accurate!
One thing I don't like about the Undersun bands though is the large weight increment between the heavy and extra-heavy bands.
It makes it hard to progress from one band to the next.
However, the issue can be solved by combining the extra-light, light, and medium bands. This forms a weight that sits in between the heavy and extra-heavy band.
---
If you don't know what the weight classifications mean on resistance bands, you can check out my other post which explains the difference between light medium and heavy resistance bands!
7) Durability Review For The Undersun Resistance Bands
The Undersun resistance bands are relatively durable. They can last for years of regular use which is longer than the average resistance band lifespan. However, the light bands are not as durable as the heavier bands in the set.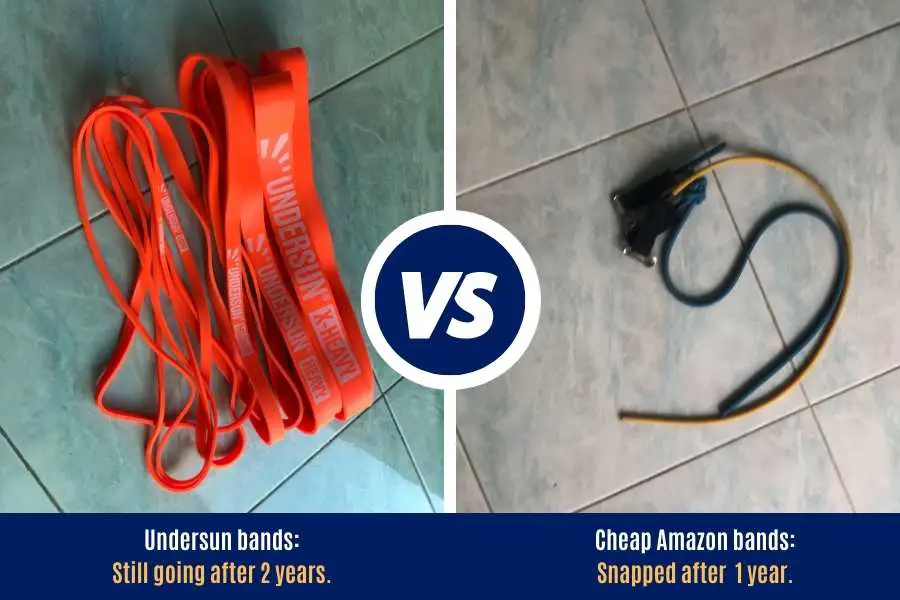 I've owned all types of bands in the past.
Overall, I'd say the average set of regular resistance bands lasts around 1 year of intense use (5 muscle-building workouts per week) before snapping.
But my Undersun bands have lasted me 2 years now and most show no signs of wear and tear.
They have slight discoloration in areas where they've been repeatedly stretched.
But speaking from experience, this is normal will all resistance bands.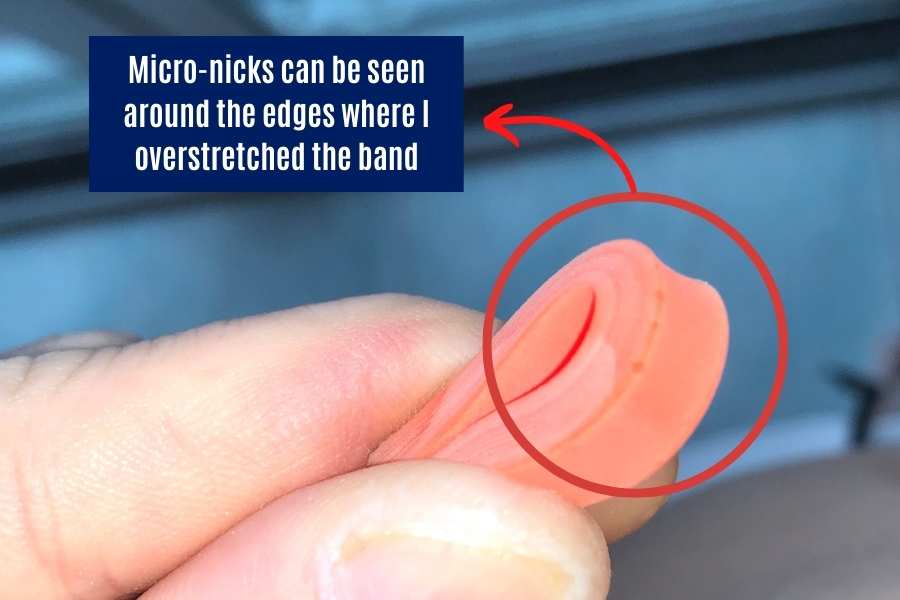 Worth mentioning is that the extra-light and light bands have developed micro-nicks that will undoubtedly form a tear and eventually snap.
But thankfully they have been registered on the Undersun website and thus have a lifetime guarantee!
I'll be honest though…
I did abuse the light bands by overstretching them (it's so tempting to overstretch the light bands so be careful).
If you're sensible they should last you longer than they lasted me!
You can find the cheapest Undersun price here!
8) Warranty And Lifespan Review For The Undersun Resistance Bands
Undersun provides a unique lifetime warranty for their resistance bands. This is something that no other competitor offers. However, it is important to register the bands upon purchase to activate the lifetime guarantee.
As I mentioned before, it's normal for resistance bands to break after just a year of solid use.
That's just an unfortunate tradeoff for the cheap initial price compared to dumbbells.
But the great thing about Undersun is that they give you a lifetime warranty!
To the best of my knowledge, Undersun is the only company that stands by its product like this.
And that's a major positive for these resistance bands.
I've not had to use their customer support yet (which I'll take as a good sign).
From what I've read they are fast and efficient.
9) Shipping Review For The Undersun Resistance Bands
Undersun resistance bands ship in 4-7 days. They also ship internationally, but this can take up to 30 days depending on the destination location.
Nothing spectacular here.
But nothing damming either.
Undersun shipping is pretty average.
It took Amazon just over 1 week to ship to my home address in Hong Kong.
I found this pleasantly surprising seeing as international delivery here usually takes around 2-3 weeks!
Based on my experience, I assume US residents will get their bands delivered within the week!
You can find the cheapest Undersun price here!
Undersun Resistance Band Competitor Comparison
Undersun is by no means the only resistance band company out there.
It has a host of reputable competitors.
Here's how the Undersun resistance bands compare with their branded competitors and cheaper models.
Comparisons are based on personal experience or research (as stated).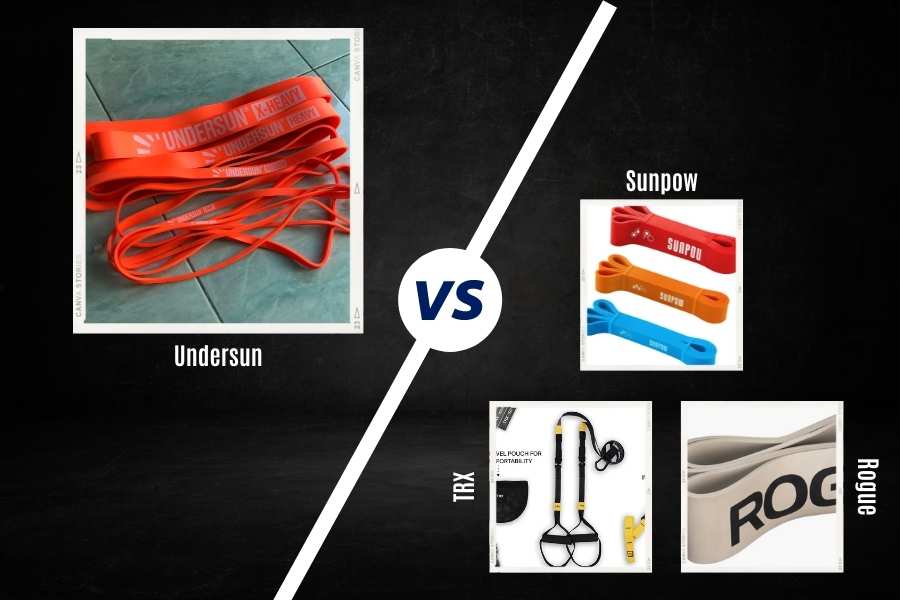 Undersun Vs Bodylastics Bands
I've owned both and there is no comparison in my opinion.
I much prefer the Undersun resistance bands.
The Bodylastics bands may be cheaper, but they also snapped on me within the year.
I'd rather spend the extra 30 or so bucks on something that will last me for years!
I also prefer bands without handles, since I feel these to be a gimmick.
Most of the handles look awesome but are usually made of bad quality materials and are not very practical.
Undersun Vs Sunpow Bands
I've not owned these.
But judging by the reviews, they have a similar problem as the Bodylastics bands.
Whilst they're cheaper than the Undersuns, they also have a greater tendency to snap.
This conclusion was based on a quick review study on Amazon.
I found 0.1% of Undersun bands reviews mentioning snapped bands vs 0.4% of Bodylastic reviews mentioning the same.
Undersun vs Rogue Bands
I've not owned the Rogue bands.
The comparisons on Amazon seem pretty mixed- some prefer Rogue whilst others prefer Undersun.
"The best part is that the [Undersun] feels even better than the Rogue ones."

Eric, Amazon
"I have several other bands from Rogue and the X3 system and you can feel a difference, [the Undersuns] stretch and lose tension"

Amazon customer.
Rogue is a very reputable brand.
If I had to hazard a guess, I would say they make better quality bands than Undersun.
But they're also a lot more expensive.
Undersun vs TRX Bands
This is not a fair comparison in my opinion since they are completely different training tools.
Undersun is a resistance band whilst TRX is a bodyweight suspension trainer.
Nevertheless, it's a popular question so I'll do my best to answer.
Price-wise the bands are cheaper than the TRX set.
Additionally, the TRX set requires a sturdier mount (a drilled wall mount is recommended for best results) which makes it slightly less convenient for beginners.
However, many beginners usually find the TRX system easier to use.
But overall, I think the resistance bands take the edge, so my vote goes to the Undersuns.
If you are interested in the Undersuns, you can find the cheapest price here!
How Is The Undersun Door Anchor?
The Undersun door anchor is used like any other resistance band anchor. The tail-end is inserted through the door gap and a knob prevents it from slipping out. The band can then be slipped through a loop on the opposite side.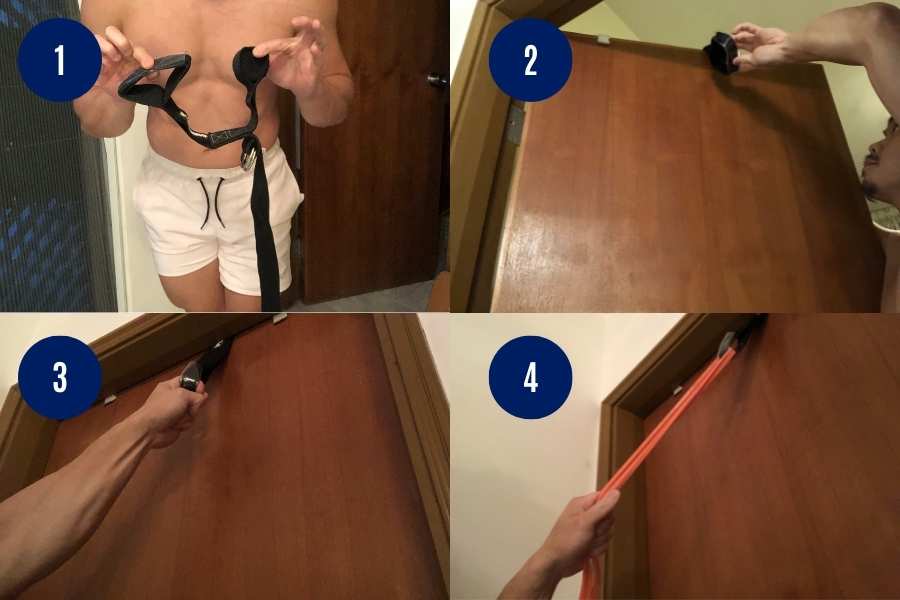 The anchor itself is a good quality anchor.
You can feel the difference when comparing the Undersun anchor and a cheap competitor anchor side-by-side.
The undersun feels heavier and the fabric is thicker.
It doesn't feel like it will rip when pulled with too much force.
What I like most about the Undersun door anchor is the transparent vinyl sleeve on the loop-end where you insert your band.
This simple addition protects your resistance band from the rough fabric and stops your band from being damaged as you pull on it.
How Is The Undersun Fitness TA2 App?
Undersun has a TA2 fitness app designed to be used with their resistance bands. The workouts are based on building muscle and losing fat. It is ideal for beginners who do not know how to structure a workout program with their resistance bands.
I've not bought a subscription to the app and it seems to get mixed reviews.
A lot of people enjoy his workouts, but then there are also comments that the app is buggy and slow.
I wouldn't personally pay for a workout app like this. Mainly because I know enough to structure my own workout and nutrition program.
But for a beginner, I can understand the draw for an app like this.
It has toiler-made workouts for all training levels and different training goals (mainly muscle-building and fat-loss).
With that said, James Grage's Undersun Fitness Youtube channel already has a lot of free and good content.
So if you're trying to stick to a budget, it may be worth checking that out first!
Cleaning And Maintenance Tips
Undersun resistance bands can be cleaned with warm water from the tap. It is not recommended to use soap, cleaning chemicals, acids, or alkalis on rubber products. These can damage the integrity of a resistance band and make it more likely to develop tears.
Undersun recommends using warm soapy water and allowing your resistance bands to air dry.
I don't feel the need to add soap.
Warm tap water works fine.
I recommend cleaning your bands whenever they start to feel sticky or emit an odor.
This usually happens after 3-6 months of intense use.
The Undersun Bands Are Ideal For:
Beginners looking to build muscle and strength, advanced lifters interested in maintaining muscle size and strength, and everyone in between!
People looking for a convenient way to increase the intensity of bodyweight exercises in fat-burning and cardio workouts.
Those who want to work out at home without having to spend lots of money on dumbbells.
Post-injury rehabilitation training. One major benefit of using resistance bands is they are easy on the joints.
Beginners who want a safe and cost-effective way to train.
People who travel a lot. Bands are the most portable and convenient way to train!
Interested In Buying The Undersun Bands?
If you are interested in the Undersun bands, I found the cheapest price to be on Amazon here.
You can also get them direct from the Undersun website.
I found the price difference to be negligible at the time of ordering.
And I could enjoy the fast delivery benefits of using Amazon!
Conclusion
I've shared with you my hands-on review of the Undersun resistance bands.
These aren't the cheapest resistance bands on the market. And they don't offer a great selection of colors.
But they are a solid performer offering enough weight for beginners and advanced lifters alike to build muscle and lose fat.
You can replicate 99% of free weight exercises using these resistance bands.
And despite their premium price tag, I still feel the Undersuns are well worth the money.
They are generally much better than the cheap Amazon tube-style bands with handles (which tend to snap after around the 1-year mark).
Having owned both, I would spend the extra 30 bucks for the Undersun set any day.
For not much extra cost, you get the Unersun lifetime warranty and superior durability.
What do you think about the Undersun bands?
Feel free to send me a message if you have any questions! You can find my details on the "contact us" page.
You may also be interested in the downloadable Kalibre Blueprint PDF which details exactly how I gained 40lbs of lean muscle (it's 100% free!). It details the exact exercises and nutrition (with printable worksheets) I used to go from skinny to ripped!
Thanks for reading guys!
Peace Out,
Kal
(Biochemistry BSc, Biomedical Sciences MSc, Ex-Skinny Guy)