If you're in the market looking to snag yourself a pair of PowerBlocks, it's worth doing some cost research to avoid being ripped off. Luckily for you, I've already done it!
PowerBlock prices start at $359 for a pair and can rise to over $2000. Additionally, PowerBlock dumbbells can cost between $7 to $20 per pound of weight, depending on the model. The Elite EXP are the cheapest PowerBlocks whilst the commercial Pros are the most expensive.
Keep reading to find out exactly how much you should be paying for these dumbbells!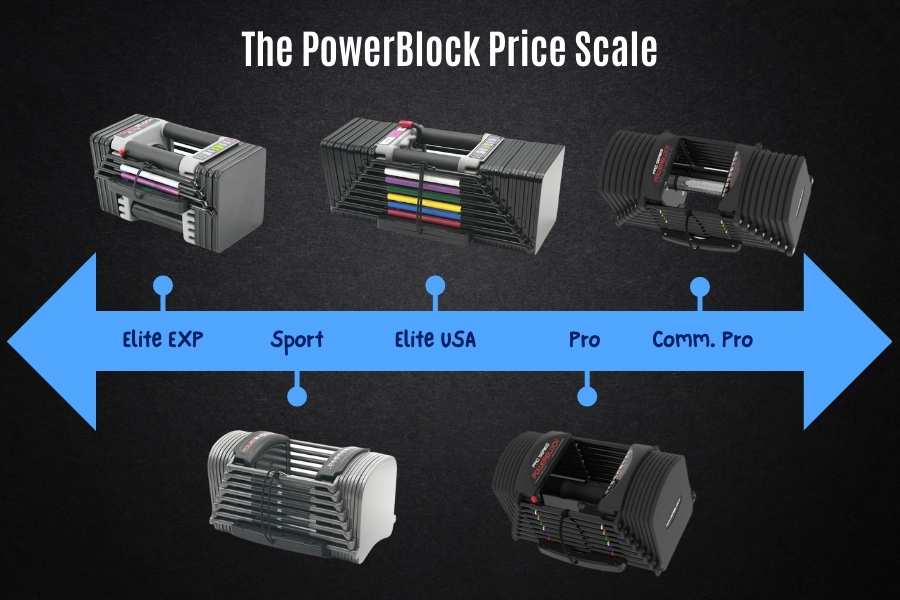 How Much PowerBlocks Cost In 2022/23
Below, you'll find a PowerBlock price comparison chart for all of their models currently available:
Prices are accurate at the time of writing but may fluctuate based on seller retailer discretion.
How I obtained these PowerBlock prices:
I found cost data for the PowerBlocks by going directly on their website, as well as using Amazon where possible.
The prices are as accurate as possible.
But you should know that recommended retail price (RRP) can fluctuate depending on seasonality, supply, and demand.
How I calculated the cost per pound of PowerBlocks:
This was done using the formula [average RRP cost] / [PowerBlock model max weight].
The resulting number gives you an indication of how much PowerBlocks cost, relative to how much weight you're actually getting.
This standardized price gives you a more reliable indicator for the value for money of each PowerBlock dumbbell.
You should note, however, that cost per pound does not factor in the number of weight settings and increments in each PowerBlock.
One PowerBlock may have a higher cost per lb but also have more weight settings compared to another. Therefore this dumbbell would actually be considered to give you more value for money (not less).
Thus, the cost per lb metric should be used with a pinch of salt.
---
Confused about all the different PowerBlock models? You can check out my other post to learn more about the differences between PowerBlocks and which one you should get!
How Much Are PowerBlock Dumbbell Expansion Kits?
PowerBlock expansion kits can cost anywhere between $179-199 per addon. Generally speaking, the more expensive the PowerBlock model, the more expensive the addon kit. There is no price difference between the stage 2 and stage 3 kits and they remain identical within each model.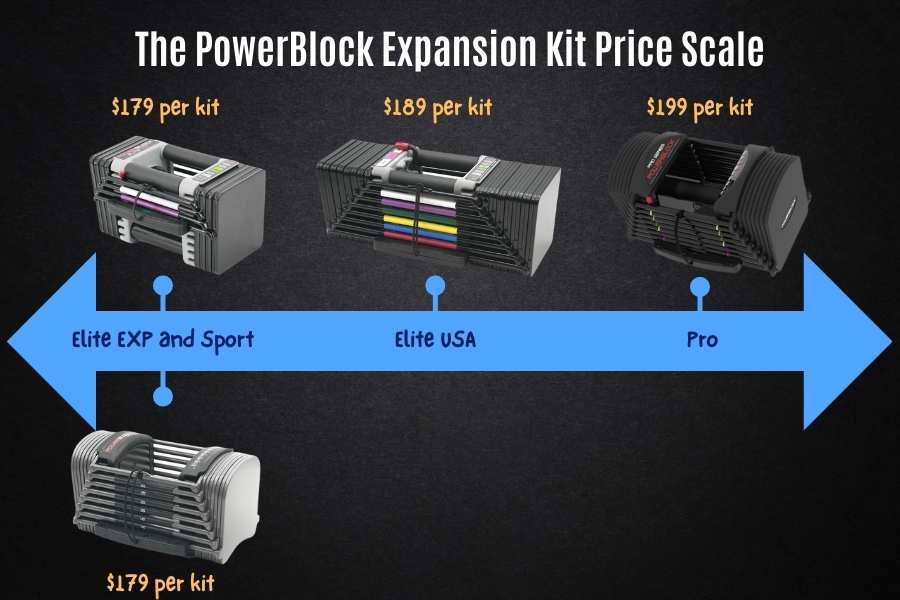 This also means that the heavier PowerBlocks are generally more expensive than the lighter models (as expected).
One more thing you should note is that you can't upgrade a PowerBlock to stage 3 without having stage 2 already installed.
In other words, you can't pay $588 for a PowerBlock Sport EXP with the 90lb stage 3 addon kit just because you don't feel like you need the 70lb stage 2 kit.
Instead, you have to pay for both.
---
You can check out my other article to learn more about how heavy PowerBlocks go and which are expandable.
Cost Per Pound Of Weight For PowerBlocks
PowerBlock dumbbells cost between $7.18 to $18.98 per pound of weight. The exact cost per lb depends on the specific model. Dumbbells from the Elite EXP series are the cheapest whilst those from the commercial Pro series are the most expensive.
Here are the PowerBlock dumbbells ranked from the cheapest to the most expensive:
Elite EXP series– $7.61 average cost per lb.
Sport series– $8.27 average cost per lb.
Elite USA series– $8.64 average cost per lb.
Pro series– $10.19 average cost per lb.
Commerical Pro series– $14.87 average cost per lb.
It's interesting to note that a PowerBlock's cost per lb does not always follow a trend.
Whilst it's true that the heavier PowerBlocks usually have a higher cost per lb, this is not always the case.
For example, the PowerBlock Pro 50 costs less per lb than the PowerBlock Pro 32.
This is probably due to the price fluctuations set out by PowerBlock themselves.
So if you're looking for the most accurate numbers, you should refer to the table at the start of this post.
---
The Elite EXP dumbbells are by far the most cost-effective PowerBlocks. If you're interested you can check out my hands-on Elite EXP review here, where I analyze how comfortable they are to use!
How Much Do PowerBlocks Cost To Ship
PowerBlock dumbbells are usually free to ship in the US. This includes purchases from the PowerBlock website direct, Amazon, and other authorized retailers. However, shipping charges may be incurred for delivery to destinations outside of the United States. This can be up to $200 for some countries.
Take a look at the table below for a better idea of how it costs to deliver a PowerBlock dumbbell:
| Sales Platform | Destination | Estimated Delivery Time | Estimated Delivery Cost |
| --- | --- | --- | --- |
| PowerBlock website | USA | 3 to 4 weeks | Free |
| PowerBlock website | Europe and Canada | N/A | N/A |
| PowerBlock website | Asia and Australia | N/A | N/A |
| Amazon | USA | 1 to 2 weeks | Free |
| Amazon | Europe and Canada | 2 to 4 weeks | $200 |
| Amazon | Asia and Australia | 2 to 4 weeks | $150 |
| Local dealer | USA | Up to 1 week | Free |
| Local dealer | Europe and Canada | Up to 1 week | Free |
| Local dealer | Asia and Australia | Up to 1 week | Free |
You can see that PowerBlock does not charge for delivery.
However, they do not ship international (US-only).
So if you live in Europe, Canada, Asia, or Australia, your best option is to either go with Amazon (and pay for the delivery) or find a local dealer.
Local dealers should ship the PowerBlocks to you at no extra cost.
Just be sure that the dealer is authorized by PowerBlock to avoid running into issues with the warranty in the future.
---
For more delivery details, you can check out my other post which explains where PowerBlock dumbbells are made.
Why Are PowerBlocks So Expensive?
PowerBlocks are expensive because they use unique and patented technologies. This includes features in their design and weight adjustment mechanism which are generally regarded to be industry-leading. They are very high-quality dumbbells that offer great value relative to what they provide.
If you take a step back and look at the broader market, you'll begin to realize that PowerBlocks aren't actually that expensive.
A few things make me say this.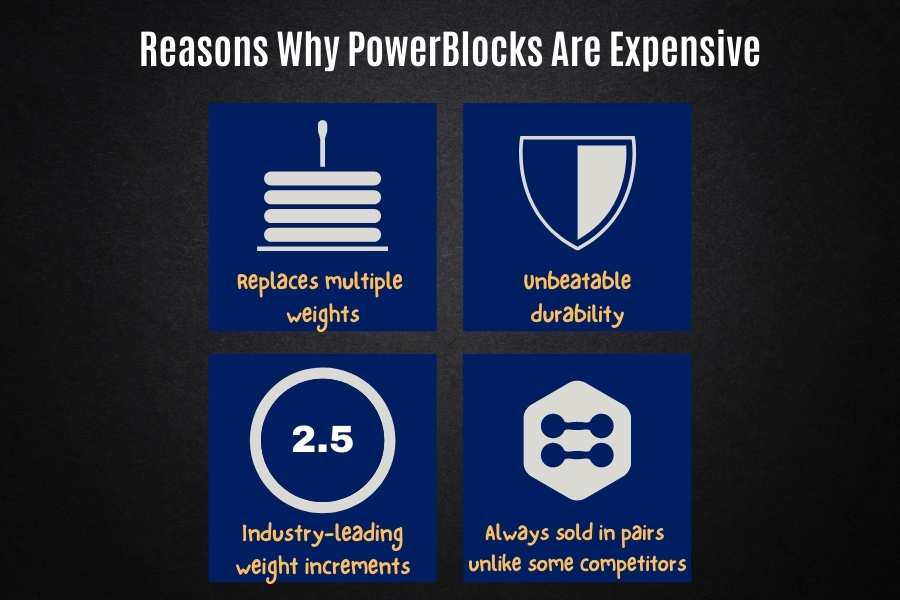 First of all, the typical PowerBlock replaces around 16 pairs of dumbbells and up to 28 pairs on the fully-expanded EXP models.
This alone would easily cost you more than $1000 dollars.
Secondly, as far as adjustable dumbbells go, PowerBlocks reign supreme on the durability front. You'll struggle to find an adjustable dumbbell as sturdy as these. And this is backed by an industry-leading 5-year warranty.
PowerBlocks really are one of the most durable adjustable dumbbells you can get, unlike cheap competitors which often break after a couple of years of heavy use.
Thirdly, you can't beat the 2.5lb weight increments found in models using the adder weight function. This patented technology allows you to adjust in as little as 2.5lbs. Combine this with the 90lb weight capacity on some models, and you have a versatile and heavy-hitting home dumbbell that can be used to achieve all training goals.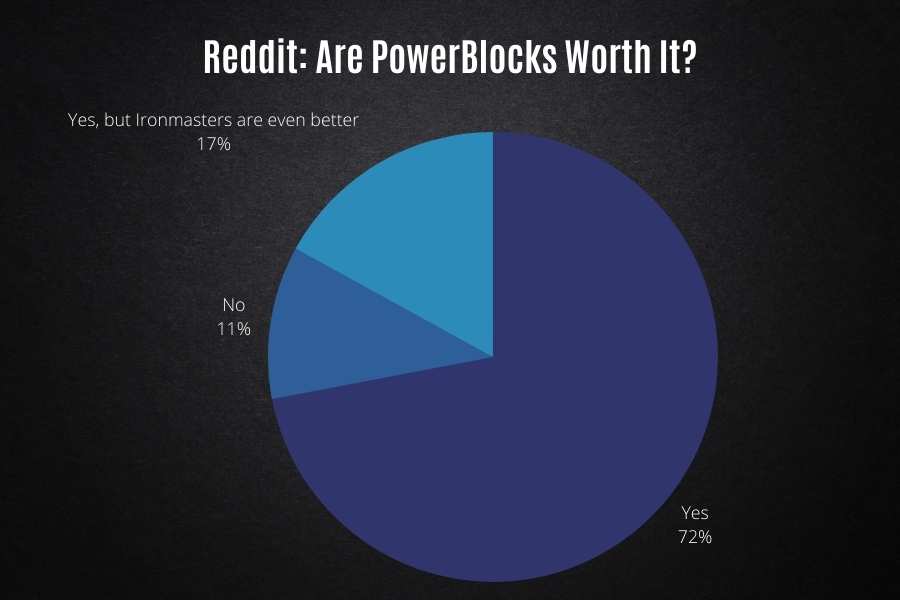 Finally, you should consider this:
All PowerBlocks are sold in pairs. This is in contrast to a lot of competitors who sell their dumbbells as singles. Dumbbells that are sold as singles usually end up being more expensive than the PowerBlocks when both dumbbells have been accounted for.
So all in all, PowerBlocks aren't actually expensive for what you get.
Don't believe me?
Check out my poll study which concluded that 89% of Reddit agree PowerBlocks are worth the money!
---
You can check out my other post to find out if PowerBlock or Bowflex dumbbells are better (their closest competitor).
Do PowerBlock Dumbbells Ever Go On Sale?
Discount prices can often be found on the PowerBlock website during holiday sales periods. For example, they reduced all products by 10% during the 2021 Black Friday sales. Additionally, PowerBlocks can be found at discounted prices on Amazon during holiday periods.
Can't wait for the holidays to come?
Just go on Amazon and check the current price for your candidate PowerBlocks.
Prices can fluctuate wildly.
So if you're lucky, you may catch a good deal.
One top tip I have for you is to download the Camelizer extension for Google Chrome.
It allows you to see all the historical Amazon prices for a particular product.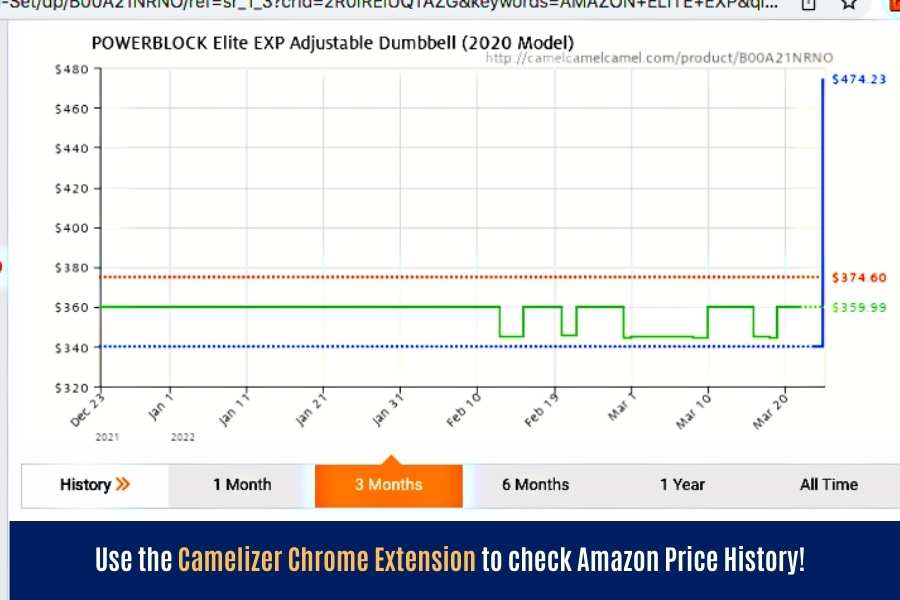 For example, you can see the PowerBlock Elite EXP (you can check out my review here) is usually priced at around $360.
But on 4 occasions in the last 3 months, the price dipped to around $340.
Have a go yourself and see if you can anticipate any discounted PowerBlocks!
Conclusion
I've shared data that reveals how much PowerBlocks currently cost (all models).
Prices vary depending on the model, but you can expect to pay around $400-700 depending on which series you go for and how heavy you need your dumbbells.
Shipping is usually free in the US and from local retailers.
But if you live in Europe, Canada, Asia, or Australia, then delivery costs can go up to $200 or more.
Sales are rare and mainly reserved for holidays like Black Friday.
But feel free to try my Camelizer technique to try and snag a discounted PowerBlock on Amazon!
Do you think PowerBlocks are worth the money?
Let me know in the comments!
You may also be interested in the downloadable Kalibre Blueprint PDF which details exactly how I gained 40lbs of lean muscle (it's 100% free!). It details the exact exercises and nutrition I used to go from skinny to ripped!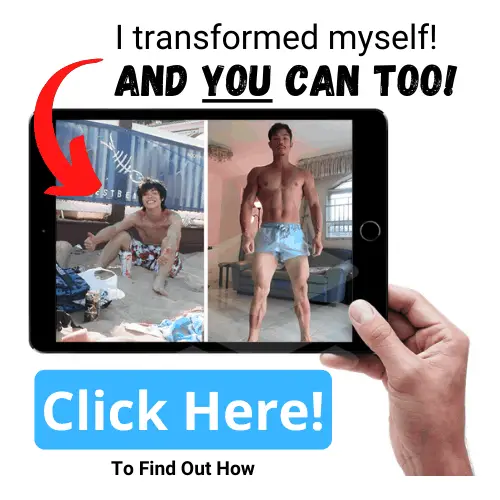 Thanks for reading guys!
Peace Out,
Kal
(Biochemistry BSc, Biomedical Sciences MSc, Ex-Skinny Guy)