The Bowflex SelectTech dumbbells are some of the best-selling, popular, and affordable adjustable dumbbells you can currently buy. But are they actually any good? This post is a review of the Bowflex SelctTech 552.
Overall, the Bowflex 552 is a very good adjustable dumbbell. It is affordable, contains a good selection of weight settings, saves space, and is generally comfortable to use. However, potential buyers should also be aware of the bulky shape and durability issues associated with this dumbbell.
If you're interested, you can find the cheapest Bowlex price here.
I've been using and testing my 552 for just over 2 years now.
Before I bought it, I struggled to find a truly comprehensive and in-depth review.
So that's what I'll be attempting to provide to you below!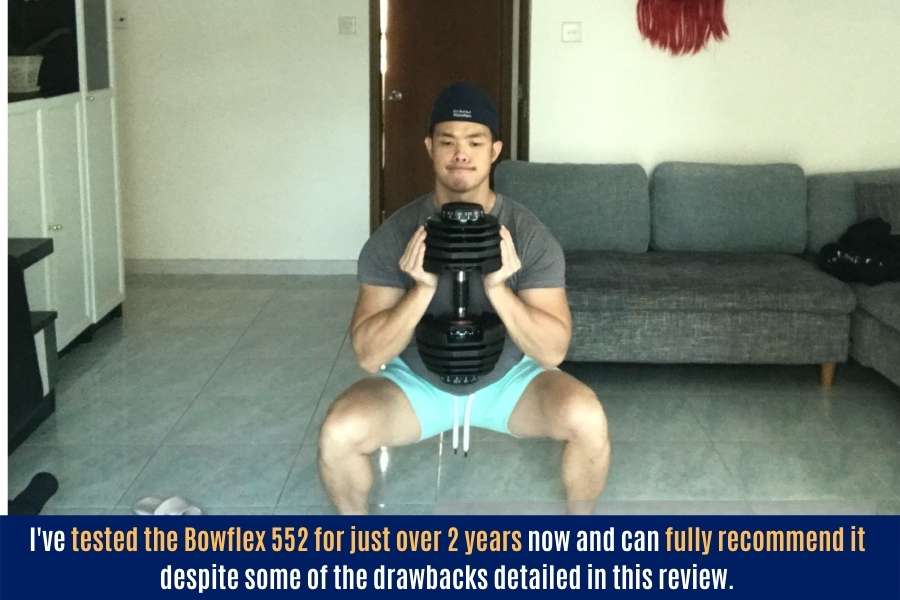 Quick Summary: Bowflex 552 Vs Competitor Comparison
Should You Trust This Bowflex SelectTech 552 Review?
I'm a fitness enthusiast, home gym owner, and my personal trainer certification is in progress.
I've been weight training for 10 years.
In those 10 years, I've trained at commercial gyms and home gyms.
As a result, I've been able to physically test different types of dumbbells and know to differentiate the quality from the trash.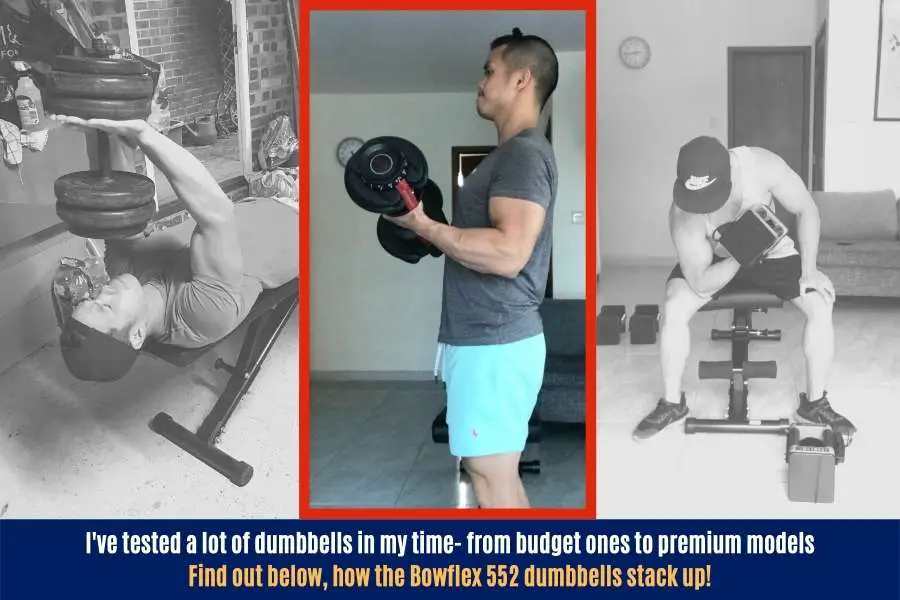 Additionally, all my reviews are hands-on.
I've owned the Bowflex SelectTech 552 adjustable dumbbells for over 2 years now.
In those 2 years, I've put them through real-world testing by using them in my daily workouts.
These workouts vary from muscle-building straight sets and drop sets to fat-burning HIIT-style workouts.
In my tests, I'm looking for performance factors such as ease of use, durability, build quality, and more.
In short- I'm not just compiling the opinions of other online reviews of the Bowflex 552.
Rather, I'm actually putting the Bowflex's through real-world testing!
Bowflex SelectTech 552 Adjustable Dumbbell Key Points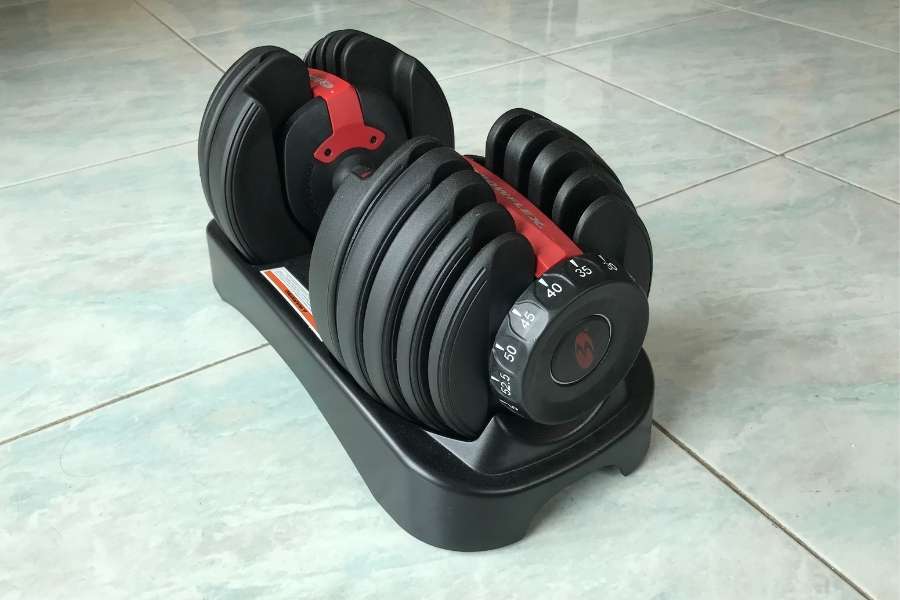 For the skimmers out there, here's a brief summary of how the Bowflex 552 dumbbells perform in my tests:
Bowflex SelectTech 552 Dumbbell Specs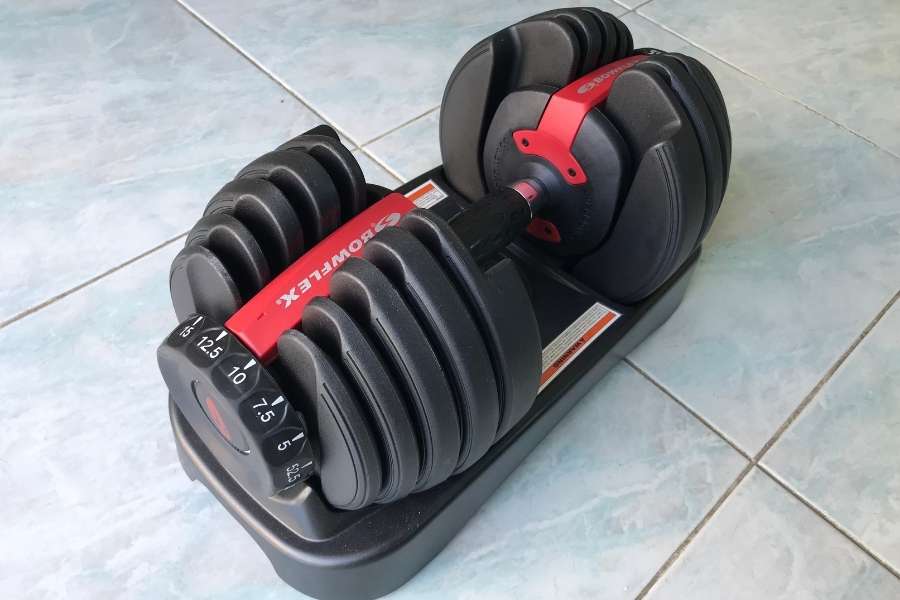 Here's a breakdown of the Bowflex 552 dumbbell specifications:
Bowflex 552 Pros and Cons Summary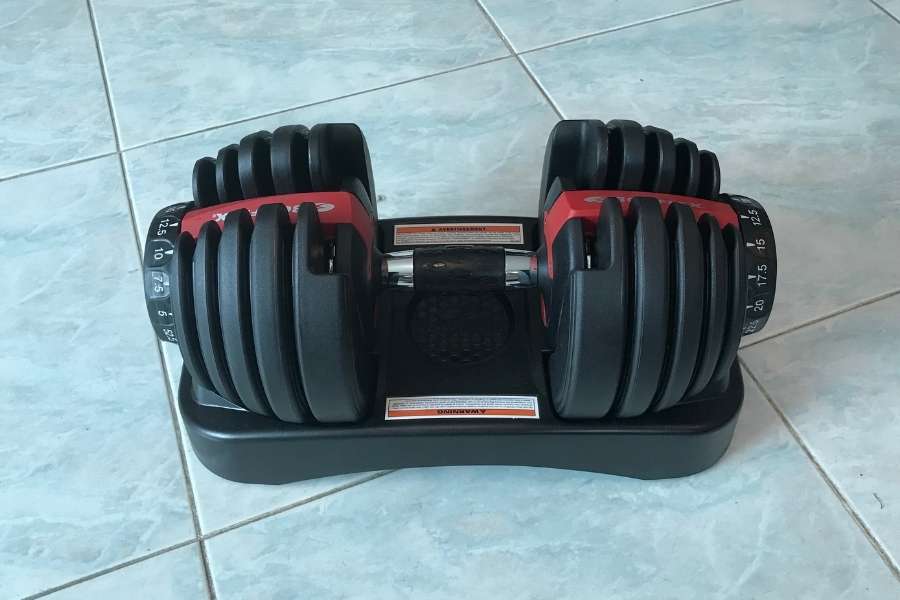 Here's a summary of what I like and don't like about the Bowflex SelectTech 552 adjustable dumbbells:
Overall Value For Money: Are The Bowlex 552 Worth It?
The short answer to the million-dollar question- yes!
Most people would be more than happy to spend a few hundred bucks for a fully adjustable dumbbell that replaces 15 individual dumbbells in one neat little unit.
It's actually not that much money when you consider what the Bowflex 552 provides.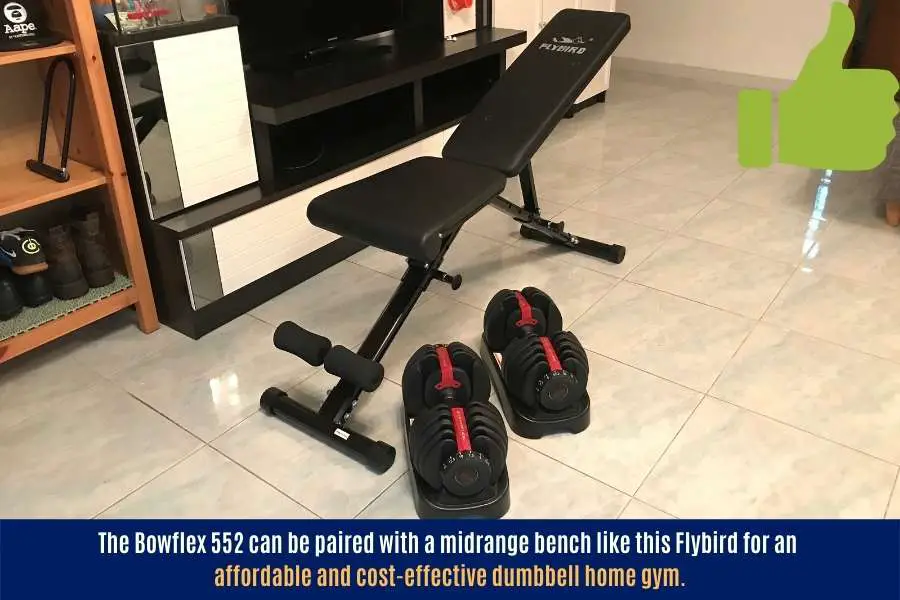 If you can get a midrange bench like the Flybird folding adjustable bench (review here), you have yourself a fully-functioning dumbbell home gym.
This can be used to target all body regions, build muscle, burn fat, and tone at home. All for just over 500 bucks!
And the best thing about having a home gym?
You save money AND time by not having to commute to the local gym!
With that being said, Bowflex did design the 552's with budget-friendliness in mind.
As such, they do come with some unique negatives (as well as many positives). This is what I'll discuss in detail below.
But overall, the Bowflex dumbbells offer good value for money for the majority of people out there. This is supported by a public opinion study I conducted on the Bowflex 552s.
You can find the details of the study at the end of this post).
Bowflex SelectTech 552 Aesthetics
How a dumbbell looks is important for many people.
And it makes sense.
The sexier your dumbbells look, the more likely you'll use them, and the faster you'll achieve your desired goals right?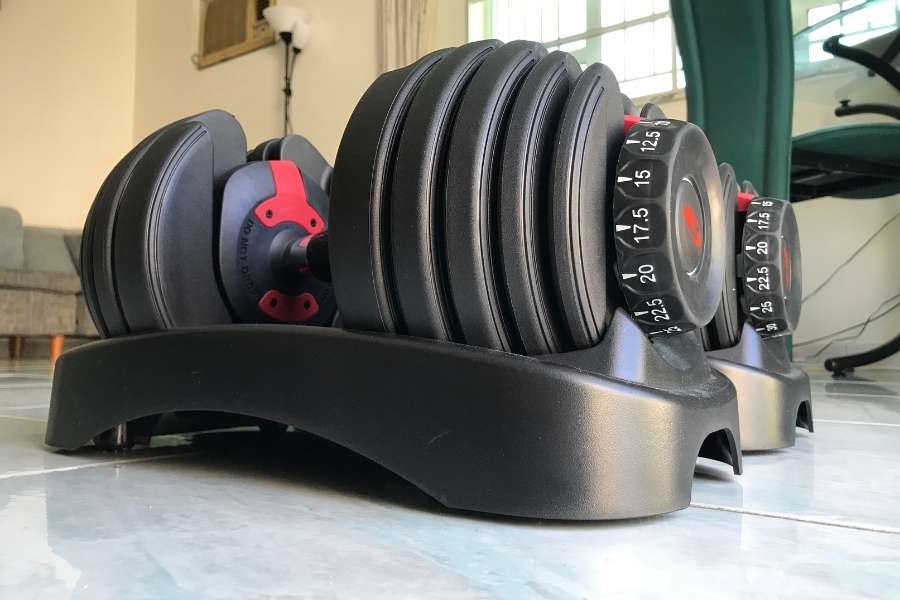 The Bowflex SelectTech 552 adjustables have a conventional-albeit slightly bulkier- dumbbell shape.
It's modern- almost to the point of futuristic-looking- curves and edges complement the black, red, and silver palette very nicely.
Branding is present but not too "in your face".
Logos are found on the top bracket, embossed into the textured handle grip, and on the end-caps.
Not many people find the Bowflex dumbbells unattractive.
But looks aside, the 552's outer material also serves a purpose.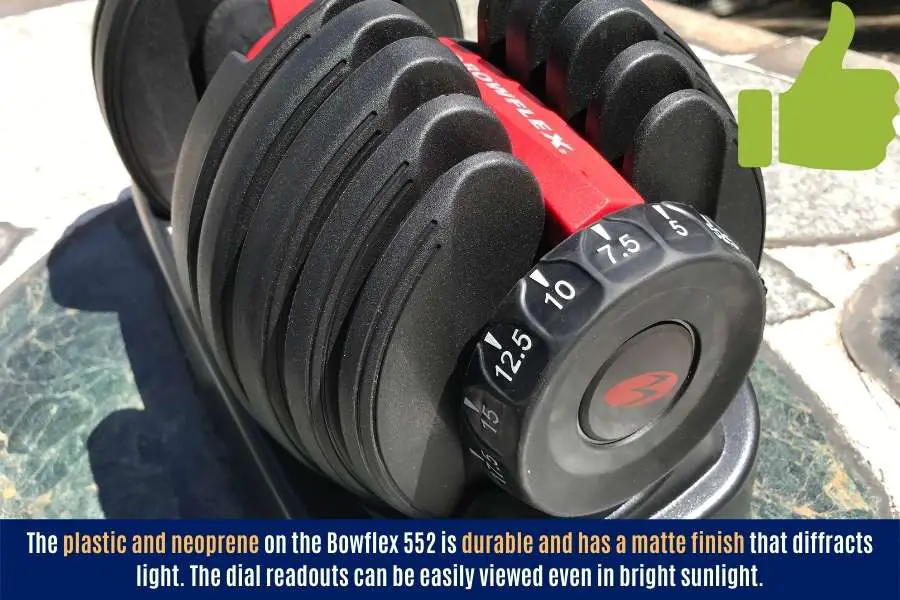 How does the Bowflex 552 matte plastic and neoprene perform?
The hard plastic and neoprene layers have a matte finish. This means they don't reflect light but diffract it instead.
As a result, you don't get any glare coming from the dumbbells.
This is especially useful on the dials where bright sunlight can make it difficult to read the numbers on some adjustable dumbbells that feature cheap plastic that glares.
I love working out outside in the sun, and the Bowflex 552s are great for this.
They feel like they can soak up the sun, rain, and snow without issue (though I wouldn't recommend you intentionally abusing them).
Interested in buying the Bowflex 552? Make sure you learn how to spot a counterfeit using the visual signs in my post on how to tell if a Bowflex is fake.
Is It Easy To Use?
Differences in adjustment mechanisms- more specifically how easy they are to use- are one of the biggest differentiators between a high-quality adjustable dumbbell and a trash one.
And the Bowflex 552 passes this test with flying colors.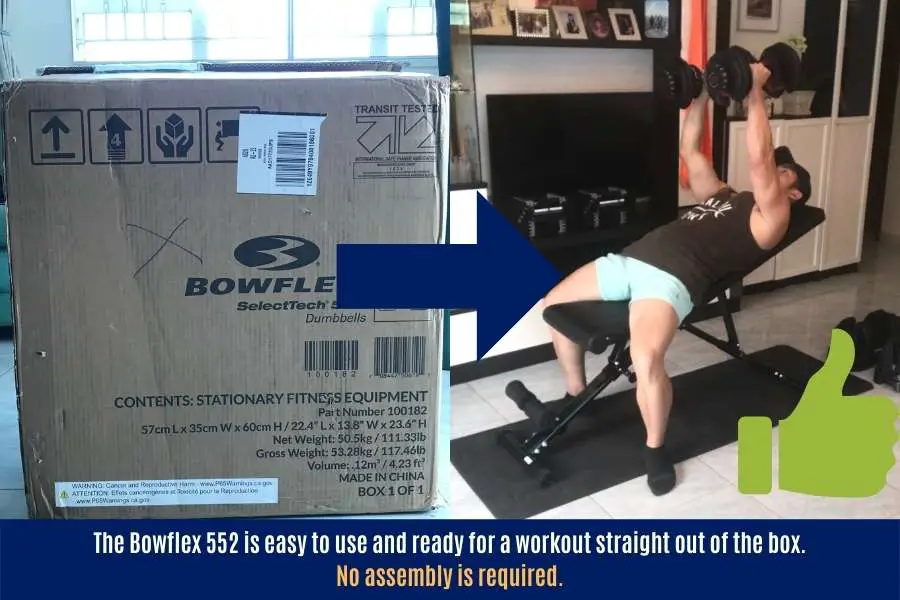 First of all, none of the Bowflex dumbbells require assembly. They're ready to use out of the box.
Secondly, the adjustment dial itself is slick and easy to use.
How does the adjustment mechanism perform?
Dials are found on either side of the 552 dumbbells.
To change weight, you simply insert the dumbbell back onto its base and rotate the dial to select your desired weight.
Each dial controls the weight on its respective side of the dumbbell.
This happens independently from the other side.
This means you can dial different combinations to make different poundages other than the 15 settings displayed on the dial.
Each turn of the dial makes a metallic "clink" that's strangely satisfying to hear and feel.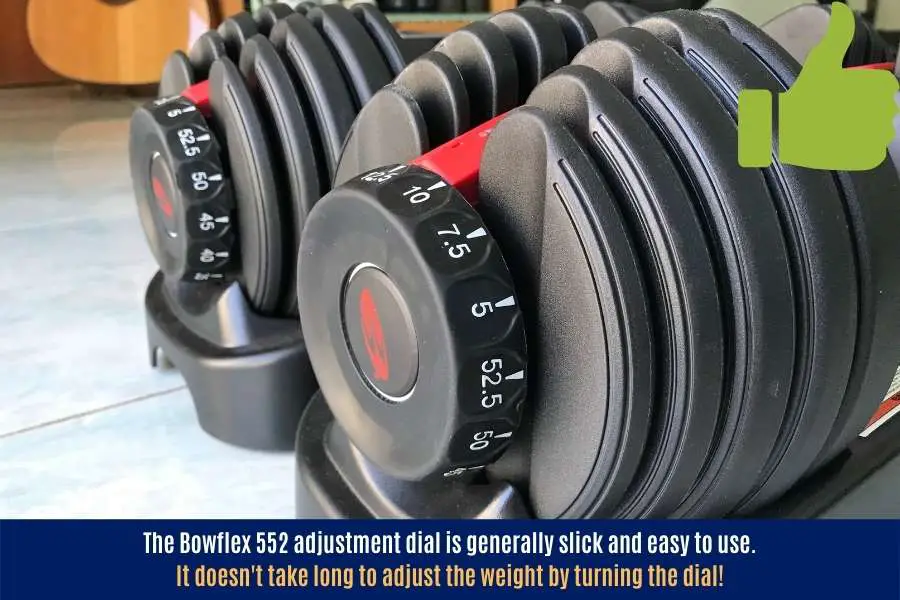 The adjustment times are also fast.
It takes less than 1 second to go from 5lbs to 52.5lbs on each dumbbell, and less than 5 seconds to go from 5lbs to 25lbs.
This is much quicker than many other adjustable dumbbells and certainly much quicker than spinlock dumbbells.
The easy adjustment mechanism makes the Bowflex 552 great for muscle-building supersets and drop sets, as well as for fast-paced HIIT-style dumbbell workouts to burn fat.
Why can the Bowflex 552 adjustment mechanism be annoying?
The Bowflex 552 adjustment dial is indeed slick and easy to use.
But it can only operate when the dumbbell is returned to its base…..properly.
Yup, the keyword here is "properly".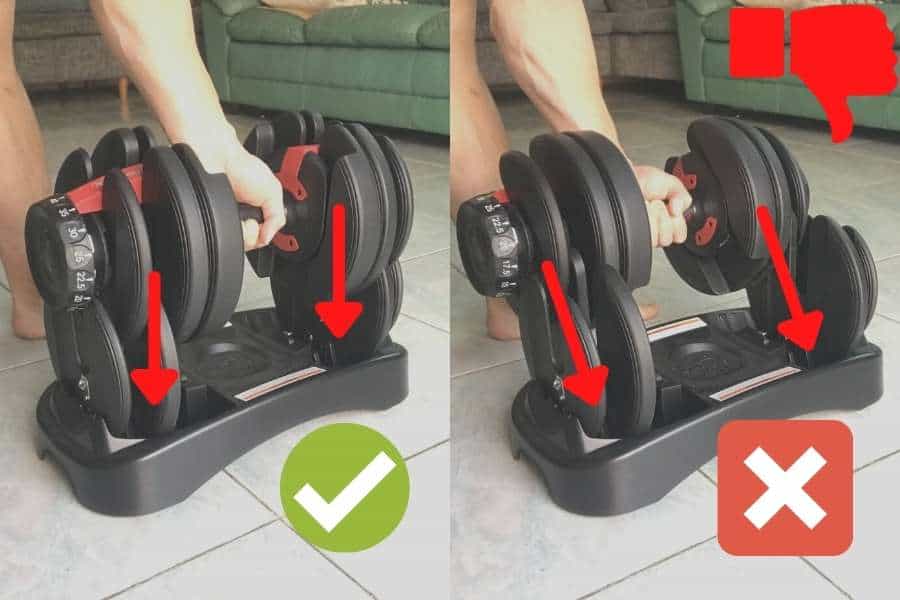 You need to make sure the weight plates are aligned with their respective grooves for the dumbbell to sit snugly.
The dumbbells should also be inserted vertically rather than from an angle.
This comes as second nature after you spend some time with the 552s.
But at the start, I found this to be a slight nuisance.
I can see it being extremely annoying if you keep your Bowflex dumbbells in a small or cluttered area.
But all in all, it's not a deal-breaker.
Just something you should be aware of!
For more information on how to use these dumbbells properly, you can go to my other post for full instructions on how the Bowflex dumbbells work
Weight Settings On The Bowflex SelectTech 552
The Bowflex 552 provides enough weight for most people, especially beginners. The heavier settings work well with big compound movements such as the bench press, whilst the lighter settings are ideal for smaller isolation-type movements such as the bicep curl.
The Bowflex 552 dumbells weigh 52.5lbs each.
15 different weight settings take the lowest 5lb setting to 52.5lbs (max).
This is done by 2.5lb increments up to 25lbs and 5lb increments from thereon.
One final 2.5lb increment takes the 552 dumbbells from 50lbs to 52.5lbs.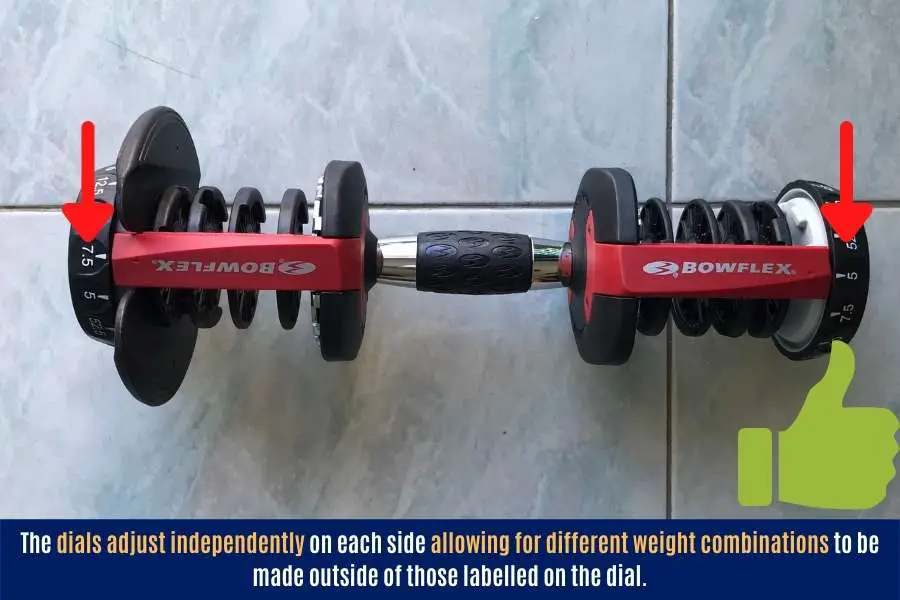 As I mentioned before, you also have the option to dial different weight combinations on each side to give you even more increments.
For example, dialing a 5lb and 10lb setting (one on each side) gives you a total weight of 6.25lbs (not marked on the dial).
Speaking from experience, weight increments less than 2.5lbs are rarely used. But it's still a gimmick that's nice to have available should you need it.
Why are the Bowflex 552's small weight increments so good?
Small weight increments (2.5-5lbs) facilitate progression.
If you think about it, it's much easier to add 2.5lbs to bicep curl than it is to add 10lbs right?
The small increments offered by the Bowflex 552 is not all too significant if you're training to burn fat.
But if you're working out to build muscle, then they are a godsend.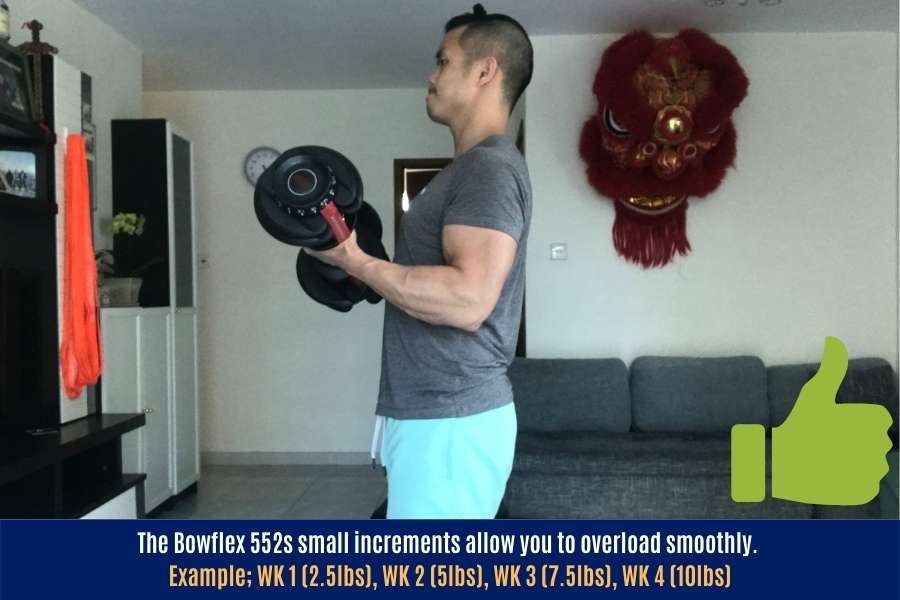 For example, if you're looking to build bigger arms, then it's recommended to bump the weight up a bit every 2 or so weeks.
This is called progressive overload and keeps your arms challenged for growth. And overloading is easily done with the Bowflex 552.
It's also worth noting that most commercial gyms (let alone other adjustable dumbbells) don't offer increments as small as 2.5lbs.
The Bowflex 552's small increments also make it a versatile dumbbell.
You can use the lighter weights to train small muscles like the biceps heavier weights to hit larger muscle groups like the chest.
All in all, the versatile weight settings found on the Bowflex 552 give it big brownie points in my opinion!
For more information, you can go to my other article to learn more about how heavy Bowflex dumbbells go.
Exercise Performance For The Bowflex SelectTech 552
The Bowflex 552 dumbbells work well for most exercises. But they can be too bulky and long for optimum performance on smaller exercises like the bicep curl, tricep extension, and lateral raise. They can bump into each other, as well as the body, in these exercises.
Ergonomics affect how the Bowflex 552 performs in weight lifting exercises.
To be completely honest:
The 552 performs well in most exercises. But there are a few movements it doesn't do so well on (in my opinion) due to its bulky shape.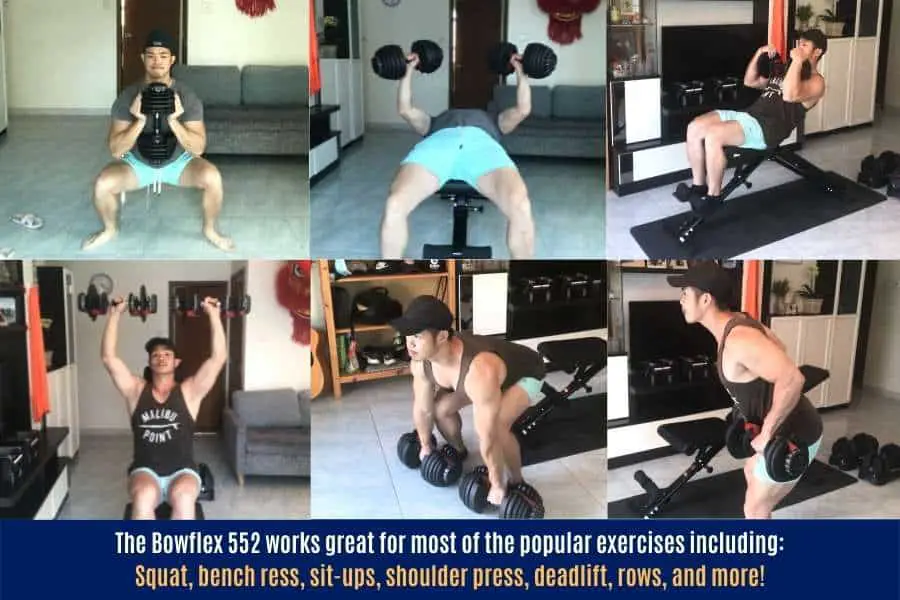 Popular exercises the Bowflex SelectTech performs well on include:
Bench press- the dumbbells can clash at the top if bought too close together, but nothing major.
Shoulder press- works great!
Row- also works great!
Squat- you're limited by the Bowflex 552's weight capacity, but this applies to most dumbbells.
Deadlift- great! The handle sits high and allows you to keep the dumbbell close to your feet.
Flyes- very good.
Sit-ups- works well. The dumbbell offers enough surface area to hold it comfortably against the chest.
The 52.5lb weight capacity on the Bowflex 552 is enough for most beginner-intermediates to perform compound lifting.
The handle also provides enough grip to hold the dumbbell well enough on heavy settings.
And the small weight increments are great for regular progressive overload.
All in all, the bulky shape of the Bowflex 552 doesn't really affect performance in these exercises. You get a nice range of motion and the dumbbells don't bang into your legs, arms, or each other.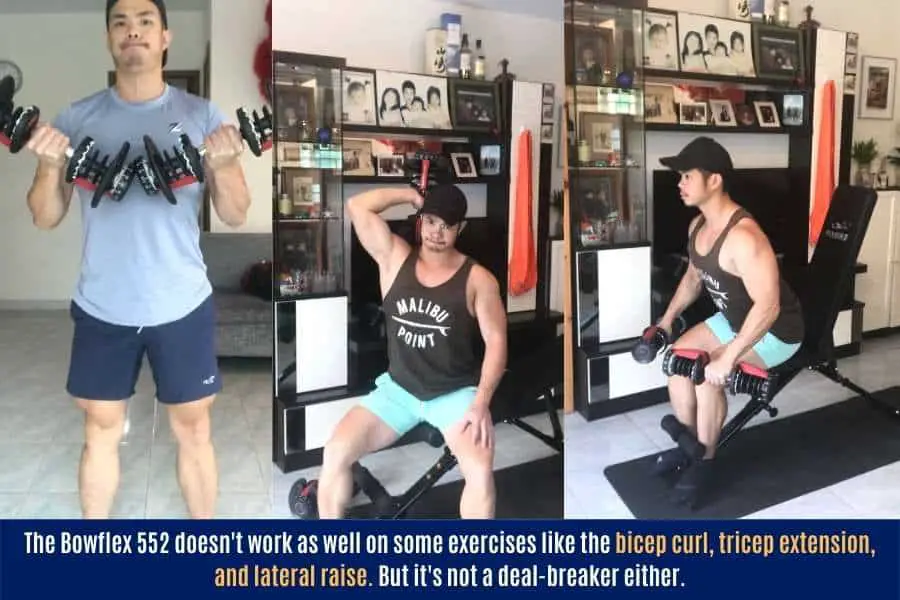 Popular exercises the Bowflex SelectTech does not perform so well on:
Bicep curl- the dumbbells length means they bump into each other as you curl them upwards.
Tricep extension- similar issue as with the bicep curl. The length causes it to hit the bottom of your neck.
Lateral raise- the dumbbell's bulky shape prevents you from letting the dumbbells drop as far down as when using regular dumbbells. This limits your range of motion.
Dynamic exercises (clean to press, snatch, jerk, etc)- the Bowflex dumbbells are not durable enough for these types of explosive movements.
Not sure how to use your Bowflex dumbbells? You can check out my other post for a full Bowflex dumbbell workout plan to build muscle and burn fat!
Why is the Bowflex 552 bulky shape so bad?
It's not so much the bulk as it is the length which the Bowflex 552 fails on.
It's an overly long dumbbell measuring just under 17″ from end to end.
This isn't all too noticeable on the heavier weight settings. After all, a heavy hex dumbbell usually measures about 15″.
But the issue becomes highlighted on the lighter weight settings.
The Bowflex 552 does not get shorter as weight decreases.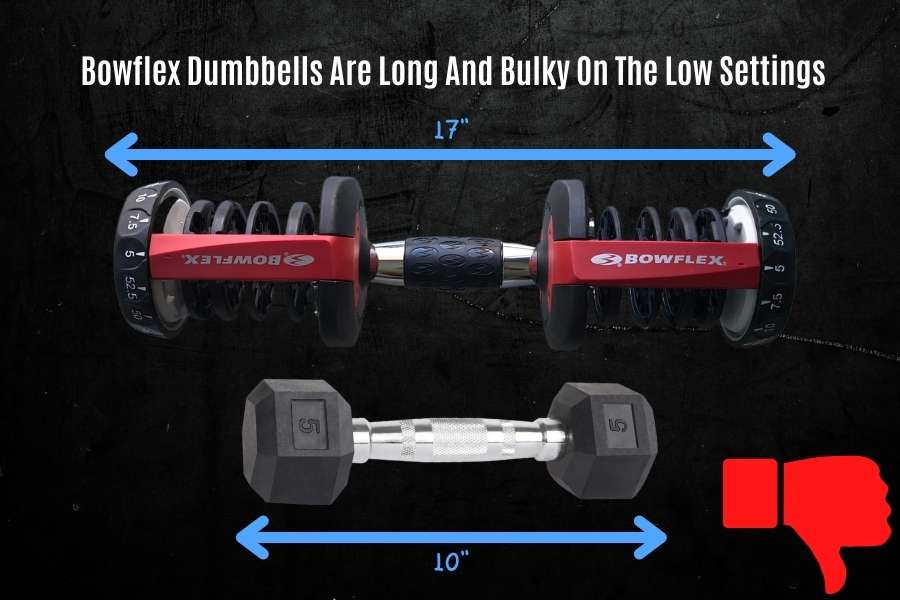 Even when on the 5lb setting, the Bowflex 552 still measures 17″ (a major design flaw in my opinion).
Now compare this to a regular 5lb hex dumbbell which typically has a ~10″ length.
That's more than double the length!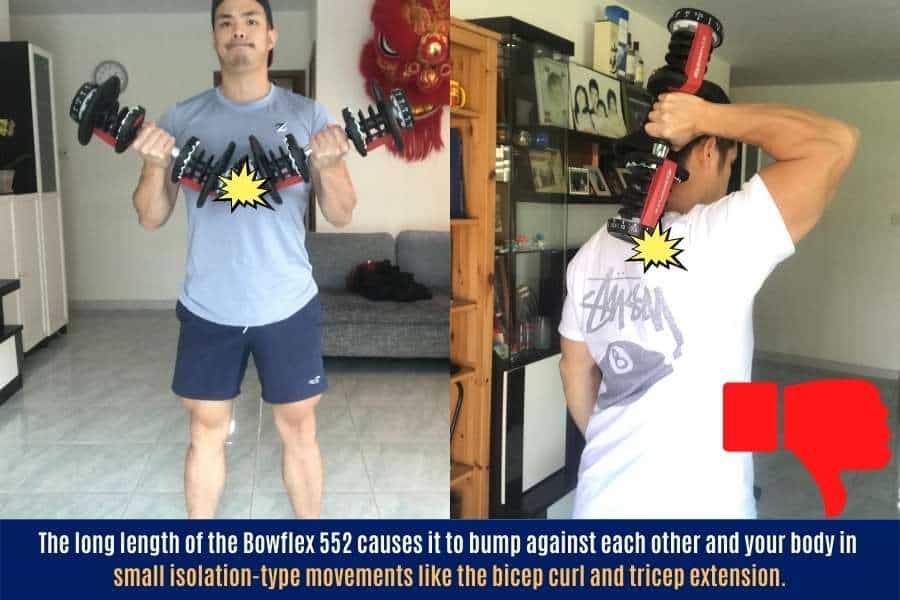 As a result, the dumbbells hit your body and each other during small exercises like the curl and tricep extension.
It also reduces the range of motion (ROM) because you can't reach the full depth.
If you're a fitness nerd like me, this can be extremely annoying, as we all know that a lower ROM = less muscle activation.
But for the casual lifter or sane person, it's a niggling issue that you can get used to by adjusting your body position.
Is It Comfortable To Use?
I've already explained how the bulky shape of the Bowflex 552 can make it uncomfortable on certain movements (see above section).
But other than this, it's generally quite comfortable as far as adjustable dumbbells go.
Are the plastic weight plates comfortable?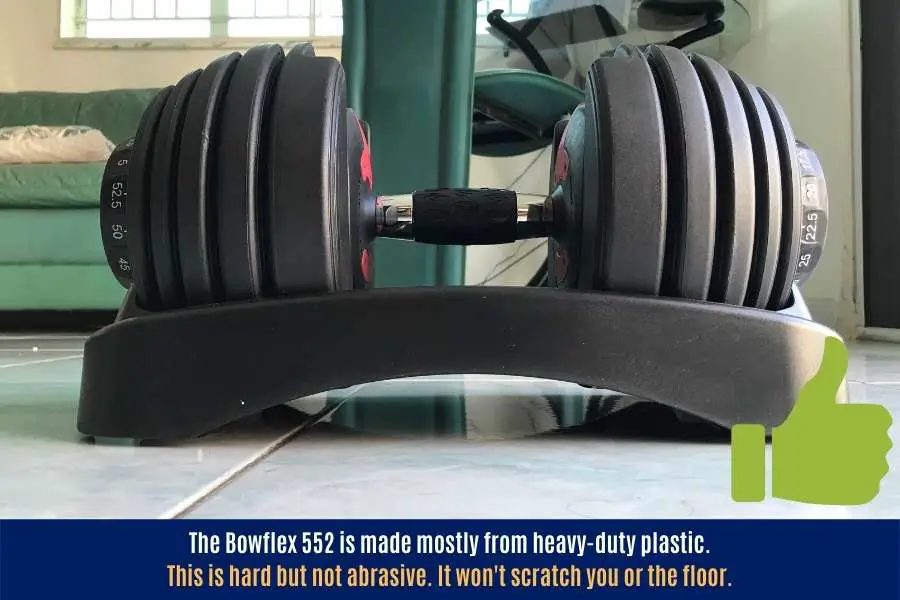 The heavy-duty plastic is hard but not abrasive. The dumbbells rest comfortably on your body without causing discomfort (e.g resting them on your thighs during a shoulder press set-up is fine).
It's also relatively quiet.
Unlike bare metal dumbbells, the Bowflex 552 doesn't clang or scratch hard floors.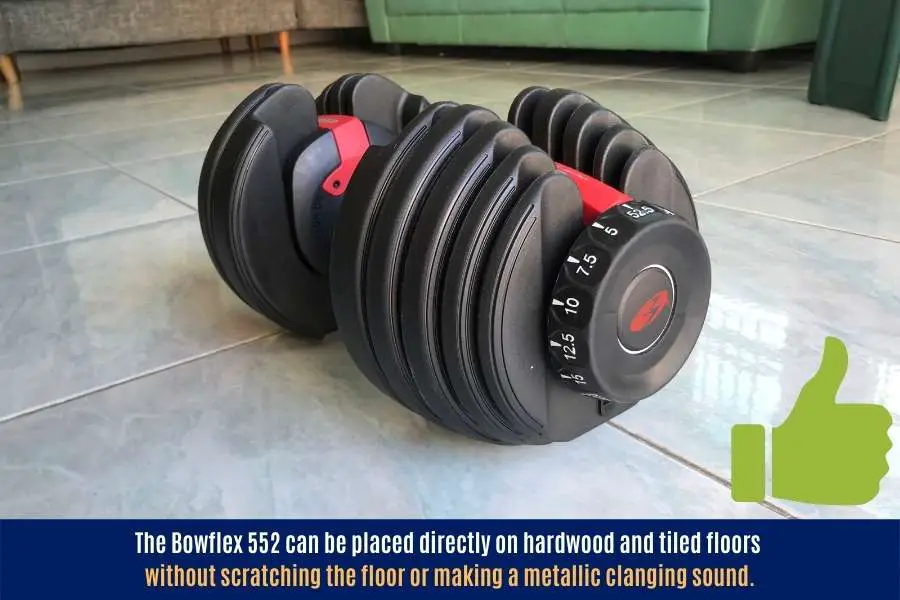 This can be a selling point if you don't want to wake up a sleeping child, or if you live in a home with tiled or hardwood flooring.
Is the Bowflex 552 handle and grip comfortable to use?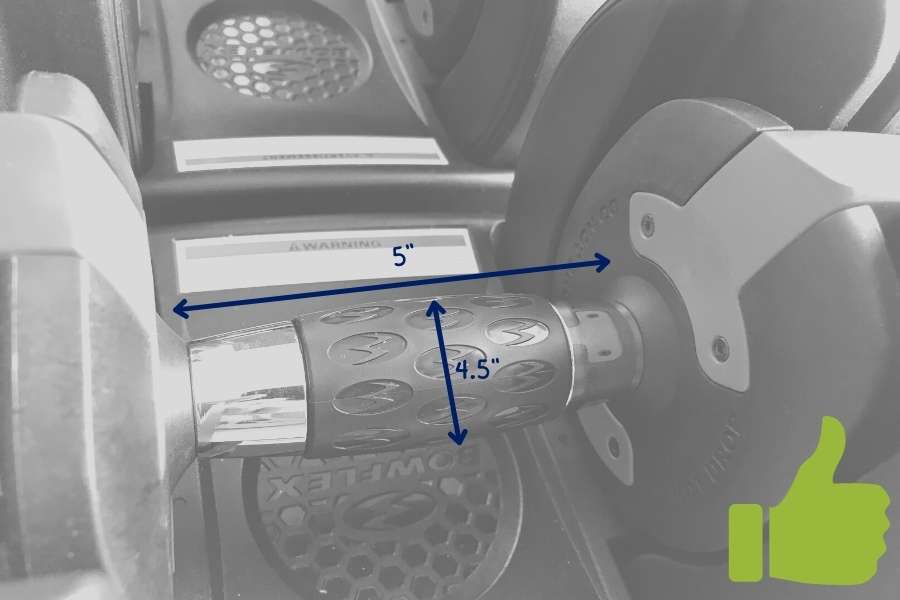 The handle measures just under 5″ which is similar to a regular hex dumbbell. It's not too long and should fit most hands, large and small alike.
Bowflex also gave the handle a contoured shape.
It's thick in the middle and tapers off on both ends. The handle has a 4.5″ circumference at the thickest point, making it comfortable for small hands and beginners who have yet to develop grip strength.
The neoprene handle sleeve is also very nice on the hands.
It's soft to the touch, tacky, and provides a good grip. It might sound strange, but I love the tacky feeling of the neoprene on the Bowflex 552s!
With that said, there IS a big design flaw with the grip.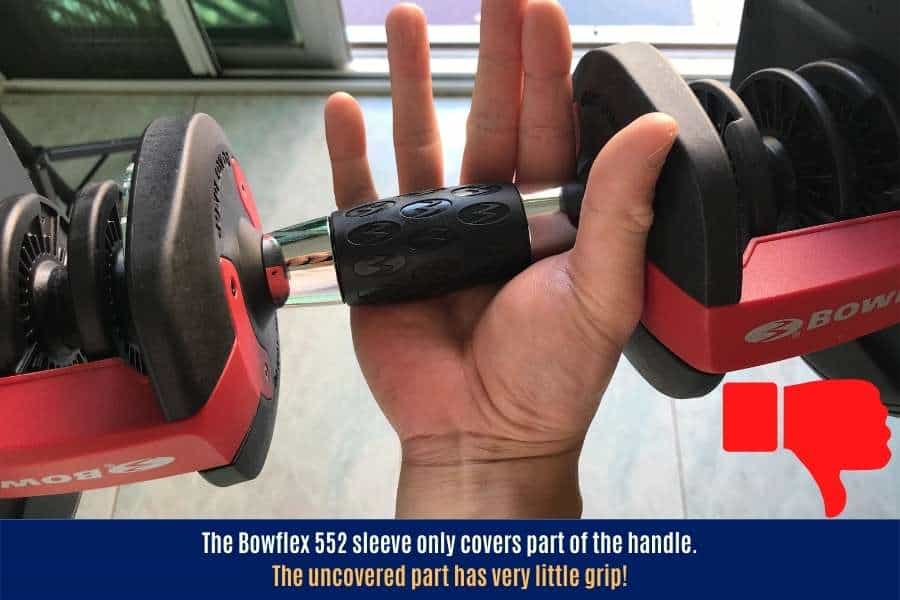 Whilst the neoprene sleeve is comfortable, it would've been nice if they covered the entire handle with it!
Instead, the sleeve only covers a portion of the handle.
As a result, you get a reduced grip when your hands are off-center.
This is an issue in exercises like the tricep extension where it's more comfortable to hold the dumbbell handle on the side your extending against, or a supinated dumbbell the handle should be gripped on the outer edges.
It's not a deal-breaker.
But it's annoying that Bowflex couldn't spend that extra bit of cash on such an easily fixable issue.
If you're interested, you can find the cheapest Bowflex price here.
How Is The Durability?
Durability is the Achilles heel for almost all adjustable dumbbells.
Common issues include; weight plates falling off, plates becoming stuck, and the adjustment mechanism breaking.
Thankfully, I've not had any issues with my Bowflex 552 dumbbells after 2 years of heavy use. And I honestly say they don't feel like they'll break any time soon (touch wood they don't!).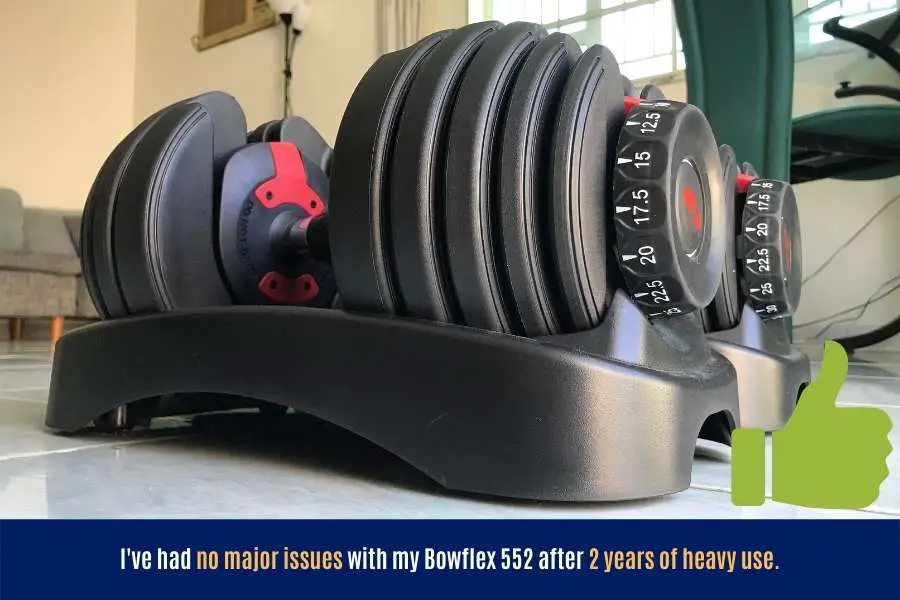 But from my research, there HAVE been accounts of the Bowflex dumbbells failing on other customers.
What are some common ways the Bowflex SelectTech 552 break?
The most commonly cited issues include:
Weight plate cracks. The plastic can crack if the 552 is dropped. That's why Bowflex carved the words "do not drop" onto each dumbbell.
Internal locking mechanism failure. This is such an annoying negative in my opinion. Bowflex dumbbells use a series of internal discs to select and engage the weight plates. These are made from plastic (why?!). There have been accounts of the locking plates cracking and rendering the dumbbell obsolete. It's the most common way a Bowflex dumbbell breaks.
Jammed or falling weight plates. You need to align the dumbbell correctly to the base before dialing the weight. Otherwise the plates can become stuck or even fall off.
Damaged dials. They're located on the outside of the dumbbell unit. This makes them susceptible to knocks and bumps.
It should also be noted that the weight plates wobble when engaged on the handle. I'm still unsure if Bowflex made them this way on purpose…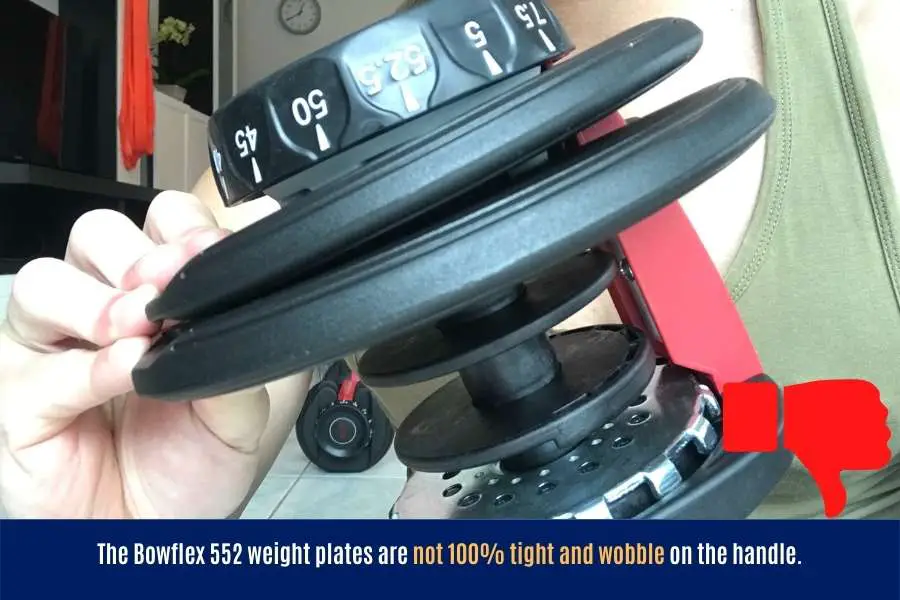 Whilst I've had no issues with my Bowflex's, I can easily understand how they can break.
I wouldn't drop them or even lean my body weight on them regularly (that rules out using the Bowflex dumbbells to do push-ups).
All in all, the Bowflex 552 isn't exactly flimsy.
But you may want to exercise caution and look after them properly.
And don't abuse them!
For more information, you can go to my other post which explains if the Bowflex dumbbells are safe, durable, and reliable.
Are The Space-Savings Any Good?
All adjustable dumbbells save space at the end of the day. That's why they're appealing to so many people.
And the Boflex 552 is no exception.
It replaces 15 dumbbells which would otherwise occupy around 15 square feet of floor space with a rack.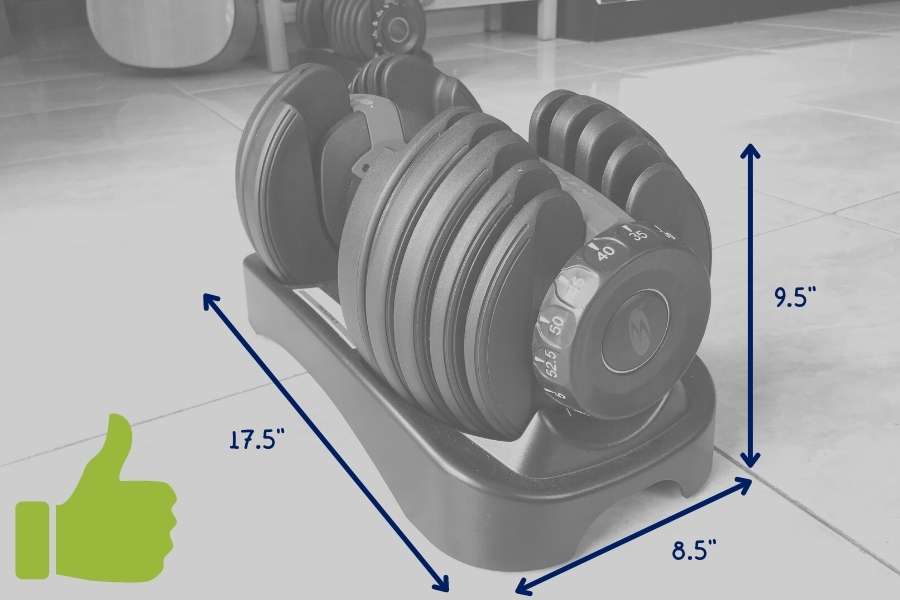 The dumbbell has slightly different dimensions depending on how you measure it:
Dumbbell only- 17″x7″x7″.
Base only- 17.5″x1.5″x8.5″.
Dumbbell in base- 17.5″x9.5″x8.5″.
Therefore each Bowflex 552 dumbbell unit occupies just under 1,400 cubic inches of space.
Whilst this is much more compact than a full-blown set of hex dumbbells, it's not by no means the smallest adjustable dumbbell.
Most of its direct competitors like the Powerblock Elite (you can find my hands-on PowerBlock comparison review here) and Core Home Fitness are slightly smaller.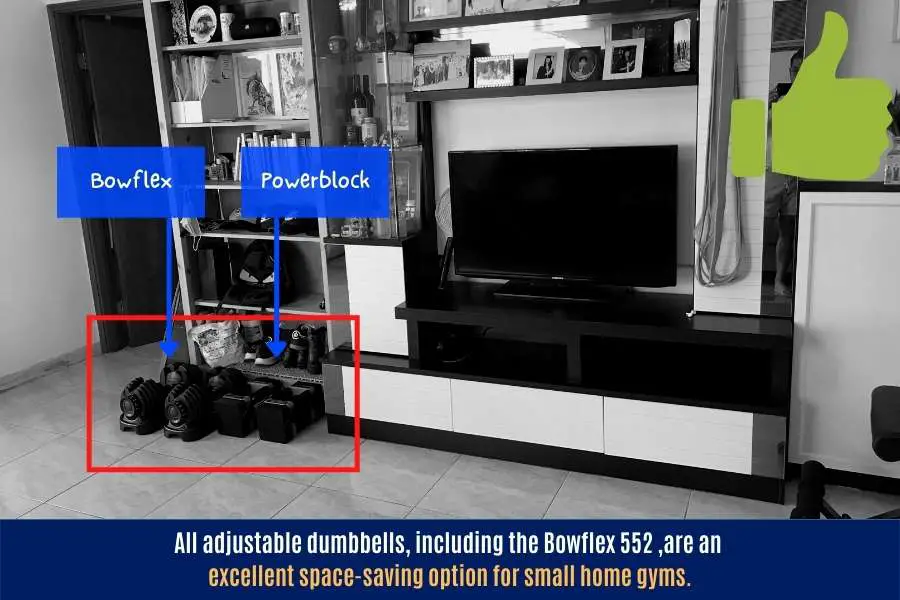 With that said, the Bowflex 552 is still an excellent space-saver and the plates sit neatly in the base when they are not being used.
Bowflex Warranty Review
The Bowflex adjustable dumbbells come with a 2-year parts warranty. This covers mechanical failures in the handle, weight plates, and base. The warranty does not cover damage as a result of a drop, wear and tear, damage from abuse, or damage in a non-home environment.
You can find the full warranty information here.
Whilst 2 years is better than most competitors, it's not THE best.
I'm afraid that title belongs to Powerblock (5-years).
Although 2-years doesn't sound that long (and it isn't), there's a glimmer of light you may want to know.
I trawled through the Amazon reviews to find out how long it takes, on average, before a Bowflex 552 breaks.
Result?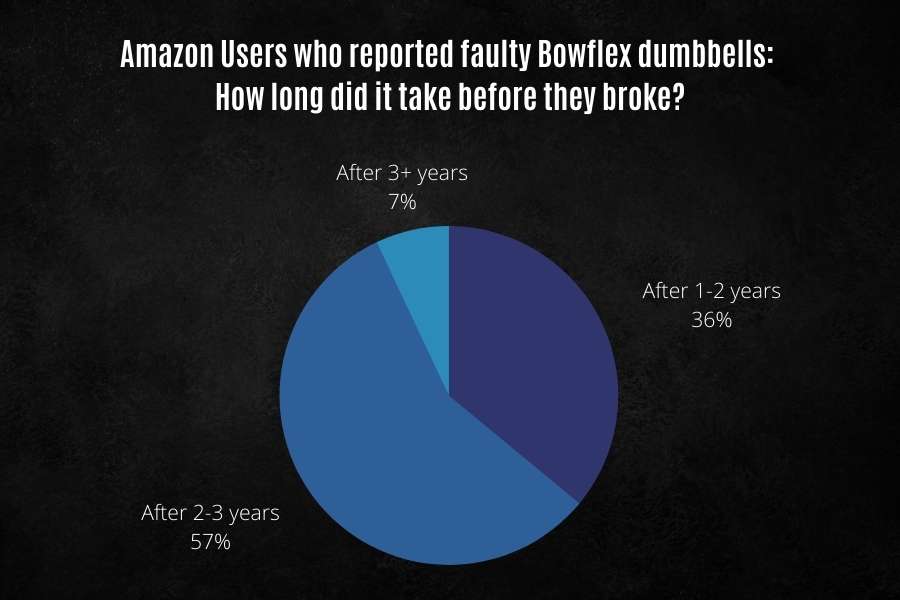 36% of failures happen in the first 1-2 years and 57% happen in the first 2-3 years.
Admittedly this is a very crude analysis. But it indicates that a significant number of breakages happen within the warranty period.
Hopefully, that gives you better peace of mind.
I've never used Bowflex customer support but based on research, it seems generally quite good.
There are sporadic bad experiences here and there, but most issues seem to be resolved quickly and efficiently.
If you're interested, you can find the cheapest Bowflex price here.
---
For more information on dumbbell care, you can check out my guide on how to clean and maintain your dumbbells!
Bowflex Shipping Review
Most Bowflex dumbbells ship within a few days of receiving an order and can take up to 3 weeks to arrive. The time required to receive the order will vary depending on inventory and shipping destination. Customers in North America usually receive their dumbbells the quickest.
I got my Bowflex 552 dumbbells (link for the cheapest price) delivered from Amazon to my house in Hong Kong for $45 in just under 2 weeks.
I don't feel that's bad at all when you consider how bulky and heavy these things are!
Additionally, they ship to most global addresses and the shipping is both quick and reasonably priced on Amazon.
So the Bowflex dumbbelsl get a thumbs up from me on this front!
For more details, you can go to my other post which explains where Bowflex is made and shipped from.
Public Opinion: Are Bowflex Dumbbells Worth It?
One person's opinion is all good.
But the opinion of a crowd is even better!
I went on Reddit and Quora to find the opinions of others for a more balanced review of the Bowflex 552.
You can find the details of this study here.
Here's what I found: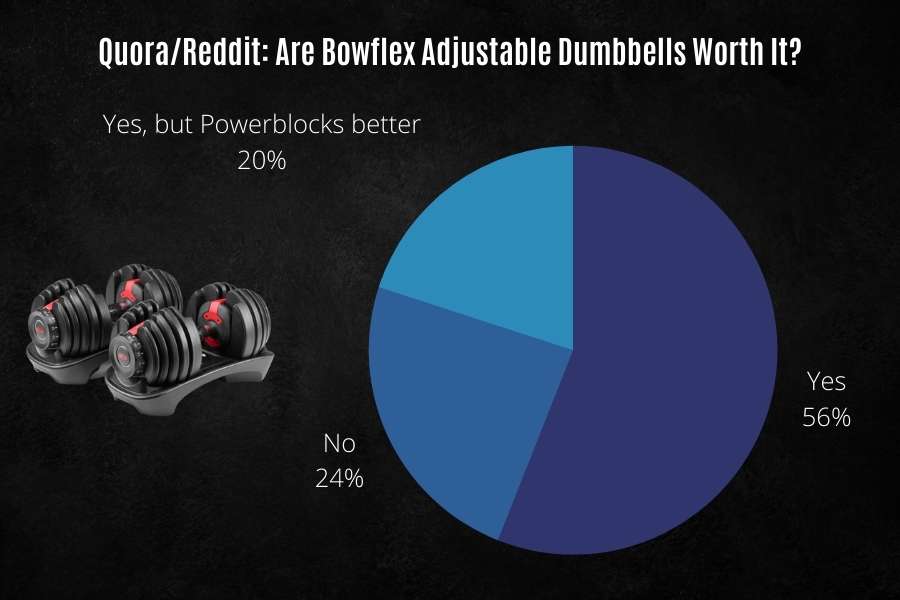 You can see that the majority 76% said the Bowflex dumbbells are worth it.
And of that 76%, a further 20% hinted that whilst Bowflex dumbbells are good, their Powerblock competitors are even better.
Only 24% explicitly advised against the Bowflex dumbbells.
Furthermore, the Bowflex 552 is one of the best-selling adjustable dumbbelsl on Amazon with 97% of their 15,000+ reviews receiving 4 stars and above.
All in all, others seem to agree that the Bowflex dumbbells give you good value for money.
If you're interested, you can find the cheapest Bowflex 552 price here.
Bowflex SelectTech Competitor Comparison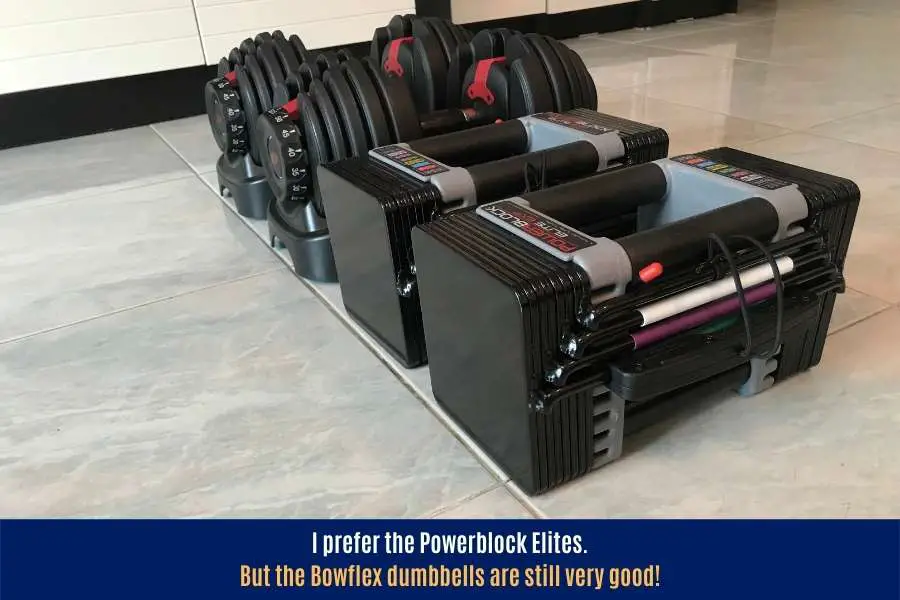 This Bowflex 552 review wouldn't be complete without a competitor analysis.
Here are what I feel to be the 552s closes competitors and how they compare:
Bowflex SelectTech 1090. This is essentially the same as the 552 but jacked up with more weight. most of the features and build-quality are the same aside from the all-metal handle and weight settings. This is the better alternative to the 552 if you're goal is to build max muscle. But my reocmmendation is to consider the Powerblock Elite (see next).
Powerblock Elite. In my opinion, this is the direct competior to the Bowflex 552. The base model weighs 50lbs and beats the Bowflex in many areas such as price, durability, comfort, and weight capacity (it can be upgraded to 70lbs and 90lbs using addon kits). However, not everyone likes the Powerblock look. It has a more industrial and minimilistic design.
Core Home Fitness. Another Bowflex 552 competitor that packs a punch with it's 50lb capacity. The main appeal for this dumbbell is the less bulky shape and the handletwist mechanism (easy to use and protected from external knocks). But it has less weight increments for a similar price. I recommend the Bowflex over the Core Home Fitness.
Ironmaster Quicklock. This is by far one of the heaviest and most durable adjustbale dumbbell you can buy. It's popular with bodybuilders, powerlifters, and home gym enthusiasts. The base model weighs 45lbs and costs much more than the Bowflex. But it can be upgraded to a massive 165lbs. If you don't care much for building an Arnold-like physique, then just stick with the Bowflex.
If you're interested, you can find the cheapest Bowflex price here.
Who The Bowflex SelectTech 552 Dumbbell Is For
To cap off this Bowflex 552 review, here's a summary of who should and should not buy it:
Get the Bowflex 552 if:
You are confident that 52.5lbs is enough for their current and future needs.
You need light to moderately heavy weights to make beginner/intermediate-level muscle gains.
You're a beginner-intermediate looking for light-moderate weights to burn fat and tone at home
You're looking for a good all-round dumbbell that's also affordable.
You need a budget-friendly and space-effective dumbbell for a home gym.
Don't get the Bowflex 552 if:
You need the heaviest adjustable dumbbell for max muscle gains.
You need a dumbbell for explosive dynamic exericises (they aren't durable enough for this).
You need something that you can drop or abuse on a regular bases.
If you're interested, you can find the cheapest Bowflex price here.
Bowflex 552 Vs Competitors Recap
Conclusion
I've shared with you my Bowflex 552 review.
All in all, it's a good dumbbell for most beginners and intermediates to build some muscle and burn fat at home.
But you generally get what you pay for with adjustable dumbbells.
Being so affordable, the 552 comes with its drawbacks and negatives, as detailed in this post.
If you look after and use them with care, then the Bowflex 552s can be an awesome centerpiece for your home gym!
You can find the cheapest Bowflex price here.
What do you think about the Bowflex SelectTech 552 adjustbale dumbbells?
Feel free to send me a message if you have any questions! You can find my details on the "contact us" page.
You may also be interested in the downloadable Kalibre Blueprint PDF which details exactly how I gained 40lbs of lean muscle (it's 100% free!). It details the exact exercises and nutrition (with printable worksheets) I used to go from skinny to ripped!
Thanks for reading guys!
Peace Out,
Kal
(Biochemistry BSc, Biomedical Sciences MSc, Ex-Skinny Guy)