The Bowflex SelectTech 552 and 1090 dumbbells are some of the best-selling weights made by an American brand. They are popular around the world. But have you ever wondered where they are actually manufactured? This article explains where Bowflex dumbbells are made and shipped from.
Most Bowflex products, including their dumbbells, are designed in the USA and manufactured in China. Once the product plans are finalized by the research & development team, they are sent to factories in China where they are made. The product is then shipped back to Bowflex for global distribution.
I myself wondered where the Bowflex dumbbells were made prior to buying them.
And I never found a conclusive answer.
That's why I made this post to help you unravel the answers to the very same question!
Let's go.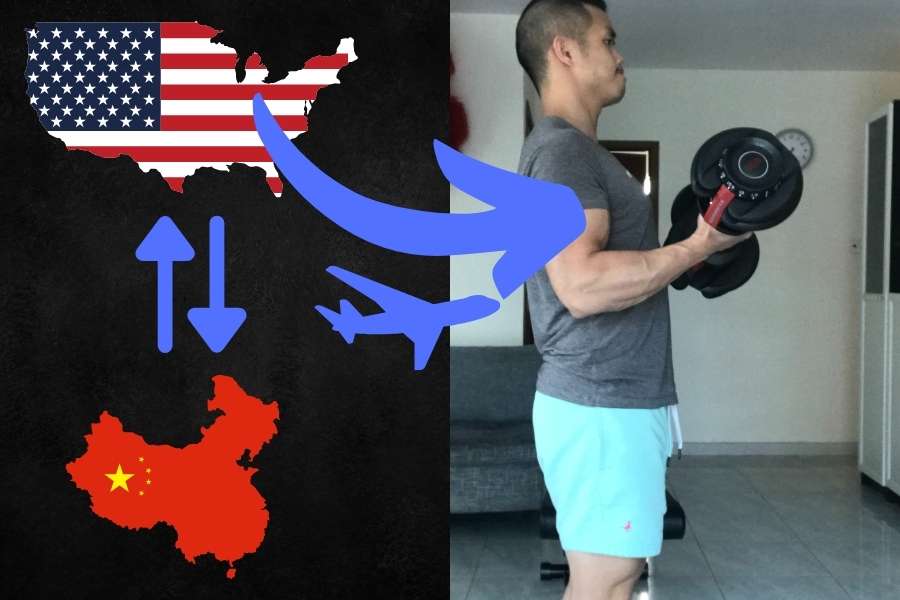 Who Makes Bowflex And Where Are They Located?
Bowflex dumbbells are made by their parent company, Nautillus, Inc. This is the same company that produces fitness equipment from other brands including Modern Movement, Octane Fitness, Schwinn, JRNY, and Universal. The main Nautillus headquarters are located in Vancouver, Washington, USA.
Nautillus is a fairly long-standing company that was founded in 1986 and subsequently went public in 1999.
Their main office is located at 17750 SE 6th Way, Vancouver, Washington, USA.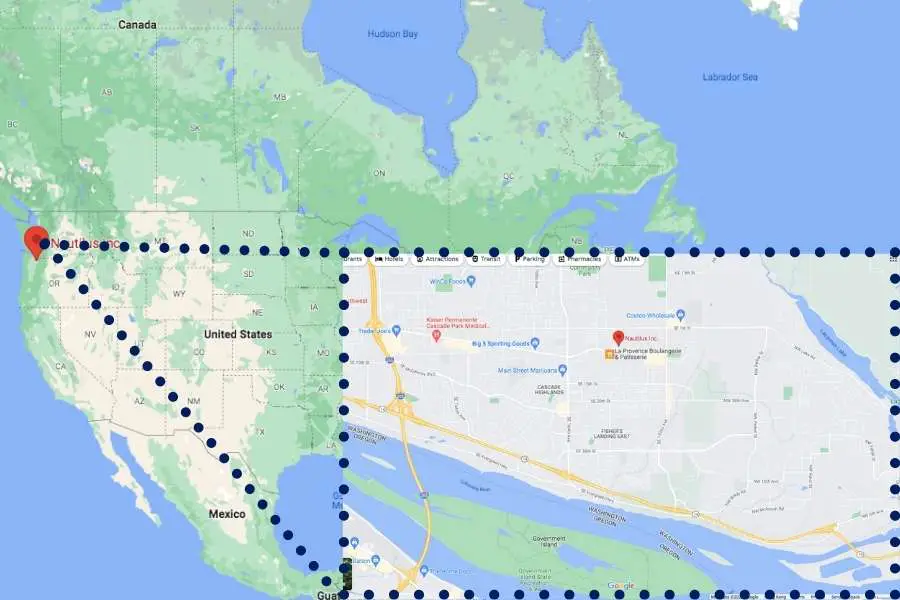 Do they make other products other than dumbbells?
Yup!
Nautillus produce a variety of cardio and strength equipment for home gyms including:
Adjustable dumbbells.
Kettlebells.
Barbells.
Weight benches
Treadmills.
Elliptical machines.
Exercise bikes.
All-in-one home gyms.
JRNY fitness app.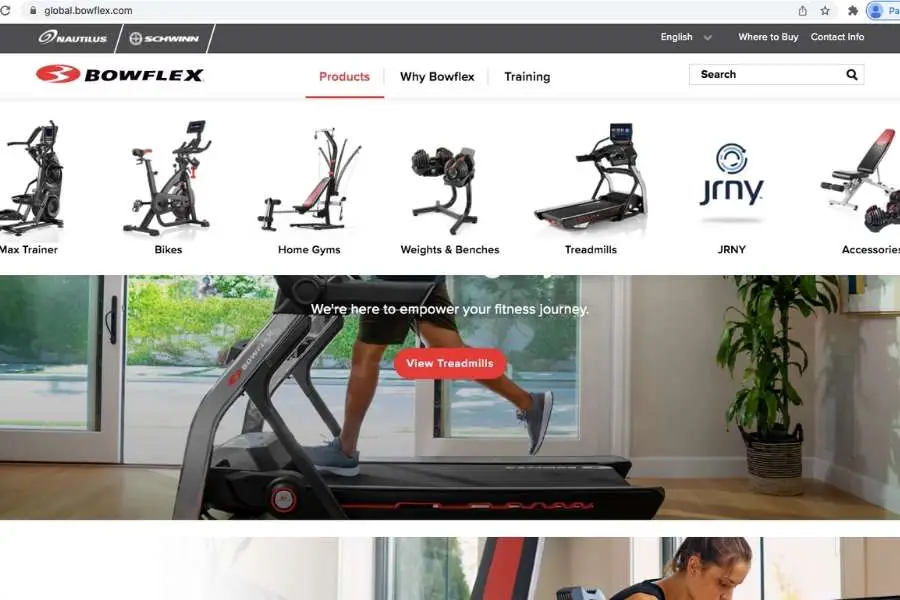 Nautilus is an American brand that sells globally, distributing its products directly and via authorized dealers.
Their main distribution channels are US websites, e-commerce stores, and physical retail shops.
But they also utilize a network of international dealers.
Nautilus also designs its own equipment using a dedicated R&D division, and its products often have patented features.
If you're new to the Bowflex brand or thinking about buying their dumbbells, you can check out my other post to learn how the Bowflex adjustable dumbbells work.
Are Bowflex Dumbbells Made In USA Or China?
As I mentioned at the start, the Bowflex 552 (you can see my full review here) and 1090 dumbbells are designed in the USA and made in China.
I'm afraid this is the case for most brands these days, including Bowflex's direct competitor, PowerBlock.
In this section, I'll explain how I came to that conclusion.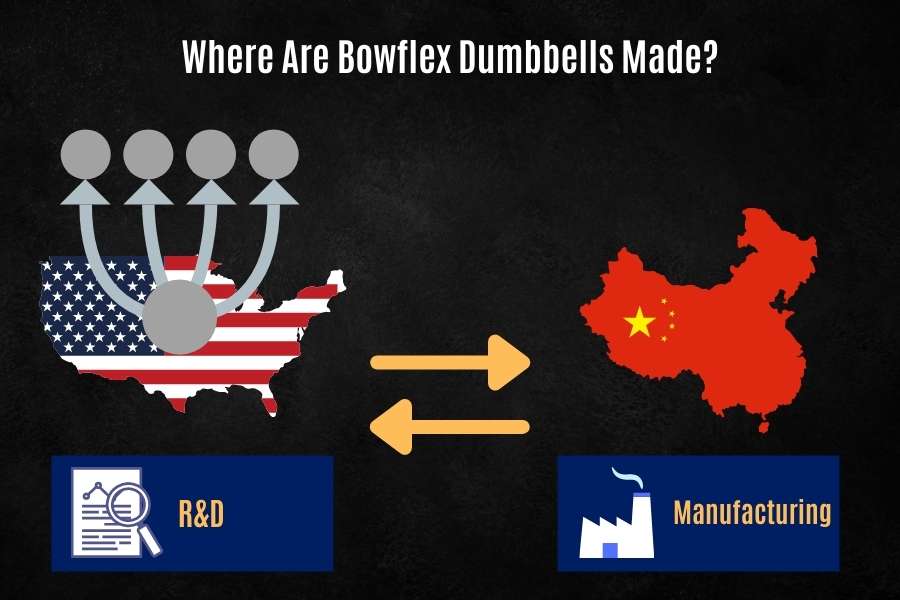 I had to piece the evidence together using a variety of sources.
First of all, Bowflex has traditionally been advertised as "designed and engineered in the USA".
This assumes they are at the very least designed in North America. But it tells us very little about where they are mass-produced.
So next, I briefly interviewed someone at Bowflex customer service.
Here's what they had to say:
"Our dumbbells are made in China."

Bowflex
Short and to the point!
Furthermore, I also found "Made in China" labels on my Bowflex 552 dumbbells as well as on the packaging.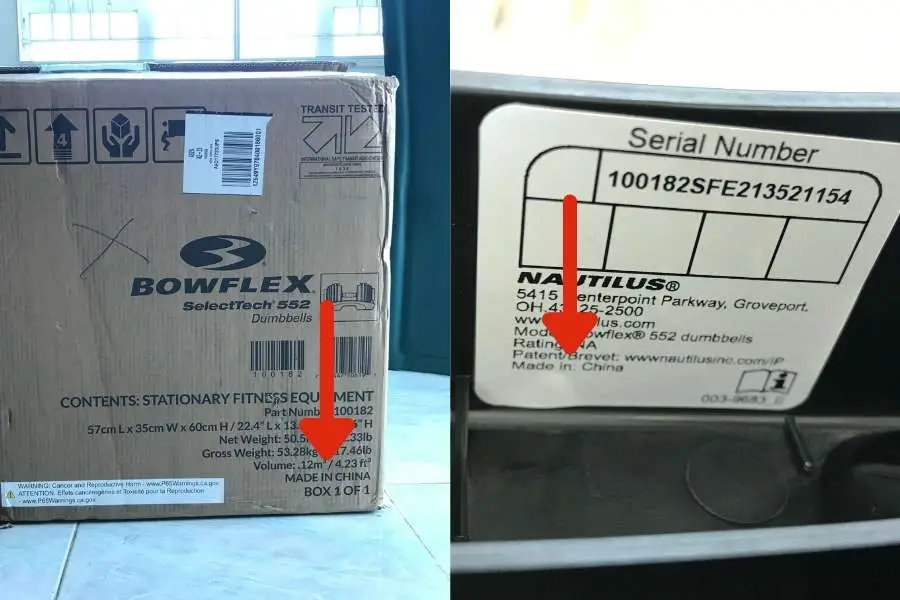 I presume the Bowflex dumbbells are made in China and then shipped back to the USA for quality control and safety checks, before being sent to the distributor.
With China involved in the manufacturing process, you may naturally be wary of knock-offs. If so, you might want to check out my other post on how to spot a fake Bowflex.
Where Do Bowflex Dumbbells Ship From?
Bowflex dumbbells are usually shipped from global distribution centers. These authorized retailers are mainly located around America, Canada, Asia, and Europe. The retailers receive their dumbbells directly from Bowflex USA and ship them to the customer when an order fulfillment is completed.
Again, I had to piece together the evidence for my hypothesis.
The first thing I noticed on my Bowflex 552 dumbbell shipment is the ISTA label on the box.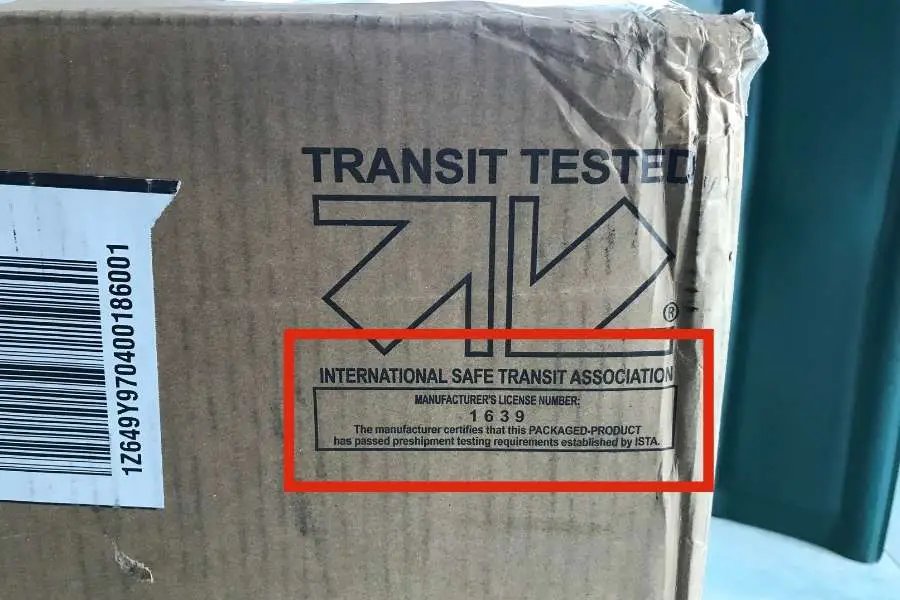 ISTA is an international organization that regulates packaging performance to ensure the safety of its contents during international shipment.
This confirms the Bowflex 552 dumbbells are shipped internationally- presumably between the Chinese factories, Bowflex, global distributors, and customers.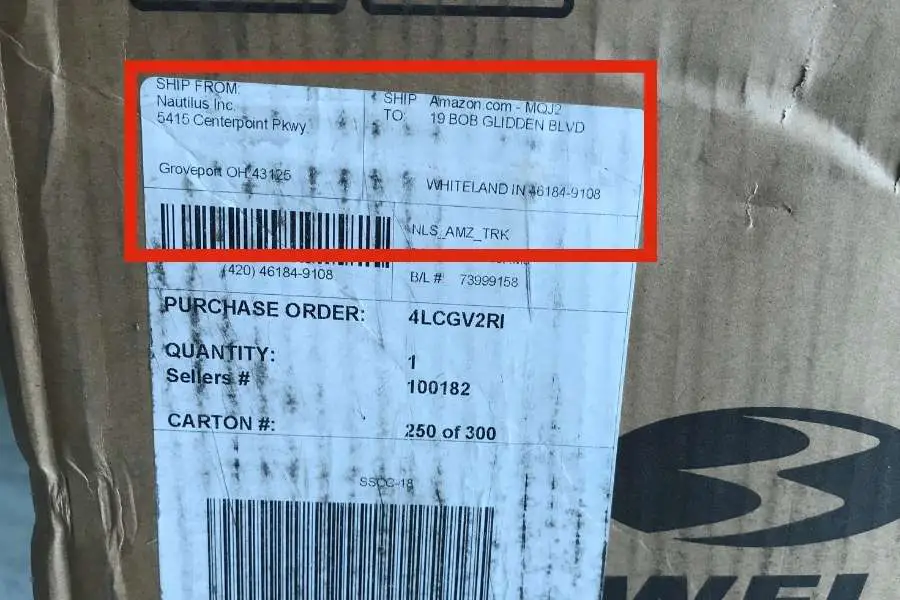 Additionally, I also noticed a tracking label on my Bowflex 552 dumbbell packaging which indicated the shipment went from Nautilus to a USA distribution center at some point.
I live in Hong Kong and ordered my Bowflex dumbbells from Amazon.
So my guess is that it was either shipped directly from the USA distribution center or, more likely, from the Asian Amazon fulfillment center.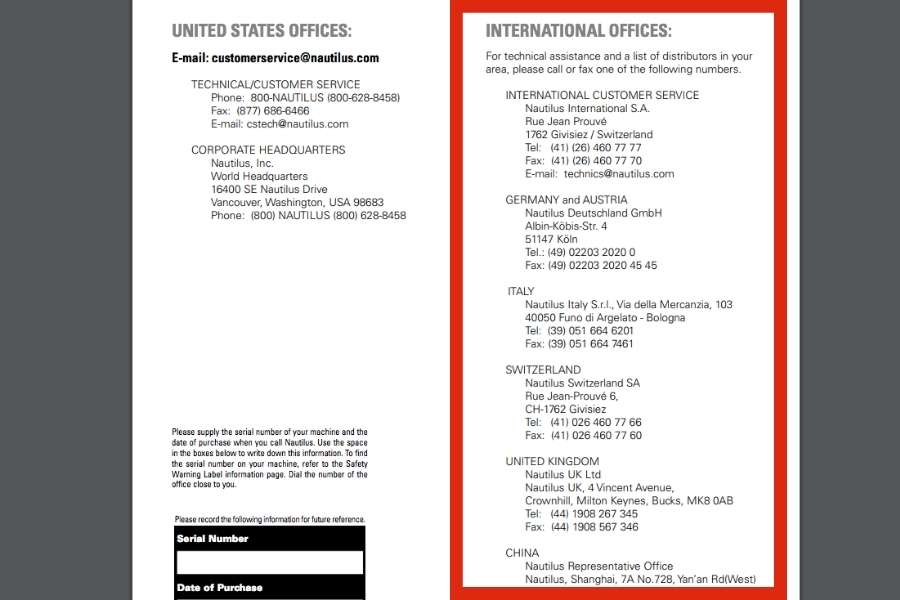 To support my claims, I also found a list of international office contacts in their instruction manual.
My guess is that these global offices regulate the distributors in their respective regions.
With so numerous stages of shipping involved, durability is something to consider. You can check out my other article for more information on how reliable Bowflex dumbbells are.
Why It Takes So Long For Bowflex Dumbbells To Ship
Bowflex dumbbells take a long time to ship due to 3 logistical challenges. Firstly, there has been a growing consumer demand for dumbbells. Secondly, the dumbbells often need to be transported internationally. And thirdly, the dumbbells themselves are bulky items that prolong handling times.
Let's go into these 3 challenges in more detail:
Growing consumer demand. More and more people are realizing the benefits of working out from home. Additionally, the recent 2021/22 lockdowns have further increased demand for home gym equipment. Simply put, Bowflex needed to keep up with the increased demand for their products and this increased shipment fulfilment times.
International transportation. Remember the Bowflex dumbbells need to be shipped internationally on multiple occasions. The first stage is shipment from the Chinese factories to Bowflex USA. The second stage is from Bowflex USA to the local distributor. And the thrid stage is from distributor to customer. This delays shipment times.
Bulky shipment. My Bowflex SelectTech 552 dumbbells came in a 100lb (50kg) crate measuring 12″x24″x24″. Not only is this bulky but also very heavy. These types of items require extra man power and safety checks. And this issue is further compounded by international shipment. This is another reason why Bowflex dumbbells take so long to ship.
My Bowflex 552 dumbbells actually arrived faster than I expected.
It took just under 2 weeks from placing my order on Amazon to the package being delivered to my door and ready for a workout (you can find my full-body Bowflex dumbbell workout here).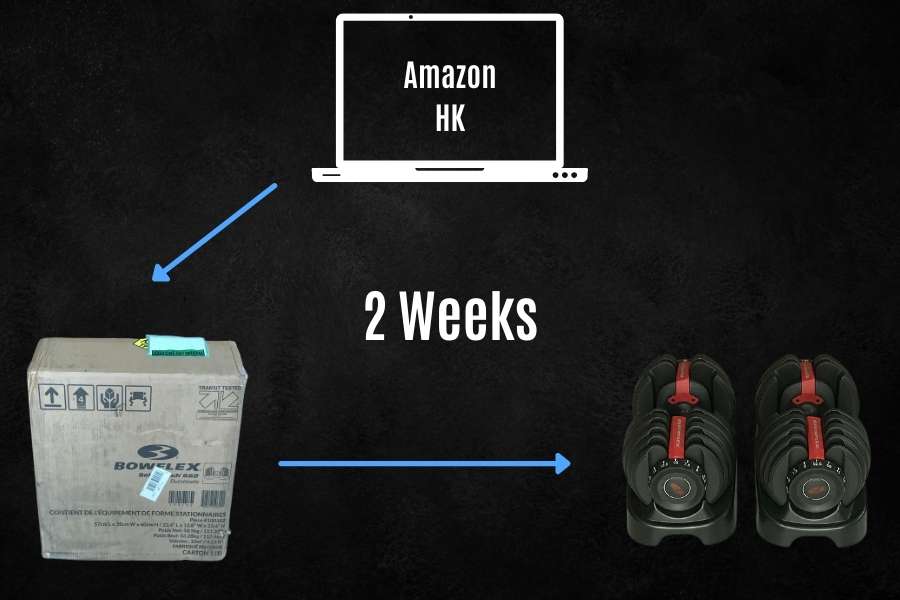 As I mentioned before, I live in Hong Kong and ordered from Amazon.
You'll probably get yours even quicker if you're ordering from the USA. And if it takes longer than 2 weeks, you should contact the seller.
Conclusion
I've explained, to the best of my knowledge, where the Bowflex 552 and 1090 adjustable dumbbells are made and where they are shipped from.
The Bowflex dumbbells are designed in the US and made in China.
The final product is shipped back to Bowflex USA for quality control and safety checks.
From here, the dumbbells are then distributed to the global dealers in America, Canada, Europe, and Asia.
This explains why the Bowflex dumbbells can take so long to ship to your door!
If you like, you can check out my other post to find out if Bowflex dumbbells are worth it.
Did this article help you gain a better understanding of the Bowflex manufacturing process?
Feel free to send me a message if you have any questions! You can find my details on the "contact us" page.
You may also be interested in the downloadable Kalibre Blueprint PDF which details exactly how I gained 40lbs of lean muscle (it's 100% free!). It details the exact exercises and nutrition (with printable worksheets) I used to go from skinny to ripped!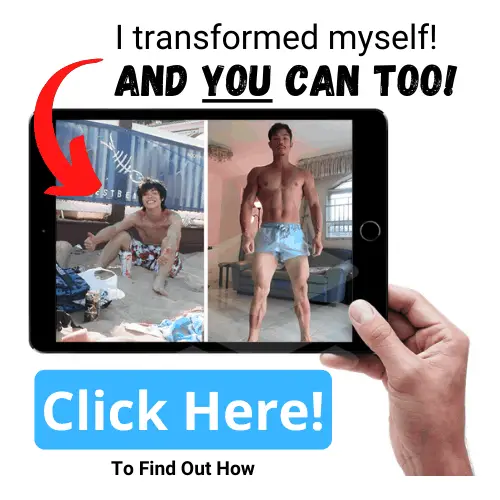 Thanks for reading guys!
Peace Out,
Kal
(Biochemistry BSc, Biomedical Sciences MSc, Ex-Skinny Guy)