Bowflex currently makes some of the best-selling dumbbells on the market. But if you've ever considered buying a pair you'll know they aren't exactly cheap. This post explains if Bowflex adjustable dumbbells are actually worth it.
Bowflex dumbbells are worth the money. They offer a cost-effective and space-saving way for people to build muscle or lose weight at home. However, there are also notable reports of durability issues. The Powerblock dumbbells are a better value option for most people.
I've owned dumbbells from both brands (Bowflex 552 and Powerblock Elite).
Below, I share my thoughts (as well as those from Reddit/Quora) on whether or not the Bowflex dumbbells give you true value for money!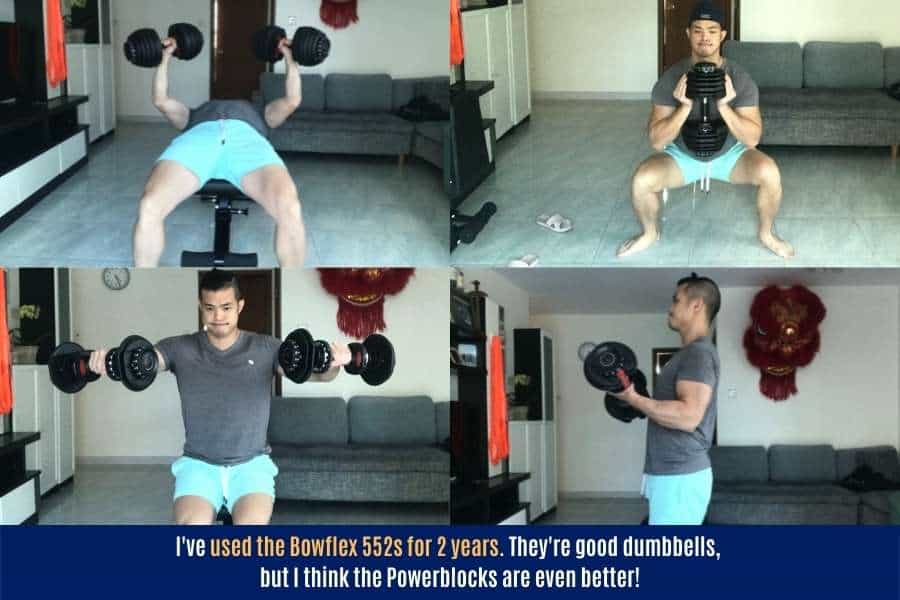 Products Mentioned In This Post
Do Reddit And Quora Think Bowflex Dumbbells Are Worth The Money?
Having personally used the Bowflex 552 dumbbells (link for the hands-on review) for over 2 years, I feel they can be a great pair of weights for both male and female beginners/intermediates.
However, the Powerblocks are simply better in my opinion (I own both by the way).
But what value does one person's opinion provide?!
Very little!
To verify my claims, I took to Reddit and Quora to find the opinions of other Bowflex users.
This gave me a more balanced perspective.
Here are the 3 forum threads I tracked down and analyzed:
And here are the compiled results: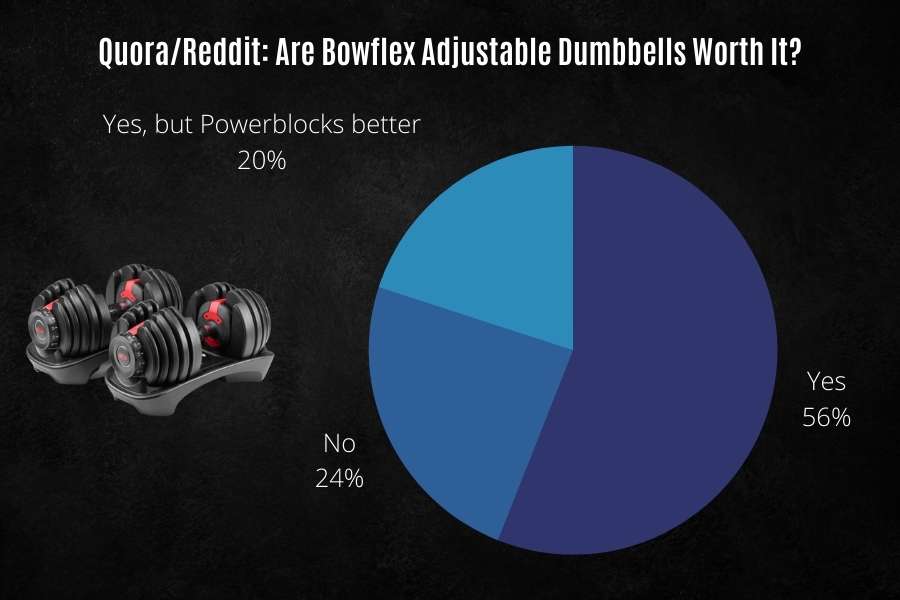 You can see that:
56% of Bowflex users agreed their dumbbells were worth the money.
24% of Bowflex users did not feel their dumbbells were worth how much they paid for it.
20% of people agreed that adjustable dumbbells are worth it but the Powerblocks are better.
Thus, I feel my claims- that Bowflex makes great dumbbells but Powerblocks are better- have been sufficiently supported by peer approval!
Next, I'll detail the reasons why the Bowflex dumbbells can be good and some of the issues that make them not so great.
Not sure how what the Bowflex dumbbelsl can be used for? You can check out my full-body Bowflex dumbbell workout!
Reasons Why Bowflex Dumbbells Can Be Worth It
First, let's set one thing straight:
The Bowflex dumbbells aren't terrible!
They're just up against a very high-caliber competitor (Powerblock) that provides just that bit more oomph for your money.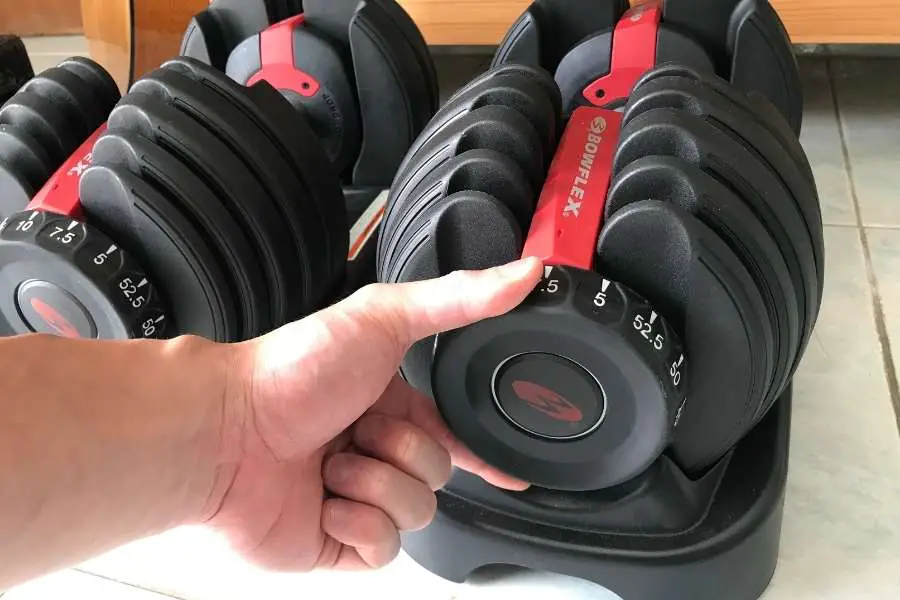 Based on personal experience and the results of my forum poll, here are some of the reasons why the Bowflex dumbbells can be worth your money:
They replace 15-17 pairs of dumbbells. Depending on whether you get the Bowflex Selectech 552 or 1090, you have access to 15-17 different dumbbell weights. This can EASILY cost over $1000 for a comparable set of fixed-weight hex dumbbells. So in this sense, you get great value for money with the Bowflex dumbbells.
Their space-saving design is great for small home gyms. The 15-17 dumbbell weights found in the Bowflex dumbbells are packaged into a single unit that measures just under 1 cubic foot. If you're home gym is tight on space, then adjustable dumbbells in general are well worth the money! You can check out my other post for more reasons why adjustable dumbbells are worth it.
Dial-a-weight design is intuitive for beginners. I've tested numerous adjustable dumbbell models and can honestly say the Bowflex have one of the best adjustment mechanisms. It's easy for beginners to use and each turn of the dial emits this satisfying metallic "clink". Adjustment mechanisms from cheaper brands can often feel fidgety and cumbersome for someone who's never used this type of weight before.
A slick adjustment mechanism leads to faster workouts. I've owned the Chinese dial-a-weight knock offs from Ali Express. And let me tell you, the dial is infuriating to use! It jams all too often. And this prolongs your workout. If you're going to get the Bowflex dumbbells, it's worth the extra hundred or so bucks to get the real ones! You can go to my other post to learn how to tell a fake Bowflex.
Saves time by removing the requirement for gym commute. Have you ever thought about how much time you could save by not having to travel to and from the gym? Most people could save 30-60 mins per workout (assuming 15-30 mins one way). That accumulates to a lot of hours (and money!) each year that you could save by just having dumbbells at home.
Free 1-year JRNY workout membership. This is the all-in-one trainer app released by Nautilus (Bowflex's parent company). It features video workout tutorials taught by real trainers that are tailored specifically to your abilities and goals. If you're an absolute beginner looking to burn belly fat or simply build some noticeable amount of muscle, then this Bowflex package can be well worth your time and money. Note: valid at time of writing.
They provide enough weight for most people. The max weight capacity and number of weight increments in the Bowflex dumbbells make them suitable for a variety of exercises. They're also suitable for different goals at a beginner to intermediate level. Whether you're looking to lose weight or build muscle, the Bowflex dumbbells allow you to do it at home. The SelectTech 552 is an affordable all-rounder, whilst the SelectTech 1090 is more suitable for those who want to build/maintain muscle.
If you're interested, you can find the cheapest Bowflex price here.
Reasons Why Bowflex Dumbbells May Not Be Worth It
Now for the negatives and what's wrong with the Bowflex dumbbells.
Again, these points are based on personal experience and those expressed in my poll study.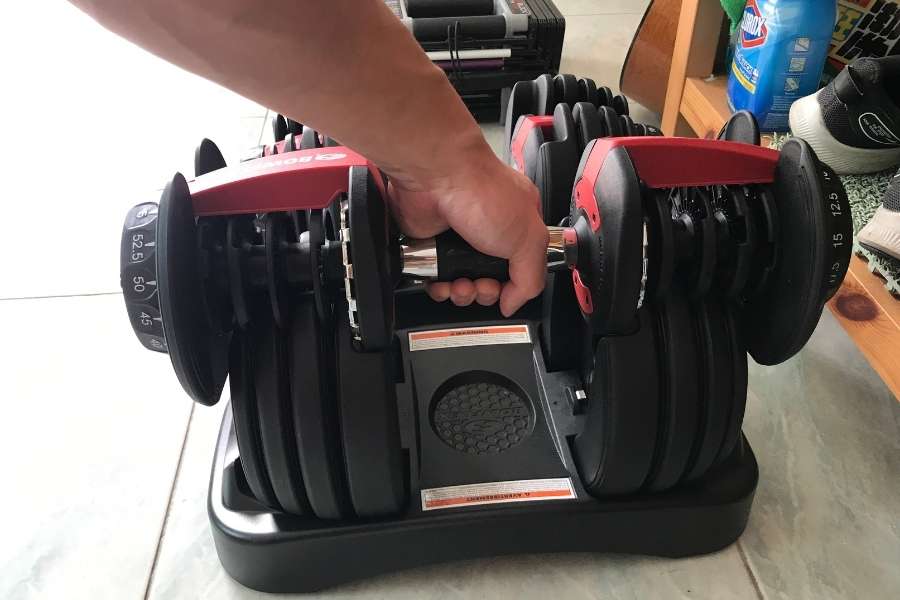 Here's why the Bowflex dumbbells may not be worth the money:
Bulky design can be awkward to use. It's hard to tell from the pictures, but the Bowflex dumbbells are B.U.L.K.Y (yup I felt it needed upper case lettering for emphasis!). That's becuase the handle measures 17″ from dial to dial. And the length stays the same no mtter what weight setting you choose. The sheer size of the Bowflex dumbbells cause them to bump into each other in exercises like the bicep curl (especially if you have a narrow frame). This is obviously very impractical and annoying!
Plastic internal locking plates can break. Having performed extensive research, it seems that most of the Bowflex dumbbells last for years without issue. But there's also a notable amount of cases where the plastic locking mechanism inside the dumbbells break. This renders your dumbbell obsolete. Needless to say, this is a strong reason why the Bowflex dumbbells may not be worth it. With that being said, these dumbbells should last you a good few years if you clean and maintain them properly.
Weight plates can become jammed. Different types of adjustable dumbbells exist, and Bowflex are argualy the best for the dial-a-weight style of dumbbell. But these types of dumbbell have a tendency to get stuck. Bowflex even include a troubleshooter in their manual, clearly showing it's a common issue. For more information, yo ucan check out my other post which explains how long Bowflex dumbbells last.
They do not have the best handle grips. The neoprene sleeve is actually quite good. It's soft, grippy, and comfortable. The only issue is they only bothered to install it on the handle midsection and not all across it! As a result, the grip is nearly non-existent on the outer regions of the handle (the area closest to the weight plates) which is made from smooth chrome-plated steel.
Weight cannot be upgraded. This is a big factor to consider when deciding if the Bowflex dumbbells are worth it. You'll need to upgrade the entire dumbbell if you find yourself outgrowing the Selectech 552's or 1090's. This may not be an issue for people who work out for fat loss and casual fitness. But for those looking to build serious muscle, it's worth considering the Powerblocks instead (which allow you to upgrade weight with retro-fitted addon kits).
Cannot support body weight. This is handy in certain exercises like the dumbbell push-up where you need your dumbbells to support your entire body weight. Whilst the Bowflex dumbbells won't exactly buckle when body weight is applied every now and then, it's not recommended doing it too often. They simply aren't sturdy enough. You can check out my other post for a detailed comparison of Bowflex vs Powerblock dumbbells for pushups.
2-Year Warranty is not the longest. The Bowflex warranty is slightly longer than the average 1-year warranty offered by most adjustable dumbbell manufacturers. But it's nothing compared to the 5-year warranty offered by Powerblock. The latter beleives in the durability of their dumbbells!
If you're still keen on the Bowflex dumbbells, you may be interested in my other post which explains how the Bowflex dumbbells work.
Are The Bowflex SelectTech 552 Adjustable Dumbbells Worth It?
The Bowflex SelectTech 552 adjustable dumbbells are worth the money for beginners. They are easy to use, comfortable, space-saving, and replace multiple dumbbell pairs. However, most people will find the Powerblock Elite dumbbells to offer better value for money overall.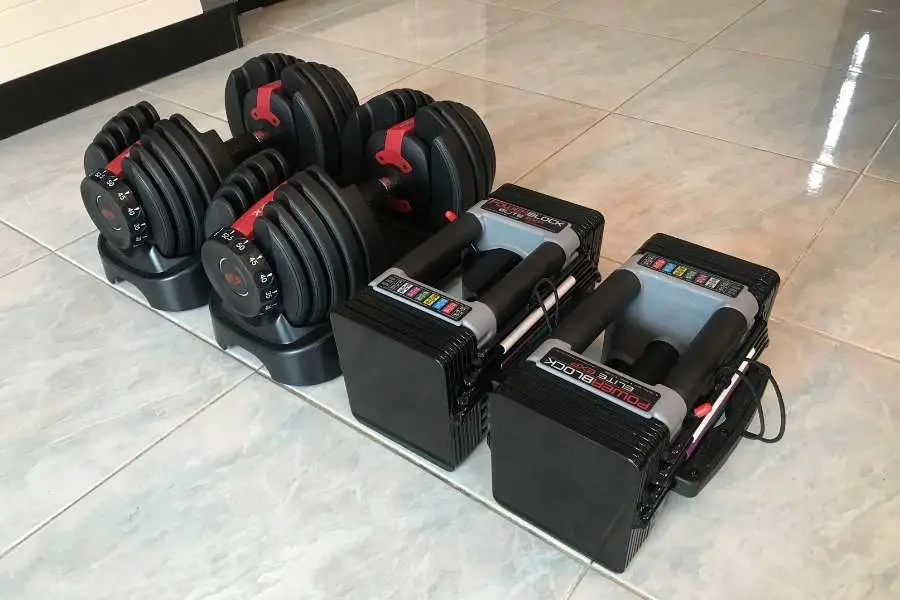 As I said before, the Bowflex dumbbells aren't exactly bad. They're a premium brand after all (you can check out my other post to learn more about Bowflex as a company.
It's just that the Powerblock dumbbells are better.
As a beginner who has no point of reference, odds are you'll be very happy with a Bowflex 552 purchase.
They're good all-round dumbbells and they are more than enough for most people to build some muscle, burn fat, and get toned.
But as someone who's compared them side by side over 2 years, I can also say that the Powerblocks offer more value for money overall.
In fact, I've actually stopped using my Bowflex 552 dumbbells in favor of my Powerblock Elites!
You can find the cheapest Powerblock price here.
Are The Bowflex SelectTech 1090i Adjustable Dumbbells Worth It?
The Bowflex SelectTech 1090 adjustbale dumbbells are worth it for experienced weight lifters. They offer very heavy weights that make them ideal for building muscle at home. However, most people will find the Powerblock Elite with the stage 2 and 3 addon kits to offer more value for money.
The SelectTech 1090 dumbbells are not too dissimilar to the 552 dumbbells.
They just offer more weight (90lbs vs 52.5lbs per dumbbell) and a different handle design.
Just be aware that the Bowflex 1090 dumbbells are very expensive.
The price has actually dropped since I last checked, but they still aren't cheap.
After I realized that I needed to upgrade my Bowflex 552 dumbbells, I had 2 main candidates:
Bowflex 1090 or Powerblock Elite with stage 2 and 3 addon kits.
Both options provide 90lbs of resistance per dumbbell.
I went with the Powerblocks in the end.
They were cheaper and did not have the durability issues of the Bowflex dumbbells.
Was I happy about my decision?
Yes!
But if you like the design of the Bowflex 1090 dumbbells (which have a traditional dumbbell) shape, they are still very good dumbbells that receive a lot of positive feedback.
You may also be interested in my other post for the 9 heaviest adjustable dumbbells.
Products Recap
Conclusion
I've explained if the Bowflex adjustable dumbbells are worth it.
My opinion- and that of most Reddit/Quora users- is that they are generally good adjustable dumbbells.
However, a lot of people (including myself who has owned both) simply feel the Powerblock dumbbells offer more value for money.
If you have no point of previous comparison, I'm sure you'll be happy with the Bowflex dumbbells. They are great dumbbells after all.
But for those who want the most from their money, then unfortunately the Powerblocks reign supreme!
What do you think about the Bowflex dumbbells?
Feel free to send me a message if you have any questions! You can find my details on the "contact us" page.
You may also be interested in the downloadable Kalibre Blueprint PDF which details exactly how I gained 40lbs of lean muscle (it's 100% free!). It details the exact exercises and nutrition (with printable worksheets) I used to go from skinny to ripped!
Thanks for reading guys!
Peace Out,
Kal
(Biochemistry BSc, Biomedical Sciences MSc, Ex-Skinny Guy)