PowerBlock is one of the market leaders in the adjustable dumbbell industry and boasts a sturdy-looking design. But how reliable are they? This post explains how durable PowerBlocks are and how long you can expect them to last.
The PowerBlock dumbbells are generally very durable. They have a relatively small number of moving parts compared to other adjustable dumbbells and they are mostly made from heavy-duty steel. The typical Powerblock can be expected to last for up to 5-20 years or more of heavy use.
Before I purchased my PowerBlock Elite, I struggled to find a reliable review on its durability.
So that's why I'm writing this to help you decide for yourself!
Let's jump straight in.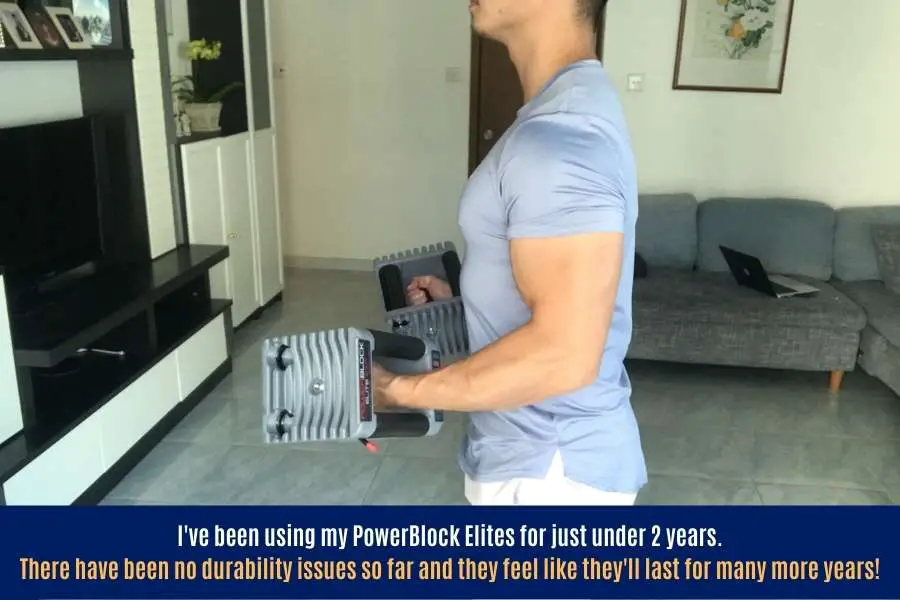 Interested In The PowerBlocks?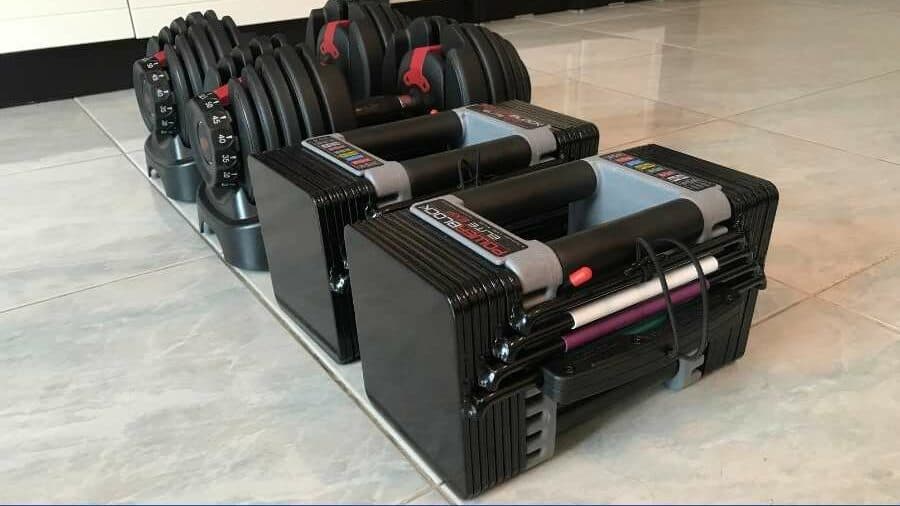 Other than the PowerBlock website itself, I found Amazon to provide the most competitive pricing and fastest delivery.
I wasn't a fan of PowerBlock website's limited delivery options; no international shipping and slow delivery times.
So I bought my PowerBlocks from Amazon.
Having tested dozens of other brands and models, I feel the PowerBlock Elite EXPs to offer the best value for money!
Are PowerBlock Dumbbells Fragile And Can They Be Dropped?
Overall, PowerBlocks are not fragile dumbbells. They feature a sturdy solid-steel frame with neoprene fixings and trimmings. It is generally ok to drop them from small heights of less than 10 inches without them breaking. However, it is not recommended to do this too often.
I own the PowerBlock Elites (the cheapest entry-level model in the PowerBlock lineup).
They came well packaged in a polystyrene foam shell.
I was surprised to find no "do not drop" or "fragile" stickers present on the outer packaging, as many of the other adjustable dumbbells I've bought have had.
To me, this was the first sign that PowerBlock believe in the durability of their dumbbells.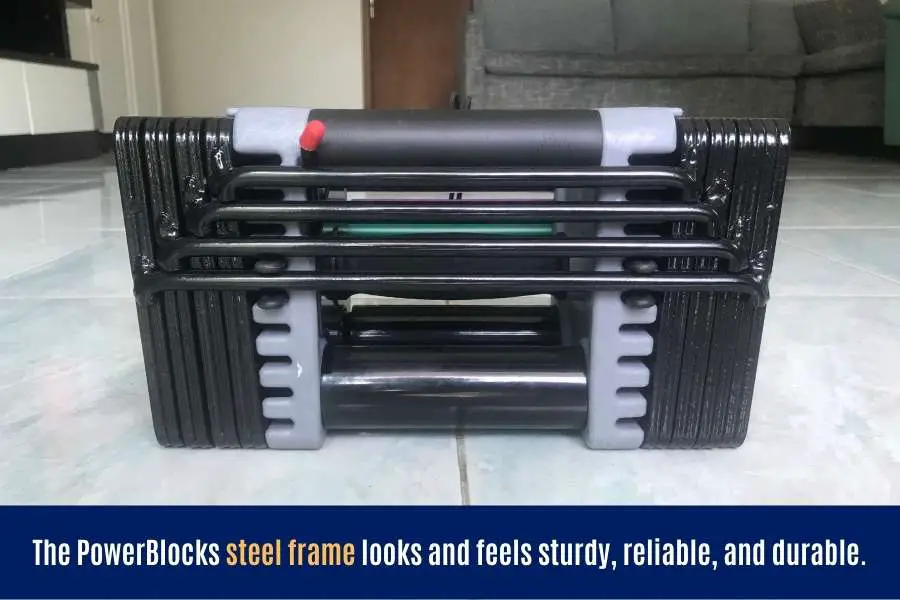 The PowerBlock dumbbell design itself screams "I'M FRIGGIN DURABLE!".
The main unit is essentially a solid steel frame with composite and neoprene fixings on the handle and rails.
Depending on which model you buy, the steel is either powder-coated with paint (Elite and Sport series) or molded in a layer of neoprene (Pro series).
The handle feels sturdy, does not rattle, and has a hard but grippy rubber coating along its entire surface.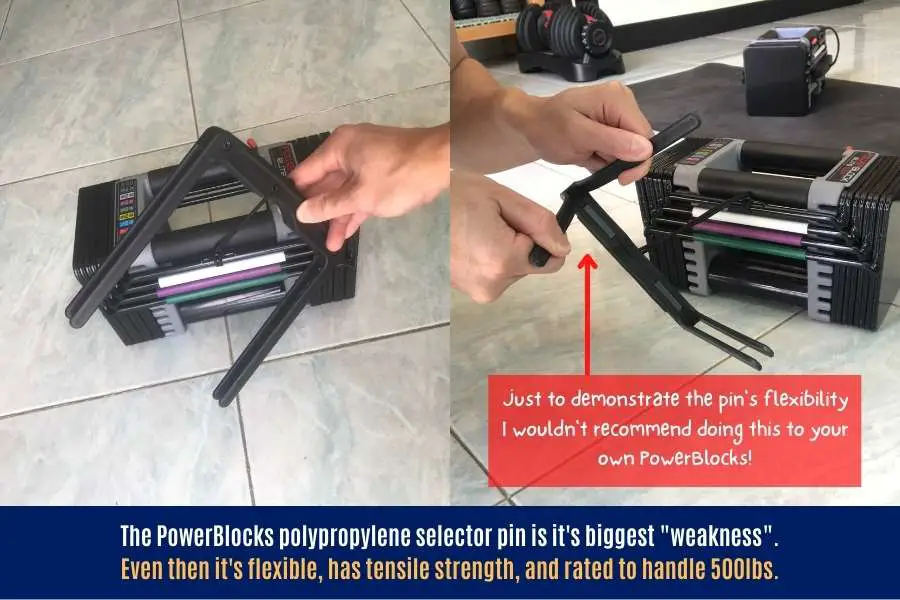 In my opinion, the biggest area of doubt in terms of durability is in the selector pin. It's made entirely from polypropylene (a flexible plastic).
Despite this, the Powerblock pin is still flexible but also has high tensile strength. It's rated to 500lbs even though the dumbbell itself only weighs 50-90lbs (depending on if it's stock or upgraded).
All in all, the Powerblocks feel durable and reliable.
Just err on the side of caution with the selector pin.
If you're interested in how they work, you can check out my other article to learn more about how to use PowerBlock dumbbells.
How Long You Can Expect Powerblocks To Last
The average PowerBlock dumbbell can last for many years. Most of the user reviews that mention lifetime usually state that they have currently used the PowerBlock dumbbells for at least 1 to 2 years without any issues. Some reviews have quoted the PowerBlocks lasting up to 20 years.
Usually, I would go to Amazon to find out the percentage of Powerblocks that lasted for 1 year, 2 years, 3 years, and so on.
But there was not enough data for a reliable statistic.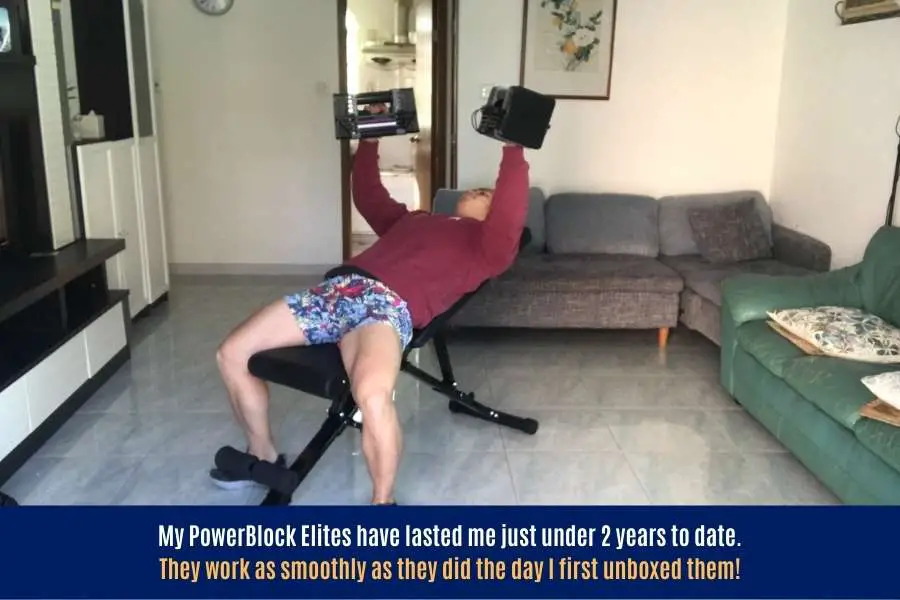 However, the user reviews are generally positive.
And those who talked about the PowerBlock lifetime usually quoted multiple years of current use.
"I've had my PowerBlock dumbbells for over 20 years [without] any problems".

Tom Mack, Amazon
This isn't hard to believe based on their quality construction, my personal experience with the PowerBlock Elites (link for my hands-on review), and the fact that all PowerBlocks come with a 5-year warranty (discussed at the end).
How Durable My PowerBlocks Have Been
I've been using my PowerBlock Elites for just under 2 years.
There have not been any issues with durability or reliability to date.
I mainly use PowerBlock dumbbells for muscle-building workouts, but I also use them for occasional fat-burning cardio workouts.
Most PowerBlock dumbbells are heavy enough for both applications. You can find more details in my other post on how heavy PowerBlock dumbbells go.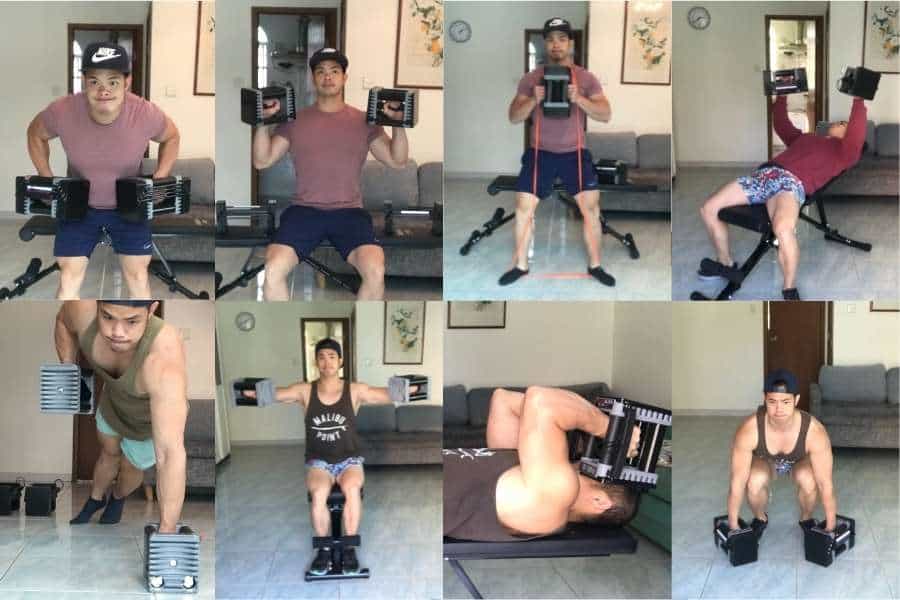 My training schedule mainly comprises a 5-6 day training week (so I'd say I use them quite heavily).
Muscle-building workouts mainly revolve around the 5 big compound lifts:
Bench press.
Row.
Overhead shoulder press.
Squat.
Deadlift.
But I also use my PowerBlocks for some isolation-type movements too:
Bicep curls.
Tricep extensions.
Shrugs.
Weighted sit-ups.
Lateral raises.
Flyes.
All in all, I'd say the PowerBlocks have generally been very durable.
Sometimes I'll drop them from small heights (<10 inches) after a particularly intense set of rows, deadlifts, or shoulder squats (even though adjustable dumbbells should not be dropped).
And you know what?
My PowerBlocks haven't even started showing signs of breaking.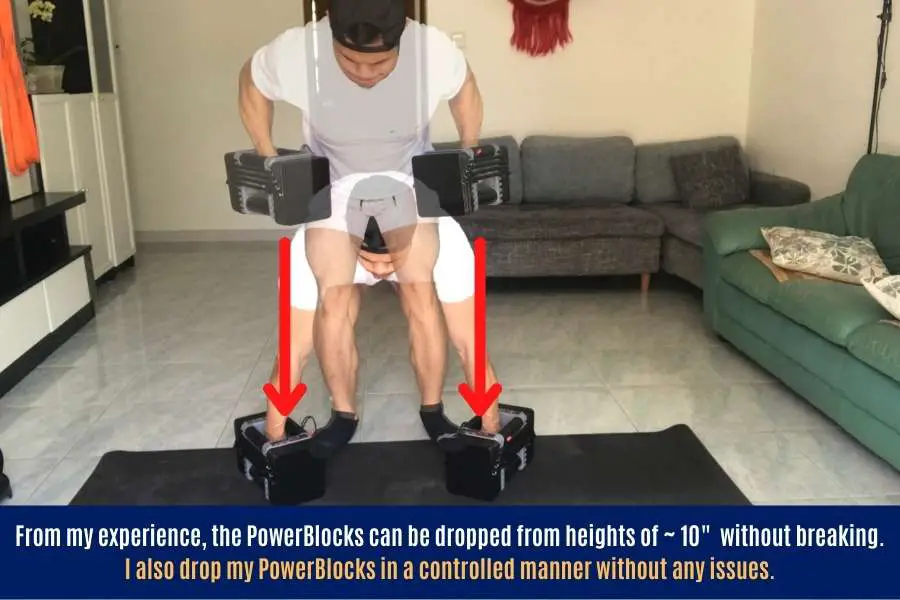 It should be noted, however, that these are controlled drops.
In other words, I remove most of the momentum by pulling on the dumbbell as they fall.
It's also important to note that when I drop my PowerBlocks, I drop them onto a foam yoga mat. I WOULD NOT RECOMMEND letting them directly hit a hard floor.
This isn't so much because I feel the dumbbells will get damaged, but because the floor will become scratched/chipped.
I also use my PowerBlocks to do push-ups and HIIT-style workouts (dumbbell snatches, jerks, swings, cleans).
My PowerBlock dumbbells have proved to be durable, reliable, and good performers in all of the exercises mentioned above.
---
You may also be interested in my other article which compares PowerBlock with Bowflex dumbbells (their main competitor).
How Durable Have Other People's Powerblocks Have Been?
One person's opinion is good.
But the collective opinion of a collective group is even better!
Usually, I would do a Reddit/Quora poll to find the answer to this type of question.
This would allow me to determine what percentage of people think the PowerBlocks are durable and how reliable they actually are.
However, there are not enough numbers to generate a reliable statistic (as far as I'm aware). Most of the Reddit/Quora threads descended into PowerBlock exercise performance reviews.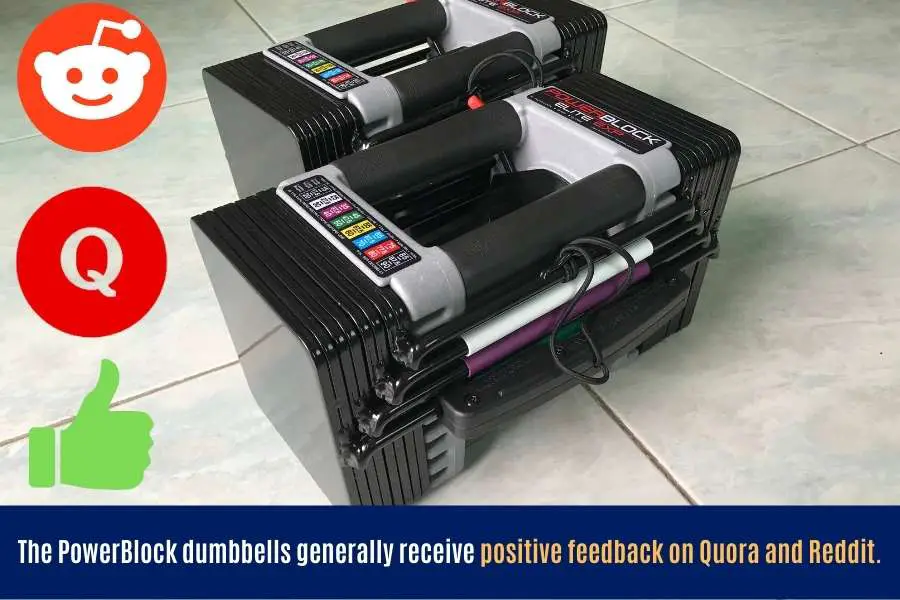 With that said, the responses on Reddit/Quora were generally positive.
The PowerBlock dumbbells are safe, well-made, durable, and reliable in the eyes of others.
Check out this Reddit comment:
"For the price, the space, durability, and the speed of changing all together, they're hard to beat.

Dead1eagle6, Reddit
And also this Quora comment:
"[The PowerBlocks] are durable. They're robust. I've had a set for years and use them regularly."

Pete Koning, Quora
Additionally, I also filtered out all the negative PowerBlock Elite reviews on Amazon.
Doing this revealed that only 7 reviews (out of 890 total reviews at the time of writing) mentioned durability issues (breakages, cracks, failures, etc).
In other words, only 0.79% of the Powerblock dumbbells had reliability issues.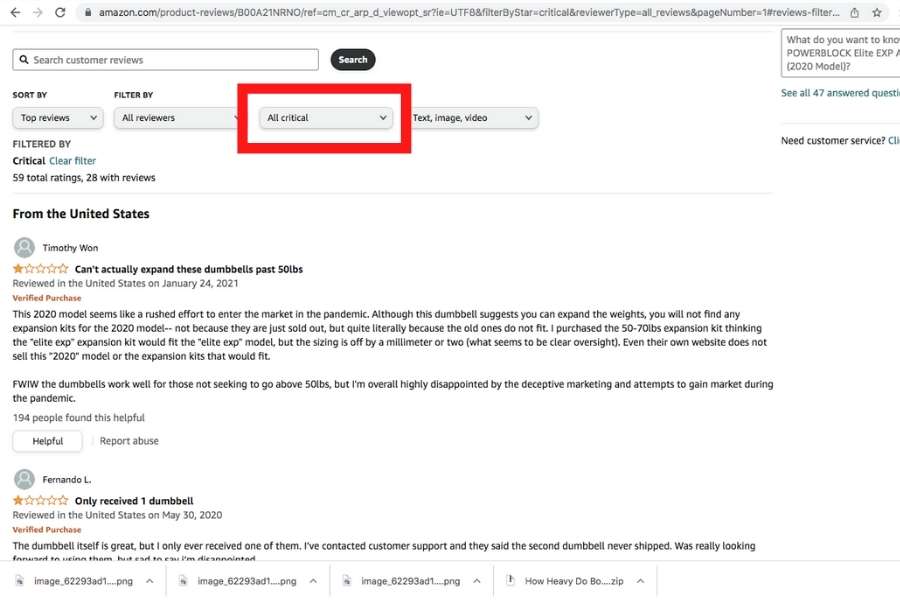 I don't think this is bad at all!
Furthermore, you shouldn't discount the people who were satisfied with the PowerBlocks but forgot to leave a review (we've all been there!).
Accounting for this population would likely further the percentage of Powerblock durability issues.
---
If you would like to learn how to look after your dumbbells properly, you can check out my dumbbell cleaning and maintenance guide!
The Powerblock Warranty Explained
All PowerBlock dumbbells come with a 5-year limited warranty. This covers any defection in parts and workmanship on the weight plates, side rails, handle assembly, and selector pin. It does not cover damage from wear and tear, abuse, misuse, or modified dumbbells.
It should be noted, however, that the warranty MUST be registered within 30 days of purchasing the PowerBlock.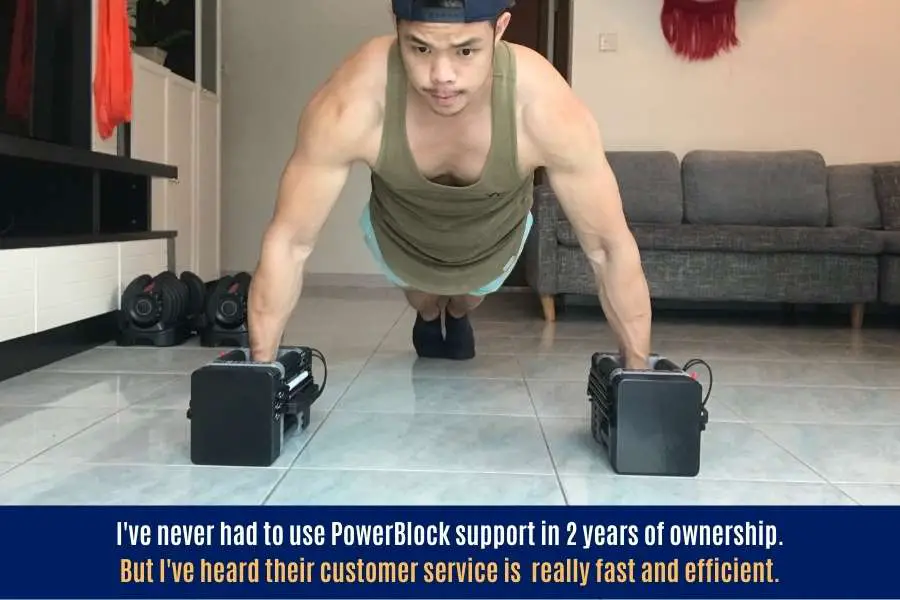 The warranty also only covers home use and it's only available for the original buyer.
Additionally, you should be aware that the misuse and abuse clause allows you to drop your PowerBlock dumbbell from a maximum height of 12 inches (unheard of in any other brand).
I don't know how they measure this, nor would I recommend you do so, but just something to bear in mind.
PowerBlock seems to really believe in the reliability of their dumbbells.
If you weight plates, rails, or handle cracks or breaks, these parts can be repaired or replaced by PowerBlock. A replacement weight selector pin can also be sent out should yours snap.
All this is completely free of charge and PowerBlock even covers the shipping of their parts to you (again this is rare!).
However, you DO have to pay for labor, shipping TO PowerBlock, and other admin costs.
You can contact PowerBlock at questions@powerblock.com.
For more information about the brand, you may also be interested in my other post which explains where PowerBlocks are made!
Conclusion
I've explained how durable PowerBlock dumbbells are and how long you can expect them to last.
PowerBlock is a market leader when it comes to adjustable dumbbells.
Their dumbbells are heavy-duty, industrious, and reliable.
You can expect them to last for many years even if you're a complete gym junkie who uses them daily.
There ARE some cases of faulty PowerBlocks (what product is 100% fail-proof?) but these are few and far between.
How do you feel about the PowerBlocks?
Feel free to send me a message if you have any questions! You can find my details on the "contact us" page.
You may also be interested in the downloadable Kalibre Blueprint PDF which details exactly how I gained 40lbs of lean muscle (it's 100% free!). It details the exact exercises and nutrition (with printable worksheets) I used to go from skinny to ripped!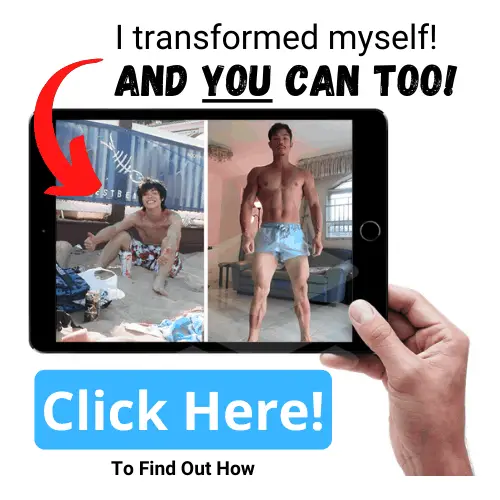 Thanks for reading guys!
Peace Out,
Kal
(Biochemistry BSc, Biomedical Sciences MSc, Ex-Skinny Guy)