Are you looking for an effective way to work out at home? Then this is the post for you. Because today, I'll be sharing 15 reasons why adjustable dumbbells are worth the price tag.
Generally speaking, adjustable dumbbells are worth the money for beginner to intermediate lifters to build muscle and lose fat at home. They replace multiple dumbbell weights in a single unit, making them good value for money. Heavy adjustable dumbbells are also worth it for advanced lifters.
Throughout the 2020 lockdowns, I used my friend's adjustable dumbbells to maintain my muscle mass.
And I completely fell in love.
Now that life is returning to normality, and I no longer have access to these dumbbells, I'm looking to buy a set for myself.
That's why I want to share my research and experience with you today!
Let's get straight to it.
1) Adjustable Dumbbells Average 4.5 Stars On Amazon.
The 2 main types of adjustable dumbbells- selectorized and spinlock- are extremely popular with home workout enthusiasts.
Now, that's a very subjective statement I've just said.
So I crunched some Amazon numbers to give you a quantifiable number for how popular adjustable dumbbells actually are.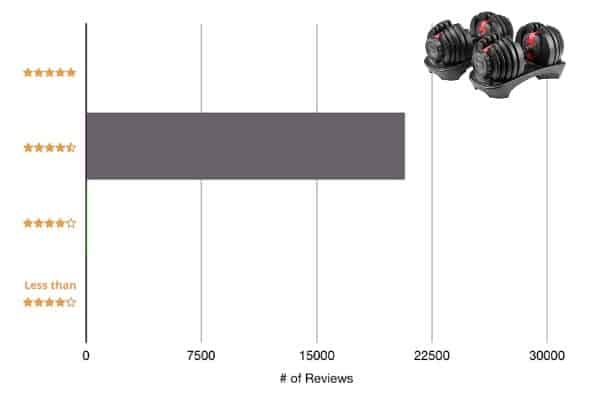 First, I gathered all the reviews for a range of selectorized adjustable dumbbells.
Out of 20,832 total user-generated reviews from 26 different selectorized dumbbell sellers:
9 reviews averaged 5 stars (0.04%).
20,743 reviews averaged 4.5 stars (99.6%).
80 reviews averaged 4 stars or less (0.38%).
That's some pretty impressive user feedback! And it just goes to show how good these dumbbells are.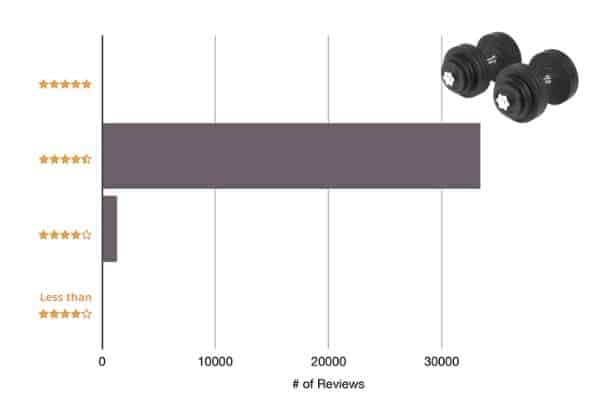 Next, I repeated the process for spinlock adjustable dumbbells.
Out of 34,768 total user-generated reviews from 19 different spinlock dumbbell sellers:
15 reviews averaged 5 stars (0.04%).
33,438 reviews averaged 4.5 stars (96.2%).
1,315 reviews averaged 4 stars or less (3.78%).
Spinlock Adjustable dumbbells like this Yes4All (you can see the reviews here) just didn't score as high as their selectorized variants like the Powerblock Elite, but it's still a score to be proud of.
Although both types of adjustable dumbbells are popular, it seems as though the selectorized adjustable dumbbells are slightly better than the regular spinlock dumbbells by a small margin.
Nevertheless, both types of adjustable dumbbells received an average of 4.5 stars on Amazon, and that's what counts!
Which type you go for will depend on your budget and goals.
Spinlock dumbbells tend to be cheaper but offer less weight, and selectorized dumbbells are more expensive but provide considerably more weight.
The choice is yours!
You might be interested in my other article to find out if you need 1 or 2 dumbbells for an effective workout.
2) 76% Of Redditors Agree Adjustable Dumbbells Are Worth It.
Next, I turned to the Reddit and Quora communities to verify the positive user feedback from Amazon.
If you use Reddit, you'll know that the community is fiercely passionate.
You'll also know that they aren't afraid of giving strongly-voiced opinions.
So what better group to ask whether or not adjustable dumbbells are worth it?
I tracked down the following Reddit/Quora threads asking:
After filtering the unhelpful anecdotes, I arrived at 29 helpful responses. And here are the compiled user-opinions: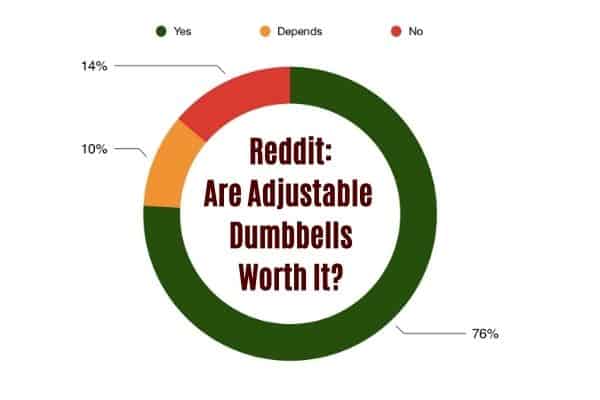 An impressive 76% of Reddit users agreed outright that adjustable dumbbells are worth it.
Another 10% felt that adjustable dumbbells can be awesome depending on your training goals and budget.
And only 14% did not feel that adjustable dumbbells are worth the money.
Here are some of the commonly cited pros and cons of adjustable dumbbells.
Pros of adjustable dumbbells:
Quick and convenient- select poundage by using a dialing or pin mechanism and you're good to go!
Relatively cheap- least expensive of all the free weights and more cost-effective than a long-term gym membership.
Versatile workouts- dumbbell exercises can effectively target all the major muscle groups.
Beginner-friendly- mechanisms to adjust weight are pretty idiot-proof.
Cons of adjustable dumbbells:
High initial expense- they're cheap compared to other free weights but still cost a lot more than a short-term gym membership.
Durability- moving parts are susceptible to mechanical damage (especially plastic parts).
Limited weight- you'll need to upgrade once you've outgrown your dumbbells.
Awkward ergonomics- awkward shapes can feel weird especially for those who are used to traditional dumbbells.
You may be interested in my other article to find out if dumbbells are worth buying.
3) Dumbbells Are Suitable For Most Training Goals.
Everyone has different training goals.
But it's safe to say that the 3 biggest reasons for lifting weights is to either lose fat, build muscle, or both.
If you belong to one of these categories, then selectorized adjustable dumbbells will help you reach your goals.
Let's face it- with such a large variety of dumbbells on the market, why should you go for the expensive selectorized adjustable dumbbells?
A great benefit for selectorized adjustable is they have a higher weight capacity, compared to spinlocks.
Spinlock adjustables often hold less weight, and modern ones which do go heavy, are usually hard to find.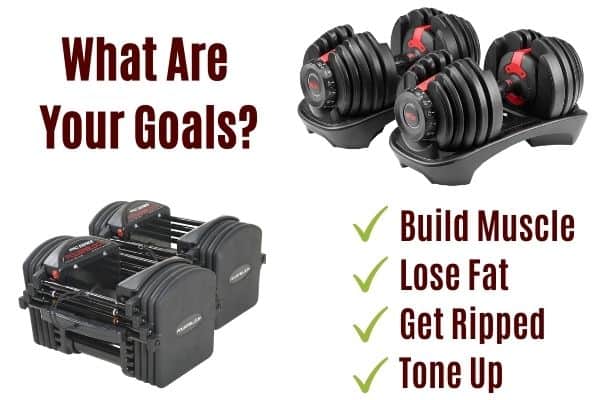 When a single pair of adjustable can go as heavy as 90 pounds per dumbbell, the average person has everything needed to build muscle, get big, or get ripped.
And when you have a good weight bench like this Flybird adjustable bench, you have a simple but fully functional home gym.
The only training goal which is unsuitable for adjustable dumbbells is powerlifting.
If this is a goal you want to pursue, then a heavy barbell setup would be more beneficial.
If you're looking to buy dumbbells, then you may be interested in my other article to find out what is the best dumbbell weight for beginners.
4) They Allow You To Train All The Muscles In The Body.
Don't underestimate the simple nature of the dumbbell.
A pair of dumbbells can replicate 90% (if not more) of the most popular exercises you would perform using weight machines, barbells, and kettlebells.
And combined, these exercises can train all the muscles in your body.
Here's a list of great compound and isolation dumbbell exercises you can try.
| Chest | Arms | Shoulders | Back | Abdominals | Legs |
| --- | --- | --- | --- | --- | --- |
| Flat bench press | Bicep curl | Overhead press | One-arm row | Ab crunch | Dumbbell squat |
| Incline press | Reverse curl | Hammer press | Underhand row | Leg raise | Goblet squat |
| Chest fly | Hammer curl | Lateral raise | Overhand row | V-up | Forward lunge |
| Dumbbell pullover | Tricep extension | Front raise | Reverse fly | Russian twist | Deadlift |
| Crossover | Tricep kickback | Upright row | Weighted pull up | Wood chop | Ham curl |
Check out my other article for 36 of the best dumbbell exercises for skinny guys!
I mentioned previously that dumbbell exercises are inherently unstable, and this can make it hard to master form.
Furthermore, this issue can be compounded by the awkward shape of some adjustable dumbbells.
But take time to practice and build a foundation of strength, and you can very quickly perform a variety of full-body dumbbell workouts to hit all your muscles.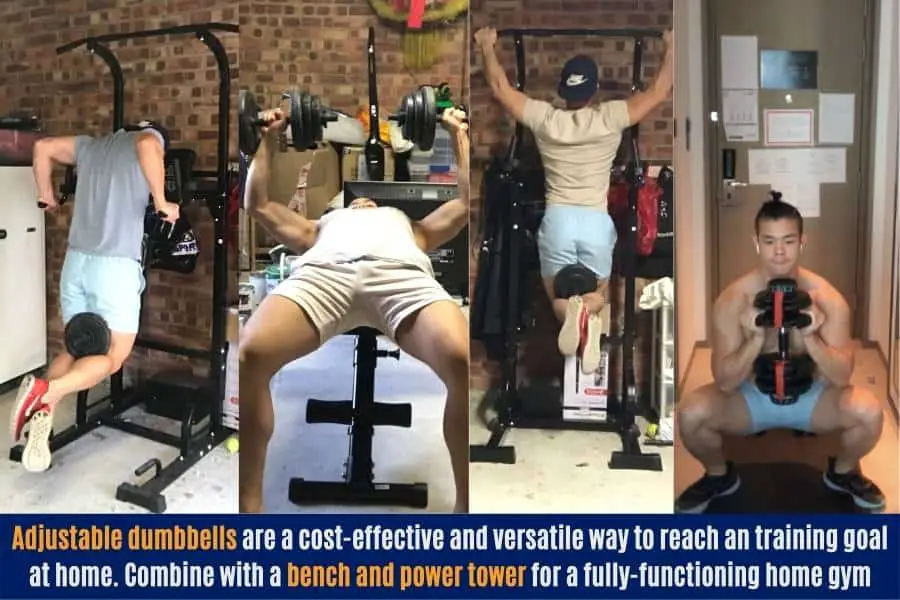 A cheap weight bench like the Flybird will further increase the effectiveness of your chest workouts by allowing you to do the bench press and dumbbell fly.
And a pull-up tower like this Sports Royal (you can see the specs here) is enough to help you build a v-shaped back.
All for a few hundred dollars.
In my opinion, that makes adjustable dumbbells well worth their price tag!
5) They're Intuitive And Easy To Use.
This one benefits beginners in particular.
Adjustable dumbbells are extremely user-friendly, and the manufacturers have designed them with both pros and novices in mind.
So how do you change the weight on adjustable dumbbells?
The two most popular weight-change mechanisms for selectorized adjustable dumbbells are pins and dials. A dial mechanism allows the user to change weight by turning the handle. In comparison, a pin mechanism allows the user to change weight by inserting the pin into designated holes.
The Bowflex dumbbells, like the Selectech 552 (you can see the full specs here), utilize a dial mechanism.
Core Home Fitness dumbbells also use the dial mechanism, but you turn the entire handle rather than a separate knob.
In comparison, Powerblock adjustable dumbbells utilize the pin mechanism. I'm currently using the Powerblock Elites.
I've used all 3, and can say that all are extremely easy to use.
But if I had to choose one over the other, it would be the Powerblock pin mechanism. It just feels more durable.
Spinlock adjustables are even simpler- add/remove weight plates as required, and use the collar to secure the plates to the dumbbell handle!
6) Save Around 1 Hour Per Workout With Adjustable Dumbbells.
Let's be honest- is there anyone who would say no to having more time in their lives?
Time-saving is one of the biggest advantages of home workouts with adjustable dumbbells.
Although there's a substantial time investment required to perform your initial research to get the ideal pair of dumbbells, you'll be surprised at the amount of time you can save from training at home.
| Time Spent: | Home Adjustable Dumbbells | Commercial Gym |
| --- | --- | --- |
| Commuting | 0 mins | 30 mins per workout |
| Waiting For Equipment | 0 mins | 20 mins per workout |
Times are based on personal experience.
You could save around 50 minutes from each workout just from eliminating time spent traveling and waiting for other people to finish using shared equipment.
Furthermore, you can save more time by choosing selectorized over spinlock adjustables.
Unlike spinlock dumbbells (which require you to manually remove/add weight plates), selectorized dumbbells can adjust the weight with a simple click.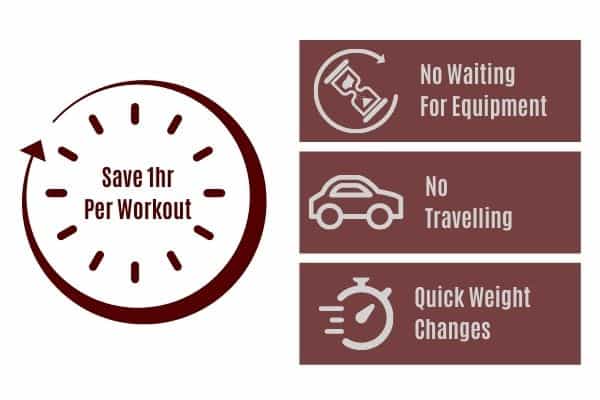 Now let's assume you perform around 8 different exercises per workout, and each exercise requires different poundage.
If each weight-change takes approximately 45 seconds on spinlock dumbbells, that's 6 minutes saved by using selectorized dumbbells.
Combined with the savings made on commuting and waiting for equipment, you could reduce workouts by up to an hour each day!
So if you're someone with a hectic schedule, adjustable dumbbells may well be worth it for you.
Check out my other article for the pros and cons of home gyms.
7) Make 52% Cost-Savings With Adjustable Dumbbells .
Many people question why adjustable dumbbells are so expensive.
After all $300-500 for a pair of dumbbells seems absurd right?!
Not really.
Actually quite the opposite.
Adjustable dumbbells offer great value for money compared to your other free weight options.
| Weight Equipment | Typical Cost | Cost Per Pound |
| --- | --- | --- |
| Adjustable Dumbbell Pair (5-70lb) | $400.00 | $5.71 |
| Fixed-Weight Dumbbell Set (5-70lb) | $1500.00 | $21.43 |
| Barbell + Rack + Plates (100lb) | $700.00 (min) | $7.00 |
| Kettlebell Set (5-80lb) | $600.00 | $7.50 |
Approximate prices calculated from Repfitness.com and Amazon.com.
At just $5.71 per pound, adjustable dumbbells are a cheap way to lift weights at home. This is for a high-quality adjustable dumbbell.
In comparison, a barbell/plate/rack setup costs a minimum of $7.00 per pound (and that's for budget equipment).
Similarly, a kettlebell set will set you back at around $7.50 per pound.
But the greatest savings are from not having to buy a set of fixed-weight dumbbells, which can cost a whopping $21.43 per pound.
Remember that, unlike adjustable dumbbells, fixed-weight dumbbells require you to buy all the individual weight increments. And the higher poundage dumbbells often cost a bomb.
Finally, don't forget about the money you'll save from not having to commute to a commercial gym.
Assuming each 20 minute round-trip costs around $5 gas money, and annual gym membership around $400, that's over $1000 saved from working out at home.
Of course, the exact amount you save will depend on the quality of gym membership and how much you like driving in the 8k RPM range.
But in general, you'll see that adjustable dumbbells are worth the money when you look at the bigger picture!
You may be interested in my other article to find out the average price per pound of dumbbells!
8) Adjustable Dumbbells Free-Up 50-75% More Space.
Convenience- another reason why adjustable dumbbells are so expensive.
Let's face it, many simpletons like us don't have acres of spare room.
In fact, every square foot counts in a condo or family home.
And the main reason why adjustable dumbbells are worth the money is for the technology responsible for their extremely low footprint.
| Weight Equipment | Space Required (Square Foot) |
| --- | --- |
| Adjustable Dumbbell Pair (5-70lb) | 4 sqf |
| Fixed-Weight Dumbbell Set (5-70lb) | 8 sqf |
| Barbell + Rack + Plates (100lb) | 16 sqf |
| Kettlebell Set (5-80lb) | 8 sqf |
Footprints from Repfitness.com.
Compared to the other free weight options, you could save anywhere between 6-12 square foot at home.
There's a lot you could fit in that 12 square foot.
A pinball machine, a gaming desk, a life-sized cut-out of Schwarzenegger?…
Selectorized adjustable dumbbells are also a tidy way to workout at home.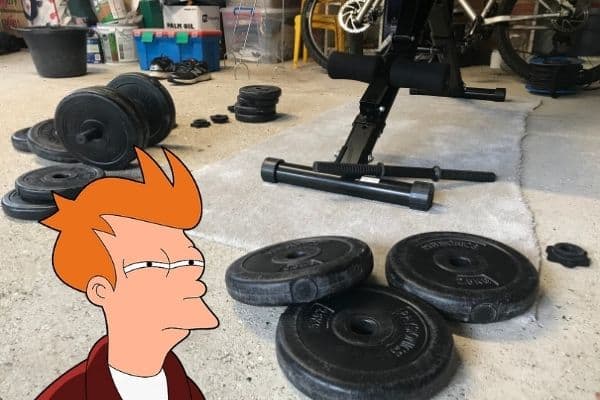 That's because all the weight increments are packaged into a single effortless unit.
So no more scattered weight plates as you cycle through your exercises.
If you have an obsessive need to keep your training tidy and organized, then adjustable dumbbells are well worth their money!
9) Adjustable Dumbbells Replace An Entire Set Of Dumbbells.
Let's highlight one of the biggest advantages of adjustable dumbbells.
No one ever achieved their training goals with a single pair of 20 pound dumbbells.
If you're serious about training with dumbbells, it makes sense to buy a complete set with all the weight increments right?
Well, a great benefit of selectorized adjustable dumbbells is they contain an entire set of weight increments.
And all of these weights are packaged smartly into a single cubic foot.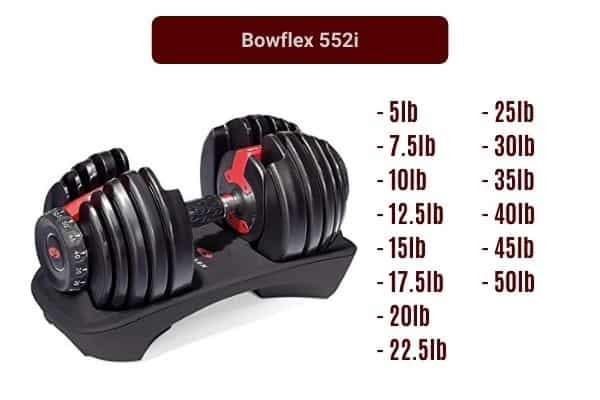 For example, the Powerblock Elite adjustable dumbbells contain 16 weights to make a total of 50 pounds (25kg).
From 2.5 pounds to 50 pounds, the weight increases in 2.5/5 pound increments.
This comes in at $340 in the USA or £500 in the UK at the time of writing (both prices for the pair of dumbbells).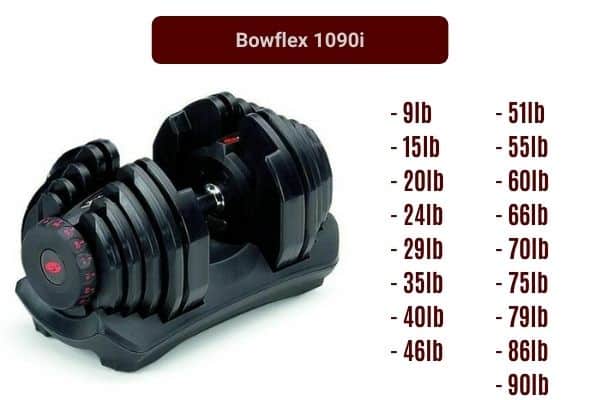 Similarly, the Bowflex SelecTech 1090i adjustable dumbbells contain 17 weights to make a total of 90 pounds (41kg).
From 10 pounds all the way to 90 pounds, the weight increases in 4 to 6 pound increments.
And this is currently priced at $799 in the USA or £549 in the UK.
Now let's compare this to buying fixed-weight dumbbells.
If you were to buy 15 different pairs of fixed-weight dumbbells, this would cost you around $1500 or £1000 (assuming an average of $100 per dumbbell pair).
The adjustable dumbbells don't seem so expensive now do they?
Furthermore, Bowflex is a premium adjustable dumbbell brand.
Shop around, and you'll find budget-friendly brands such as Ativafit and Muscle Squad. Even Powerblocks are moderately priced these days.
Alternatively, you can make an Amazon watchlist for adjustable dumbbells for sale!
You can try my workout to get big with 50lb dumbbells in my other article!
10) Train With Safety In Mind.
In terms of safety, adjustbale dumbbells are at the lower end of the risk spectrum.
And here's why.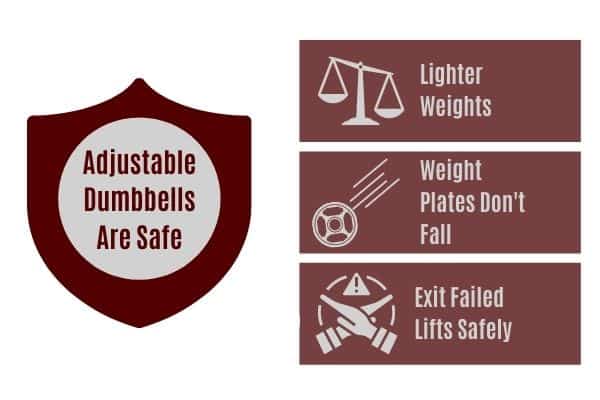 First of all, unlike barbells, you'll inherently be lifting lighter weights with dumbbells.
But that's not to say dumbbells are ineffective. In fact, you can get a very good workout with dumbbells.
That's because lifting dumbbells requires more stabilization compared to barbells, and the increased difficulty makes up for their lower poundages.
Secondly, the built-in safety mechanisms hold the weights together.
This prevents the weight plates from falling off on an adjustable dumbbell.
And trust me, falling weight plates happen more often than you'd think with barbells and spinlock dumbbells.
Finally, dumbbells are a safe way to push yourself on the big exercises.
This includes compound lifts like the bench press, overhead press, row, deadlift, and squat.
These exercises require you to shift heavy weights. And unlike a fully-loaded barbell, you can back out from a failed lift by simply dropping the dumbbells to your side.
All in all, the price for adjustable dumbbells are worth it for beginners to safely learn weight lifting technique!
11) Adjustable Dumbbells Are Great For Home Workouts.
Do you struggle to keep a consistent training schedule?
If so, you're not alone.
The guys at Better conducted a survey to find out popular excuses for not going to the gym.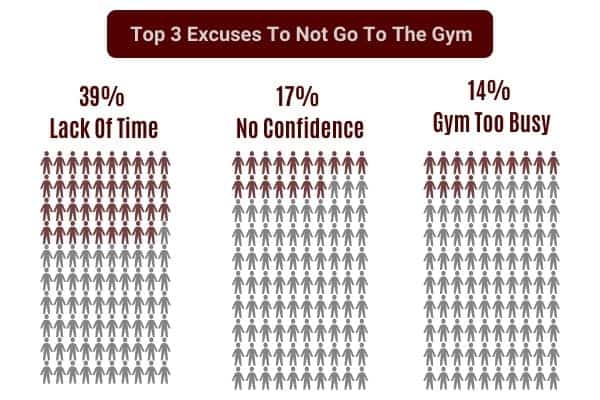 It turns out that 56.01% of excuses stem from a lack of time and confidence to go to the gym.
Another 14.3% quoted the gym being too busy as their excuse.
Well guess what?
A pair of adjustable dumbbells will allow you to conveniently work out at home (you can check out my other article to learn how to build a cheap and effective dumbbell home gym).
This means you can get your workouts completed quickly and efficiently, as well as do so without people watching and judging you!
These days, there are many online resources for home workouts.
Pull up a Youtube video, and learn at your own pace without a Gym Bro breathing down your neck and pressuring you to finish using the equipment!
This brings me to my next point…
12) Fix Gym Intimidation With Adjustable Dumbbells.
Gym intimidation describes the phobia associated with using the local gym facilities.
And whilst you may not get a prescription for it, it's still a real thing.
How real?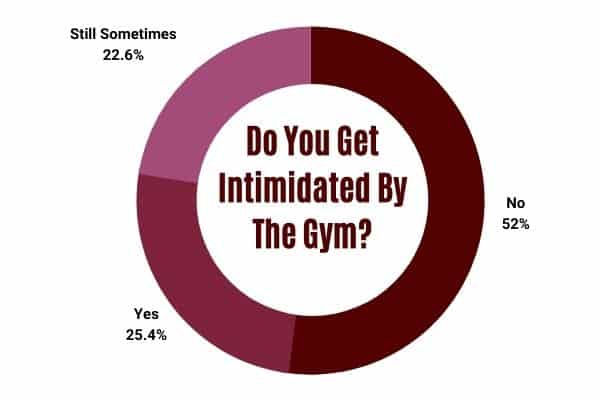 This survey by Study Finds reveals that almost 50% of Americans have a fear of going to the gym.
The most common reasons are:
Not knowing what exercises to do.
Self-conscious about fitness levels.
Looking silly to fellow gym-goers.
These reasons all stem from inexperience.
When you are unfamiliar with weight training, you will be hesitant to learn (especially with others watching!).
The converse is also true.
Once you gain confidence, you'll be more enthusiastic about working out.
The great thing about adjustable dumbbells is they give you access to all the weights required to develop your confidence.
From didlly 5 pounders to heavy 50 pounders, you can practice all you like from home.
Once you gain a degree of confidence, you won't be afraid of going to the gym anymore. And when you've reached this stage, a whole new world of health and fitness options become available.
Therefore a pair of adjustable dumbbells could very well be worth the money to help you break free from gym intimidation!
Look at adjustable dumbbells as a stepping stone to unlocking your true health and fitness potential….
13) Adjustable Dumbbells Are Durable If Looked After.
With the technology that goes into making adjustable dumbbells so convenient to use, a common concern is how long do they last?
Do the mechanisms in adjustable dumbbells break?
The first thing you should know is that all selectorized adjustable are made from iron, steel, composites, and rubber.
As such, they are more much more durable than cheap water/sand/concrete-filled dumbbells which are prone to cracks.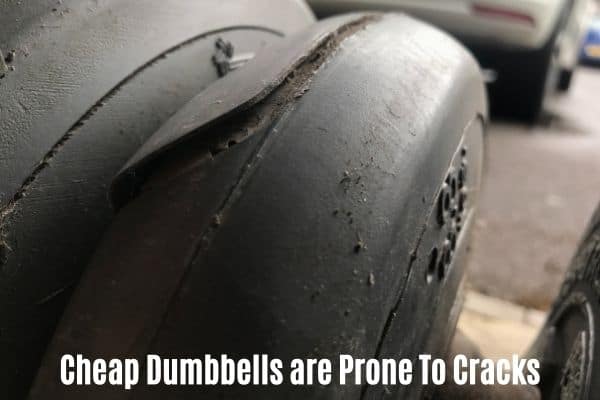 That being said, the moving parts (like any mechanical device) can break if mistreated. And cast-iron weights will always be more durable.
But in a home gym environment, they'll last you a lifetime, assuming you don't throw them about!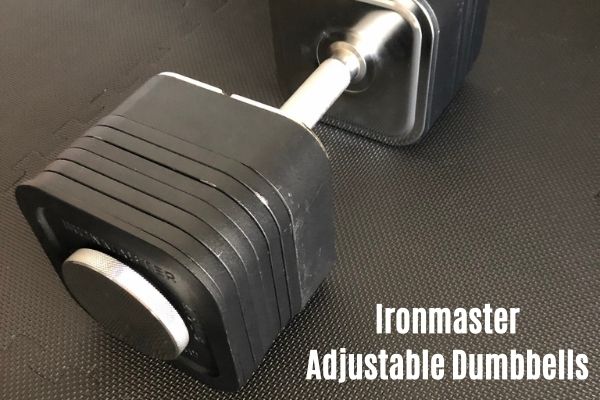 If you're still concerned about durability, then fixed-weight dumbbells may be a better option.
Alternatively, check out the Ironmaster adjustable dumbbell range.
These are made from welded steel, and are a hybrid between selectorized and spinlock adjustable dumbbells.
These dumbbells will last forever!
---
If you're interested, you can learn how to look after and maintain your dumbbells here!
14) Reputable Brands And Dealers Provide Warranties.
These days, the market is saturated with adjustable dumbbells.
This makes them affordable (unlike during the 2020 lockdown period where dumbbells prices ramped up).
Whether you're looking for adjustable dumbbells in the UK, USA, or Canada, you'll be able to find a reputable brand and dealer. I would stay away from third-party sellers.
You should also be aware that different dumbbell brands offer different manufacturer warranties.
Here are the warranty periods for 5 popular adjustable dumbbell brands: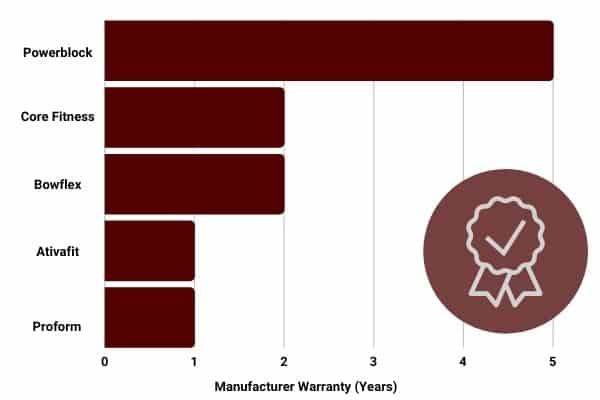 These warranties all cover parts, labour, and customer support.
But if you buy from a third-party, you may not be entitled to these benefits.
Additionally, you should be aware that Amazon sellers sometimes have different warranties to the brand themselves.
So do diligent checks beforehand!
15) They Can Be Conveniently Transported.
Last but not least, adjustable dumbbells are very convenient to transport.
This may not be a concern for you right now, but at some point, you may need to relocate.
And when that happens, you'll probably want to move your home gym with you right?
Well by now, you should know that adjustable dumbbells are one of the most convenient weights to move.
What would you rather move- 15 pairs of dumbbells or a single pair of adjustable?
I know which I'd choose…
Here are todays key points summarised!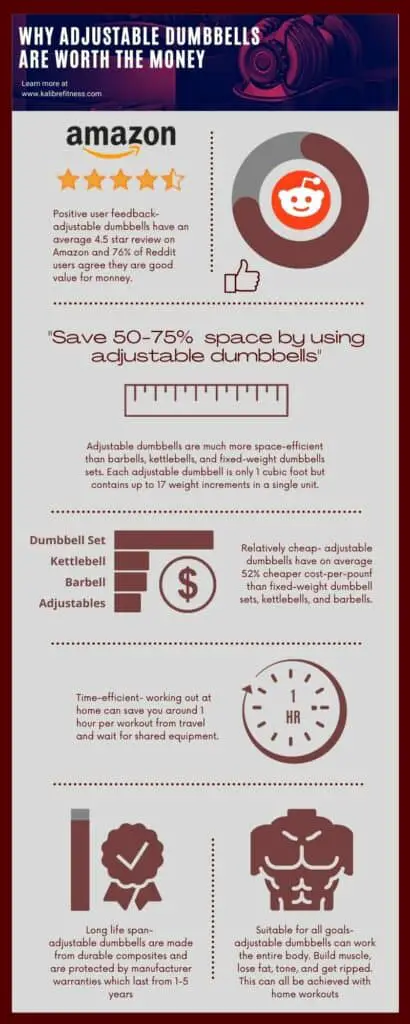 Conclusion
Today I've given you 15 reasons why adjustable dumbbells are worth it.
These may seem expensive at first, but closer inspection reveals that these dumbbells provide great value.
They are cheaper than the other free-weights, extremely convenient, easy to use, and offer weights that are suitable for reaching most training goals.
If you're a beginner, I would highly recommend considering investing in a pair.
Even advanced lifters can benefit from a quick and convenient adjustable dumbbell workout.
Just make sure you pick a reputable brand.
Which adjustable dumbbells are on your wish list?
Let me know in the comments!
You may also be interested in the downloadable Kalibre Blueprint PDF which details exactly how I gained 40lbs of lean muscle (it's 100% free!). It details the exact exercises and nutrition I used to go from skinny to ripped!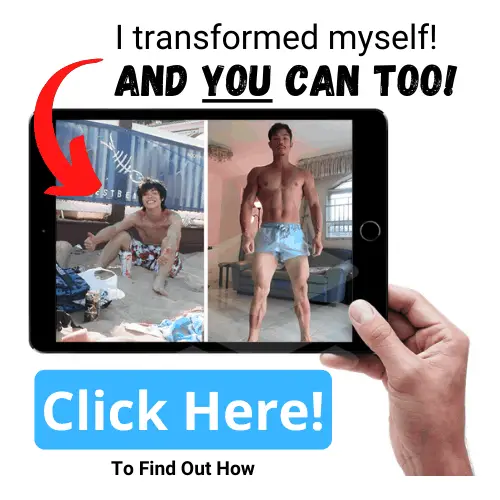 Thanks for reading guys!
Peace Out,
Kal
(Biochemistry BSc, Biomedical Sciences MSc, Ex-Skinny Guy)