As a beginner, buying the perfect set of dumbbells can be frustratingly difficult.
And oftentimes it seems like the ideal dumbbells always cost an arm and a leg.
But what if there was the perfect dumbbell that strikes a balance between affordability, weight, and durability?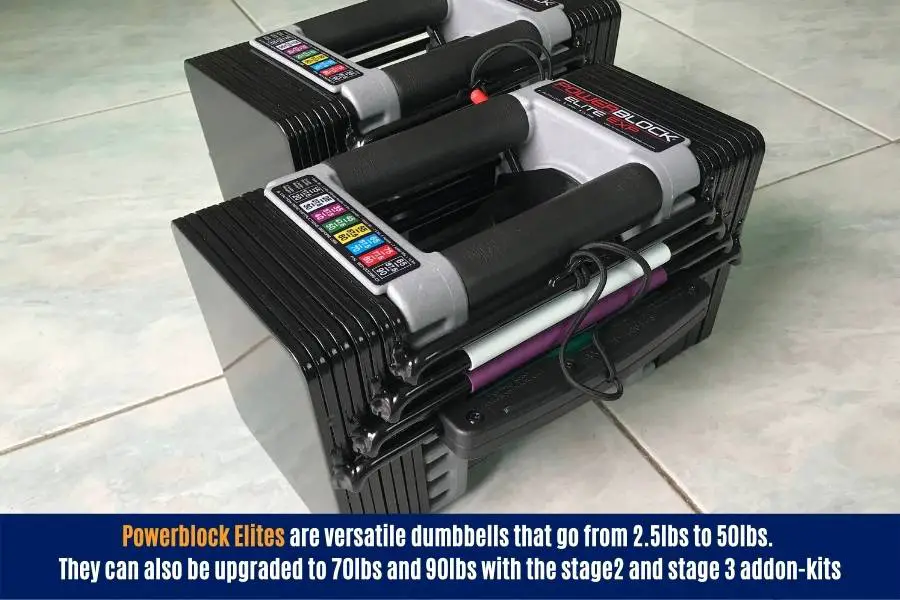 After deliberating for many months, I finally took the plunge with the Powerblock Elite series (link for cheapest price). For me, it offers the best balance in cost, weight, and durability. I still think these are an absolute bargain for what you get. Indeed, the PB Elite 50-lb dumbbells only cost $329 (at time of writing), with the option to upgrade to 70-lbs and 90-lbs whenever you are ready (these expansion kits can be purchased at a later date). Not to mention you also get Powerblock's renowned warranty and customer support.
If you're from the UK, then go for the Powerblock Sport Series (link for cheapest price). They are £439.99. This is more expensive than the Elites, but the Elites are only available to the US domestic market.
If you think the Powerblocks sound pricey, then consider this:
I've been weight training for 10 years now, and throughout my time, I've had to purchase MULTIPLE sets of dumbbells.
Why?
There are multiple reasons.
But the main ones being cracked weight plates, failed adjustment mechanisms, and simply because I outgrew the poundage.
Combined, this has cost me well over $700 (just because I couldn't bring myself to initially spend that extra 50-100 bucks).
Don't make the same mistake I made!
What If You Don't Have $300 For Dumbbells?
If you ARE adamant about spending less than $300 on dumbbells, I would recommend these Yes4All spinlock dumbbells (check link for cheapest price).
They can be bought for just $64.
And for this, you get cast iron weight plates which will last you a lifetime.
These dumbbells also offer good poundages for beginners to gain a foundation of strength, build some muscle, as well as tone along the way.
Just know that poundages are limited and you won't get anywhere near as many weight increments as the Powerblock Elites.
Why I Decided To Choose The Powerblock Elites.
In my opinion, selectorized dumbbells (like the Powerblocks) have taken the monopoly over spinlock and fixed-weight dumbbells.
And for a good reason.
Spinlock dumbbells belong in the 1990s and fixed-weight dumbbells simply take up too much space (and cost a bomb).
For the average Joe, selectorized dumbbells strike the ideal balance between compact design, affordability, and heavy poundages (more reasons later).
But the question is WHICH selectorized dumbbell to buy?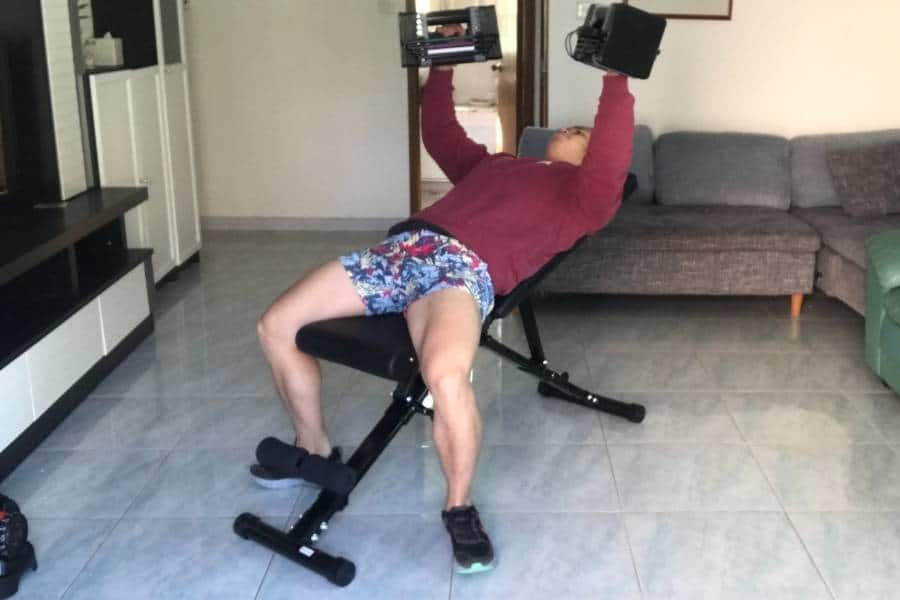 I picked the Powerblock Elites over their competitors for 7 reasons:
Couldn't afford to waste space. The Elites measure just 12″x8″x8″. Now compare this with one of their biggest rivals, the Bowflex Selectech 552s, which measure 16″x8″x8″. The

Powerblock is 25% more compact

than the Bowflex and many other dumbbells. This is not just better for general space-saving but also less annoying to exercise with (Bowflex's are so long that they bump into each other).
Didn't want to overpay with competitors. The Elites are the cheapest of the 3 Powerbock series. They can be bought for just $329 (+shipping) from the Powerblock website. And thats's almost a

hundred bucks cheaper

than most other 50-lb selectorized dumbbells made by other companies like Bowflex, Ativafit, and MX-Select (which cost between $400-500).
I hate bad customer support. Client service and warranty are both important to me. In fact, I hate nothing more than wasting my time dealing with faceless corporations who don't give an F about their customers. Not only do the Powerblock dumbbells have great reviews in general, but their

customer support is also renowned

. Additionally, Powerblock offer a

5 year warranty

with their dumbbells (compared to 1-2 years offered by most other brands).
It's important to know that my dumbbells won't break. In my opinion, the word "Powerblock" is a fitting name for the brand. These look, feel, and

ARE extremely durable

. They are constructed mainly commercial-grade steel, unlike many competitors which have lot's of plastic components. Furthermore, the pin-selector on Powerblocks are less prone to failure compared to the dial-selectors in most competitors.
Couldn't commit to 90-lb dumbbells immediately (but also wanted the option to upgrade later). The Elites weigh in at 50-lbs standard, which is more than enough for beginners. But as you become stronger, you can also purchase the

Stage 2 and Stage 3 kit for $149 each

. This takes the poundage to 70-lbs and 90-lbs, respectively. By the way, that's $627 for a pair of 90-lb dumbbells (one of the cheapest for this weight). And the best thing is you can upgrade whenever you feel is suitable without having to splash out $600+ in one go!
Large weight increments are a waste of time. Unlike many cheaper dumbbells that have 10-lb weight increments, the Elites feature 5-lb increments. This means the weight of

each dumbbell can be increased by as little as 5-lbs each

. This is important for progressive overload and building more muscle more quickly. Adding 5lbs to a bicep curl is much easier than adding 10-lbs…
You get 22 dumbbells packaged into one. The Elites pack

22 weight increments into a single dumbbell

. That's more weight increments than any spinlock dumbbell could ever offer, and much cheaper than any fixed-weight dumbbell set could ever be.
What I Currently Think Of The Powerblock Elites.
Short answer- one of the best purchases I've ever made.
Investments in personal health are always a good idea, and the Powerblocks haven't disappointed one bit.
But you probably want some more juice to the answer.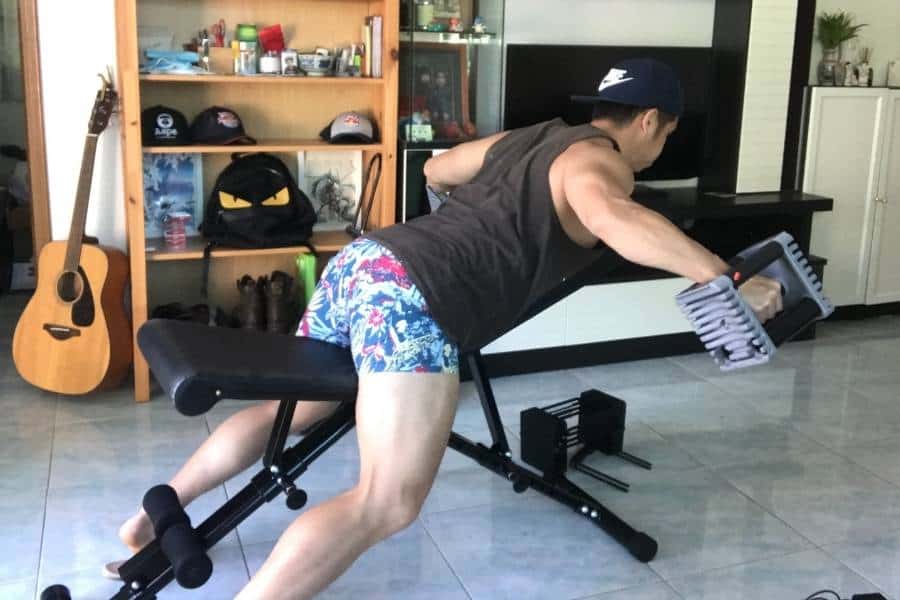 Here's what I love about the Powerblock Elites:
90-lbs will last you for most of your training journey. As a beginner, the standard 50-lb Elites will last you for ~12 months of regular and focused lifting (and even longer if you're a casual lifter). At this point, you can upgrade to 70-lbs and then 90-lbs (with the aforementioned expansion kits). Not only are these kits inexpensive for what they provide, but at these weights, your Elites can easily

carry you through to the advanced stages of training

(around 5 years of regular lifting).
Extremely durable and can take a battering. Obviously I don't condone throwing your weights about. But in reality drops happen no matter how careful we are. The Elites are pretty much

made entirely from steel and also features a powder-coated finish

. This makes it pretty resilient to knocks and scratches (as long as they aren't abused). Overall, it FEELS like a quality bit of kit and this can be a great training motivator!
Shape takes time to adjust to but fantastic to use. Powerblock dumbbells are arguably

THE most compact selectorized dumbbells

on the market. And to be honest, competitors have a lot work to catch up. I've used the Bowflex Selecttechs and hated how they would clunk into each other at the top of a bench press. Other bulky dumbbells also have a similar problem. But this is no concern for the block-shaped PB Elites.
Not had to contact customer support once. Despite having a great reputation, I

've not had to contact customer support

in 2 years of near-daily use. I've already mentioned that the PB Elites are very durable. But I feel it important to hammer home the point. Don't beleive me? Go Youtube "Powerblock Elite problems. Now Youtube "Bowflex Selectech problems"…..
Pin-selector mechanism is satisfying to use. You know the fantastic feeling you get when using a product that's been made well? That's the feeling you get with the Elites. Every time you insert the pin-selector, it makes a

gratifying metallic "click"

. To me, it's a constant reminder of how well-built these dumbbells are. The mechanism is also rapid and makes for quicker workouts.
I can train every body part when combined with a bench. I've spent $627 for the Elites + expansion kit, and another $145 on a Flybird bench. That's a total of $772. But it means I can effectively hit every body part with sufficient weight, without having to go to the gym (which costs $500+ annually). The Elites are without a doubt a great investment. And I regret not forking out the extra bit of cash before cycling through garbage dumbbells in the past.
The PB Elites make a great combination with a weight bench. You can find out the best weight bench for beginners here. Heavy dumbbells and a bench alone are enough for an affordable and space-efficient home gym to build your first 20-lbs of muscle.
What To Look For In Selectorized Dumbbells.
I highly recommend the Powerblock Elites to any beginner.
They may cost 100 bucks more than the average budget dumbbells, but they will last you much longer and likely save you money in the long term.
But the Powerblock shape may be unappealing to some of you, and for this reason, you may be thinking of choosing another brand.
So here are some essential factors to look out for when choosing new dumbbells in general:
Total weight. Choose a weight that matches your current training level and then multiply that weight by 1.5-2.0x for redundancy. This future proofs your dumbbells.
Weight increments. 2.5-5.0-lb increments are the best for progressive overload. Avoid anything with over 10-lb increments, unless it's a spinlock dumbbell.
Material. You'll want to avoid plastic dumbbells. These crack in no time and you'll have to buy another pair. Steel and urethane-coated dumbbells are the best.
Handle. Find a dumbbell with good grips on the handle. You don't want your dumbbell slipping out of your hands half way through a bench press!
Dimensions. A compact design is better. Avoid overly bulky dumbbells which clunk into each other as you lift. Not only is this extremely irritating, but it can also restrict your range of movement in exercises like the bicep curl.
Warranty. For me, it's gotta be a 2 year minimum. Selectorized dumbbells aren't as durable as cast iron spinlocks. So I want the manufacturer to put their money where their mouth is.
Plastic components. Every selectorized dumbbell feature plastic components somewhere in the design. The objective is to find one with

minimal

plastic.
Adjustment mechanism. Read reviews on the adjustment mechanism of your potential new dumbbell. Budget models have a tendency to fail at the selector mechanism. And when this happens, it's usually game over.
Best Brands Of Selectorized Dumbbells To Consider.
Ativafit. These guys make moderately priced dumbbells with good reviews. Their product line features weights from 27.5 to 71.5-lbs which is reat for beginners. But their warranty is sub-par.
Bowflex. Main competitors to Powerblock. Along with Powerblock, Bowflex is considered the other OG of selectorized dumbbells. I personally prefer Powerblock for the reasons mentioned above.
Flybird. This company makes affordable and compact dumbbells at 25-lbs and 55-lbs. These are excellent for casual fitness. But the limited weight is no good for long-term muscle building.
Ironmaster. Excellent brand with super heavy and super durable dumbbells. Their dumbbells can go up to 165-lbs per hand. But they are also super expensive (over $1000 for a pair).
MX-Select. Their 55-lb dumbbells are $499, which is quite expensive for this weight. I've not personally tested these, but the reviews are generally great.
Muscle Squad. New boys on the UK dumbbell scene. Their dumbbells start from £140 for 27-lbs (12.5kg) to £420 for 71.5-lbs (32.5kg). Not bad considering Powerblock and Bowflex can cost upwards of £500+ in the UK due to import fees (depends on the model).
Nuobell. These guys are like the Apple of the dumbbell world. Their dumbbells are pricey at $745 for 80-lbs. But they look sexy as hell and feature a slick handle-turn selector mechanism.
Powerblock. These guys started in 1991 and are one of the OG of selectorized dumbbells. Imagine what Nike is to sneakers. That's what Powerblock is to dumbbells.
A Word Of Caution On Spinlock Dumbbells.
Spinlock dumbells are great for absolute beginners and casual lifters to improve general strength and fitness.
They're cheap, space-efficient, durable, and easy to use.
Good spinlock brands include:
Domyos (Decathlon). Budget range.
REP Fitness. Premium.
Yes4all. Mid-range
York Fitness. Premium.
But they come with 3 major cons:
Lack of weight increments. Most spinlocks only have 3-6 weight increments, increasing at around 10 to 20-lbs per increment. This makes it difficult to increase strength and muscle.
Limited poundages. Unless you're willing to spend $300+ for premium models, spinlock dumbbells are usually capped at around 40-lbs per dumbbell. And if you are willing to spend this kind of money, you may as well go for selectorized dumbbells like the PB Elites which offer heavier weights and better increments.
Slow workouts. Spinlocks require you to manually unscrew the spinlock nut and change plates each time you want to adjust the weight. This is tedious and makes for longer workouts.
If you're serious about building your first 20-lbs of muscle, spinlock dumbbells are not the ideal choice.
The process will be extremely slow and laborious.
I'd advise you to invest in selectorized dumbbells instead.
Thoughts On Fixed Weight Dumbbells.
Fixed-weight dumbbell sets are awesome for gym veterans.
They're durable, heavy, quick to use, and have small weight increments.
Good fixed-weight dumbbell brands include:
Amazon basics. Budget range.
Torque Fitness. Mid-range.
REP Fitness. Premium.
Rogue Fitness. Premium
But don't expect to pay anything less than $2000 for a complete set from 5 to 90-lbs.
You'll also need around 18 square feet of space to install a rack.
This makes fixed-weight dumbbells unsuitable for beginners.
Conclusion
Selectorized dumbbells are the way forward in 2021.
And in my opinion, the best selectorized dumbbells are the Powerblock Elites ($329). These will easily allow skinny beginners to gain their first 20-lbs at home (bench recommended).
If you're in the UK, then the Powerblock Sports (£419.99) are the cheaper alternative to the Elites (which are only available to the US domestic market).
If your budget is tight or you're a casual lifter, then settle for the Yes4All spinlock dumbbells ($64). These will allow skinny beginners to build a foundation of strength and muscle. Just be aware that you'll need to upgrade to heavier dumbbells if you want to progress.