Don't let the simple-looking nature of a weight bench fool you.
There are a few important factors to consider when picking the ideal weight bench.
And knowing what to look for can make the difference between a short-term buy and sell, or a long-term investment.
After considering more than 10 different benches, I decided to go for the Flybird FB149 adjustable weight bench (link for cheapest price). In my opinion, this bench offers the greatest value for money for beginners to intermediates between 5'6″ to 6'0″. It comes at a very reasonable price, has 7 FID (flat/incline/decline) settings, and has a 700-lb weight capacity. Having tested it for over a year, I could not recommend it more!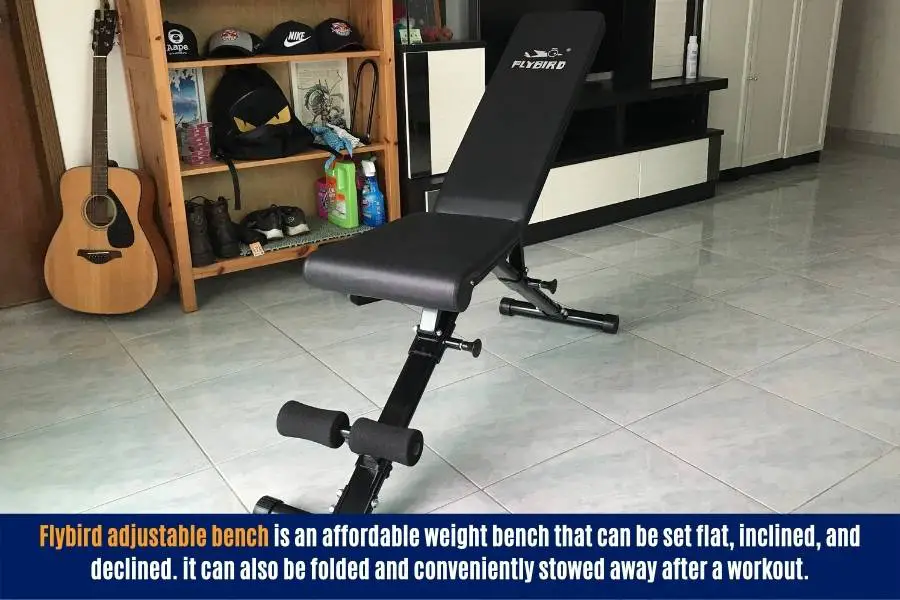 What If You're Under 5'6″ Or Over 6'0″?
If you're on the shorter person (under 5'6″), then I'd recommend the Flybird FB139 adjustable weight bench (link for cheapest price).
It has a lower weight capacity of 600-lb (which is still more than enough for beginners). But the seat height is also lower and this provides a more comfortable lifting position for people with shorter legs.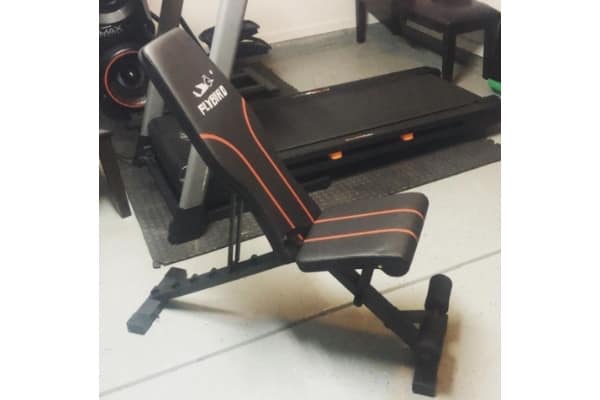 If you're on the taller person (over 6'0″), then I'd recommend the Fitness Reality adjustable weight bench (link for cheapest price).
It has a higher weight capacity of 800-lb. But more importantly, the seat and backrest are longer to accommodate your height.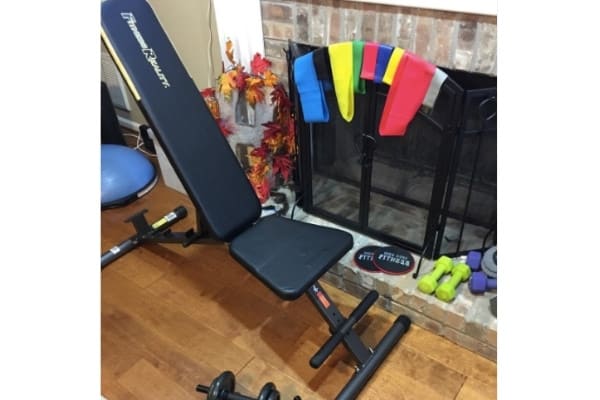 All three benches have multiple incline/decline capabilities. And this makes them ideal for beginners to train all regions of the chest.
All three are also foldable. And this is great for small home gyms or those who train in communal areas (like a shared living room or garage).
The folding mechanisms are also quick and easy to use, and reduces the footprint of the bench by around 75% during storage.
Why I Chose The Flybird Bench.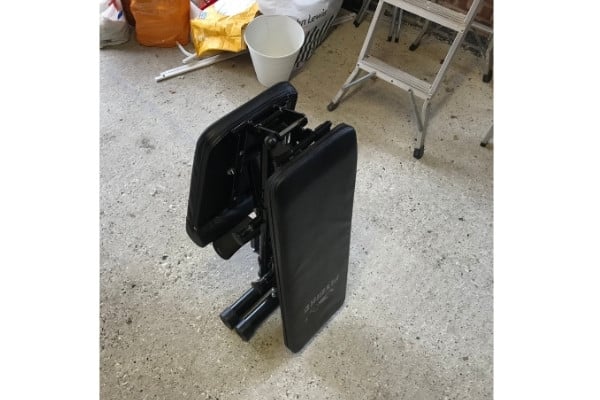 Now you may be wondering why I specifically chose the Flybird bench.
Here are the 5 reasons why I decided to go for the Flybird FB149 adjustable weight bench:
Didn't want to waste money on unused weight capacity. Although I have a barbell rack at home, I mostly focus on dumbbells. And as I mentioned above, a

700-lb weight caacity is more than enough for home dumbbell training

. So why splash the extra cash on a premium bench? It would be like buying a supercar for inner city driving- nice but ultimately costly and unecessary. As a beginner, a 700-lb weight capacity will last you for years of training.
Bad reviews are a good indicator for what to avoid. The great thing with mid-range benches is that they're extrmely popular. And that also means reviews are plentiful. All the

Flybird benches have over 10,000 5-star reviews each

. In contrast, competitors like the CAP and Zenova not only averaged 4-star reviews, but the number of reviews were below 500. For me peer reviews are crucial, and Flybird passed with flying colours.
Flat benches have restricted functionlity. The purpose of a weight bench is to safely allow you to perform a greater variety of exercises at home. That's why I chose an adjustable bench over a flat bench. The

Flybird is extremely versatile

, with 7 different FID settings that allow you to target pretty much all muscle groups.
Didn't want to risk injury from an unstable bench. Not only does the Flybird have a 700-lb capacity, but it also

features a wide base

. This was important for me because mid-range benches tend to be very light compared to premium benches. As a result, they can be unstable unless the base has a wide footprint to make up for the lack of weight (which the Flybird has). Having used the Flybird bench to bench press 300-lbs (plus my 160-lb body weight), I can confirm that the Flybird has great stability!
Couldn't afford to waste dedicated space for a bench. My home gym is in a garage shared by the rest of my household. This made it essential that my equipment could be stowed away when unused. And in my opinion,

foldable benches like the Flybird are one the best technological advancements

in the industry. If you live in a small apartment or have limited space like me, then a foldable bench is a Godsend! Additionally, the Flybird is lightweight and can be transported easily. I love doing garden workouts when the sun is shining!
Beware Of Cheap And Premium Benches.
As a beginner, you want to avoid going too cheap.
But it can also be a bad idea to go too expensive.
Going to either extremes could leave you feeling short-changed because you generally get what you pay for.
Cheap benches (<$100) may seem like a bargain at first.
But they often leave a lot to be desired in terms of their weight capacity, overall stability, safety, and comfort.
That's mainly due to their poor construction and the cheap materials used in the frame and padding.
Premium benches (>$250) on the other hand, often overkill for a beginner.
If you have the spare cash, then by all means go for a premium bench. Chances are it will last you a lifetime of training.
However if you're on a budget, then a premium bench is unnecessary and you probably won't utilise all the features you're paying for.
This can leave you regretting spending so much money on something you're not gaining the full benefits from.
Take home message?
Beginners should go for a mid-range bench.
A mid-range bench gives you access to all of the important features required to build a bigger chest at home.
And the best thing is you don't have to break the bank!
For these reasons, I recommend the Flybird and Fitness Reality benches.
Mid-Range Benches Provide The Best Of Both Worlds.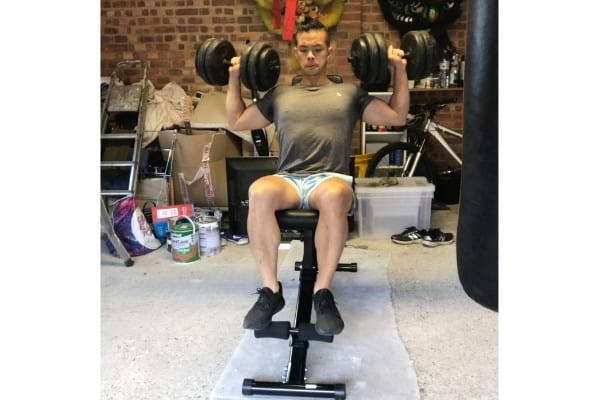 Beginners shouldn't have to spend more than $100-150 for a quality bench.
For this money, a mid-range bench will provide:
Adjustable FID angles. Many mid-range benches offer

up to 8+ different flat, incline, and decline settings

. This is more than adequte to train all regions of the pecs and shoulders.
Folding capabilities. The

ability to be folded is one of my favourite things about a mid-range bench

. Cheap benches rarely offer foldability. On the other hand, most premium benches cannot be folded since they favour a higher weight capacity over folding function.
Commerical-grade steel frame. For a relatively cheap price, you still get up to

600-800 pound weight capacity

from a mid-range bench. This is enough to provide beginners with years of use, and take them to the advanced levels of training. By this point, you would have definately gotten your moneys worth and can sell your mid-range bench to upgrade to a premium bench.
2″ foam padding. The padding on a mid-range bench won't be as firm as a premium bench, but still provides

great

comfort when used to lift moderately heavy weights

. 2 inches of low-density foam padding are more than enough for beginners and intermeidates.
A perfect bench for dumbbells. The heaviest dumbbells go up to 90-lbs per dumbbell (which is more than enough for beginners to build over 20-lbs of muscle at home). That's 180-lbs of combined weight. And even when you factor in your own body weight, you're still well within the weight capacity of 600-800 pounds for a mid-range bench. This makes a mid-range bench a

cost-effective pairing for dumbbell training

.
What To Look For In A Weight Bench.
The Flybird bench is what I would recommend to 90% of my friends and family since they would be classed as beginners.
It provides awesome value for money.
For the remaining 10% who are advanced lifters, I would recommend getting a premium fixed adjustable bench instead (more on this below).
If you decide that the Flybird bench is unsuitable, then here are the important things to look for in any weight bench:
Weight capacity. You should choose a bench with a weight capacity that matches how much you're currently lifting. For most people, the bench press is their heaviest exercise. So determine how much you usually bench press, add your body weight, and then double that weight for redundancy. This ensures your bench can handle your lifting needs and it also gives a degree of futureproofing.
Seat/backrest padding comfort. Choose a bench with at least 2″ of low-density foam padding. Not only does good padding provide greater comfort, but it also ensures that the backrest and seat don't warp under heavy weights. More expensive benches feature high-density foam.
Frame material. Most benches should be (and are) constructed from a steel-alloy. This offers a balance between strength and lightness. But I've seen aluminium and even plastic benches. Avoid these at all costs.
FID adjustments. If your goal is to build a stronger, leaner, and more defined physique, then adjustable benches are your best friend. Flat benches don't allow you to incline bench press, which is essential for a powerful upper chest.
Foot grips. Every worthwhile bench should have some form of foot sleeve to provide grip. Ideally this should be made from rubber. But most mid-range benches have plastic grips. These are satisfactory and will do the job.
Seat height. This is one of the most important points to consider. The seat height should be low enough for you to comfortably plant your feet into the ground. Generally speaking, a height of 16-20 inches from the floor is a good range. Reviews will often comment on the user's height and how comfortable they found that bench to use. So always browse the reviews for nuggets of info!
Price. In my opinion $150 is more than enough for a beginner to buy a decent bench for their needs. Of course, you can spend more on a premium bench if you have the cash. This will proide a greater weight capacity and last you for longer, but ultimately unecessary as a beginner.
Warranty. A 1 year limited warranty should be the minimum. Some mid-range benches even offer 2 years. And preimum benches often offer a lifetime guarantee.
The Best Brands Of Weight Bench.
Here are some of the best weight bench brands for different budgets:
Fitness Reality. Mid-range brand suitable for taller user. Together with Flybird, Fitness reality make some of the most popular entry-level benches for beginners. The Fitness Reality 1000 Super Max has a 800-lb capacity, 12 FID settings, and can be folded. It also comes with a 1 year warranty.
Flybird. Mid-range brand suitable for short to average sized users. My personal recommendation (for reasons explained above).
Keppi. Mid-range brand. 660-lb capacity, 12 FID settings, and can be folded. Comes with a 2 year waranty.
Linodi. Budget brand. 600-lb capacity, 8 FID settings, and can be folded. Comes with a 1 year warranty
Mirafit. UK-based home gym retailer selling mid-range to premium benches adjustable benches. They are a very reputable company with various Strongmen ambassadors. Their adjustable benches start from £89.95 for a 660-lb capacity.
REP Fitness. Premium brand. Well known for high qulity yet affordable strength training equipment. Adjustable bench prices start from $249.99 for a 1000-lb capacity. Great addition to any home gym, but can be overkill for beginners.
Rogue Fitness. Ultra premium brand. This company has a heritage in strength training. Their adjustable benches start from $585 with a 1000-lb capacity. These benches are only recommended for veteran bodybuilders and powerlifters since they cost a bomb.
Flat Vs Adjustable Benches.
Generally speaking, I would recommend an adjustable bench for most people.
Flat benches are cheaper, have awesome weight capacities for their price, and have a lower height making them more stable.
But their main downside is the lack of versatility. They're mainly used for heavy flat bench pressing (e.g. powerlifters).
Adjustable benches, in comparison, are a bit more expensive with slightly lower weight capacities.
But their FID adjustments provide greater versatility and allow you to target all regions of the chest with exercises like the incline/decline bench press and chest fly.
They can also be used for rows and sit-ups.
Foldable Vs Fixed Benches.
All my bench recommendations are foldable.
That's because, in my opinion, beginners often have a limited amount of space in which they can dedicate to a home gym.
This makes space efficiency a paramount factor to consider.
And foldable benches are much more space-efficient than fixed benches.
But the obvious downside of adjustable benches is that they generally have a lower weight capacity compared to fixed benches.
This isn't going to be an issue for 90% of beginners.
But if you're an advanced lifter (been regularly training for more than 5 years), have a heavy body weight (over 200-lbs), or regularly bench press over 400-lbs, then you should consider getting a fixed bench instead.
My fixed bench recommendation is the REP Fitness AB-3000 adjustable bench (check link for current price).
Or if you're from the UK, I would recommend the Mirafit M3 adjustable bench (check link for current price).
Both of these benches feature solid construction, have a 1000-lb capacity, and can handle the extra abuse.
Both are also very well-priced for what they offer and will last most people the entirety of their training journey.
Word Of Caution: Second Hand And Used Benches.
Unlike buying second-hand free weights, I would generally recommend against buying a used bench.
That's because the weight capacity of a bench is heavily based on the integrity of the steel frame, joints, and welding.
Knocks and corrosion can occur with prolonged use.
And this can occur at a faster rate if the bench wasn't looked after by the previous owner.
The last thing you want is for your second-hand bench to collapse or buckle during a bench press.
In my opinion, you just can't get a clear idea of the history behind a used bench.
Not only may the seller not know themselves, but some sellers may not be 100% honest if they want to make a quick sale.
I would rather just pay the extra 40% for a new bench and have 100% peace of mind that my bench won't collapse.
Conclusion
In my opinion, foldable and adjustable benches are the best option for most beginners.
The Flybird FB149 adjustable bench offers great value for money for users of average height (5'6″ to 6'0″).
If you're under 5'6″, get the Flybird FB139 adjustable bench.
If you're over 6'0″, then get the Fitness Reality adjustable bench.
And If you regularly bench press over 400-lbs or have a bodyweight over 200-lbs, you should get a fixed adjustable bench instead of a foldable bench.
The REP Fitness AB-3000 is a solid fixed bench in the US. If you're in the UK, then the Mirafit M3 adjustable bench is equally good.
When combined with heavy dumbbells, all of these benches are more than adequate for a skinny beginner to gain their first 20-lbs of muscle at home (and more!).
You can go to my other page to find out the best dumbbell recommendations.