You don't necessarily need expensive barbells or dumbbells to build muscle at home.
Resistance bands offer an extremely cost-effective alternative.
Just don't make the mistake I made:
I chose budget bands to save a few bucks.
But ended up having to go through multiple sets (3 to be precise), which seem to snap as fast as Amazon Prime deliver…
And in the end, this ended up costing me twice the amount I thought I'd saved from buying the budget bands in the first place.
Having tested 6 different sets of resistance bands, the Undersun Fitness bands (link for cheapest price) are hands-down my favorite. They are slightly more expensive than their competitors. But in my opinion, the extra $40 is well worth paying for a set of bands that are extremely durable, comfortable to use, and actually deliver on their promised resistance.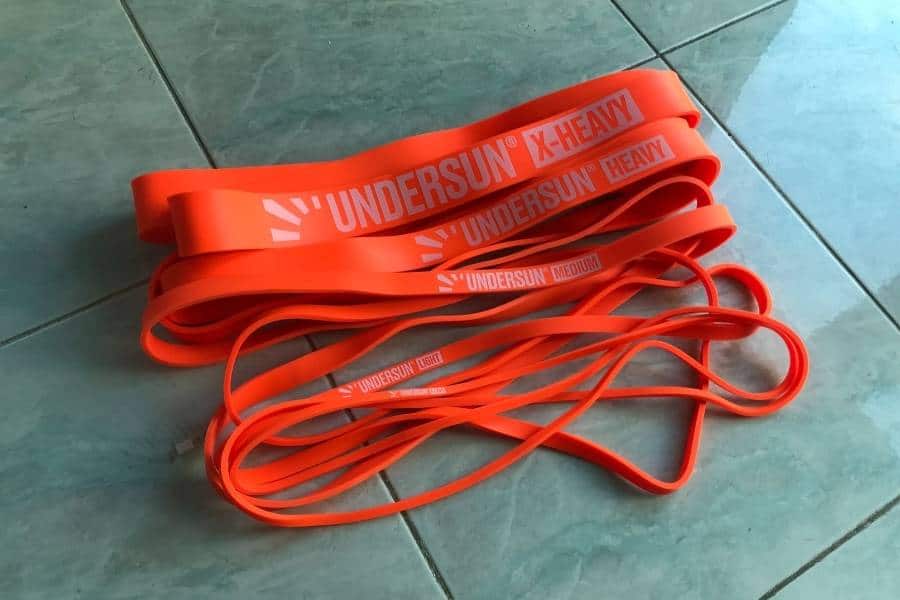 Don't Forget The Gloves!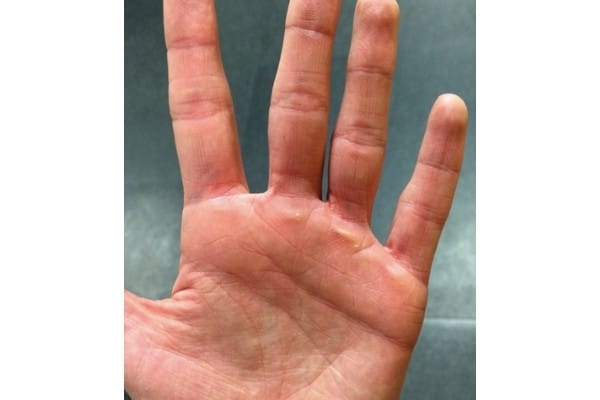 A good pair of gym gloves are highly recommended for resistance band training.
That's because good bands like those from Undersun Fitness are extremely grippy.
And they generate a lot of friction which will shred your hands in no time.
Without gloves, it's pretty much impossible to use the bands at their maximum resistance since you'll be in a lot of pain.
I would recommend the Ihuan ventilated neoprene gym gloves (link for cheapest price). They are half the price of the Undersun Fitness gloves but do the job just as well. It's made from breathable neoprene and features silicon-printed grips. It also offers full palm and finger coverage. And this gives complete protection from friction burns and calluses forming on your hands.
Together with the Undesun Fitness bands, you're looking to pay around $90 for a set of resistance bands with gloves (at the time of writing).
And this will allow you to train the whole body with heavy resistance, anywhere you like.
That's not a bad investment at all!
Why I Chose The Undersun Resistance Bands.
Here are the reasons why I took the plunge with the Undersun Fitness bands:
Provides heavy-duty resistance. The bands are labelled as x-light, light, medium, heavy, and x-heavy. These provide

up to 15-, 25-, 60-, 80-, and 120-lbs of resistance

(respecitvely). This resitance range is more than double that of cheaper bands, and more than what 90% of people will ever need. Additionally, the heavy-duty resistance means they don't snap as easily as cheap bands. So you won't need to waste money on replacements.
Great online training resources. Undersun Fitness founder, James Grage, has a wealth of

Youtube training videos

where he uses his own bands. Just search for his name. The channel will teach you everything you need to know to build muscle and get lean at home. This means you don't have to waste money and time on other courses, PT's, and using the bands incorrectly.
5 star reviews are rare on Amazon. But Undersun has managed to achieve a full house of stars.

The reviews are all very positive

. Everyone finds them comofrtable, effective, and durable. Most importantly, there are very little reports of the Undersun bands snapping (the same thing can't be said for cheaper bands). This is a product that's helped a lot of people build and maintain a great physique. It's done the same for me, and I'm sure it will do the same for you.
Money back guarantee. This is a brand that put's the money where their mouth is.

They offer a 90-day money back guarantee

. If you don't like them, return them. I've not had to use their customer support, but from what I've read, it's quick and efficient. If you want peace of mind and confidence in a fantastic brand and product, then Undersun fits the bill.
It's a loop band! Man this is such a big factor. Having had such a terrible experience with tube bands, never again will I use them (more on this below). Save yourself the grief and go with a

one-piece loop band

. The Undersun's are a great set of loop bands that will improve your user experience becuase they are comfortable, durable, safe, and provide great resistance.
They look sexy as hell. All the bands in a set come in a

vibrant orange color

. They look like high quality. But more importantly, their

quality matches their aesthetics

. You can also spend a bit more for the black variations. These look awesome but not worth the extra money in my opinion. Cheaper tube bands come in multi-colors and look and feel very amateur in my opinion. These are bands you wouldn't mind flashing in the local park for an outdoor workout.
A word of caution before buying!
There are a few Amazon listings that are much cheaper than $69.95 (the cost for a full set of 5 bands).
These are incomplete sets and each band works out to be more expensive, compared to buying the full set of 5.
If you're serious about using the bands, I'd recommend you to spend the extra 30 bucks and go for the full set.
There's also a listing for $119.99 which includes James Grage's training app.
In my opinion, this isn't required.
His Youtube content is already top-notch and will give you all the info required to build 20-pounds of muscle at home (and more!).
Things I Like About The Undersun Bands.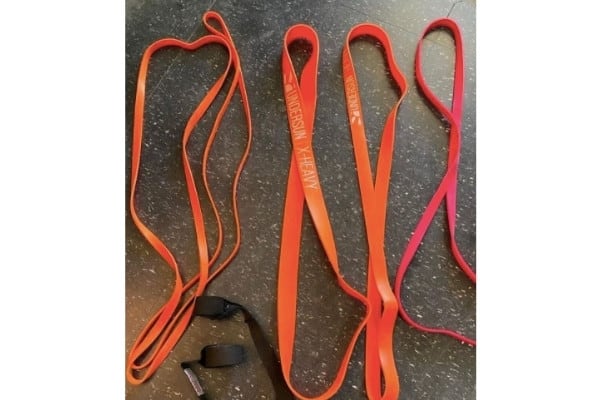 Having used the Undersun Fitness bands for 2 years, here's what I love about them:
High-friction grip. The high quality rubber

provides a lot of friction and grip

. And this is essential for when you're lifting in awkward positions or pushing the bands to their elastic limits. I've had cheap bands slip out of my hands under full tension, and let me tell you it hurts! Use them with a pair of gloves, and these bands are very safe and comfortable to use. Thismakes the bands a pleasure to use.
Resistance feels heavier than what it says it is. Out of all the bands I've used, the Undersun's are one of the few whose

resistance actually feels like what is advertised

. In fact, they feel heavier. Cheap tube bands provide very little resistance unless you combine multiple bands into one. This can be awkward to grip when you're pulling/pushing on a big bundle of bands. The Undersun's don't have this issue since each band provides good resistance.
Heavy duty latex but doesn't smell. The Undersun's are made with

100% latex rubber

. But the best thing about them is they don't smell. This is a huge benfit for those who have sensitive noses. For me, the strong smell of inustrial rubber (e.g. in cheap bands) gives me a headache. That's not something you need to worry about with the Undersun's.
Awesome warrantee policy. Remember when i said the brand put's their money where their mouth is? Well they also offer a

lifetime warantee

on their bands. If a band snaps, just send them a message and they'll send you a replacement! This means you shouldn't ever have to waste time and money replacing your Undersun's!
Convenient workouts. Portability is a benefit shared by all resistance bands. Nonetheless, I want to emphasize why this is awesome. You can get a great

workout literally anywhere there's 15sqf of floor space

. I love doing outside workouts when the sun is shining or hotel workouts when travelling.
Seem to be heat resistant. I took these bands on a trip to Hong Kong once, and

accidentally left them out in 100 derees blazing sunshine

for the entire day. They didn't seem affected at all. I have no confidence the same could be said about the cheap tube bands I've used in the past. Now, I'm not saying you should abuse them like I did. But it's great to know they can take some abuse without breaking.
A few small gripes..
Overall, these are a great set of resistance bands.
They may seem pricey compared to the cheaper tube bands, but the quality you get is worth every cent.
They didn't include the door anchor in my original order.
But one email and a few days later, it arrived through the post.
My biggest issue with these bands though is that they removed the travel bag.
You now have to buy this seperately (or use you're own bag).
But I don't think this will be a major problem for most people.
What I Use The Undersun Bands For: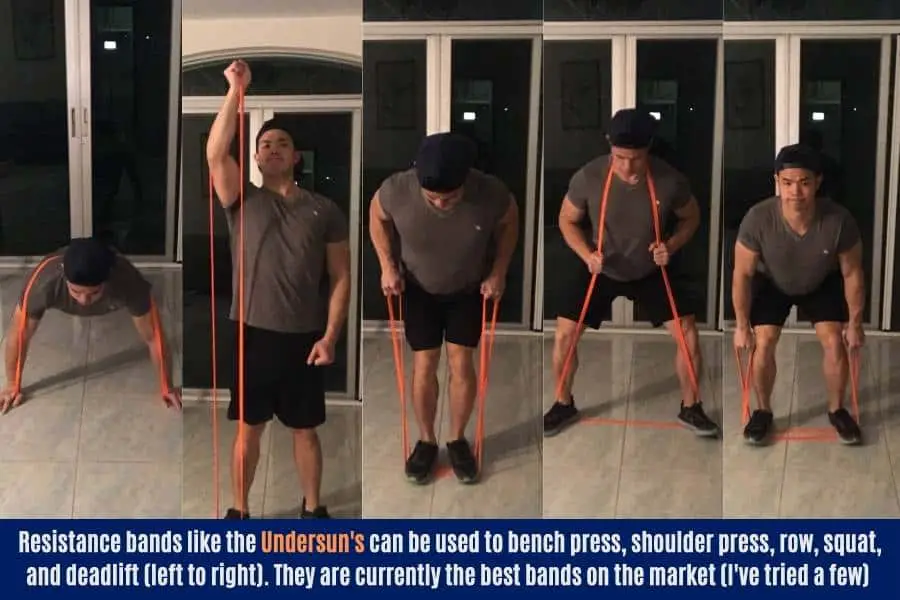 Strength and physique. Resistance bands provide a different type of workout compared to free weights. The resitance curve is different. Where weights often easier at the top of a movement (think bicep curl),

bands get harder at the top of a movement

. This makes them the best for time under tension (TUT) training, which is an important component for muscle growth.
Challenge muscle differently. Interspersing free weight training with the ocasional heavy band workout is an awesome way to

get blood pumped into the muscles

, make them look bigger, and help break through strength plateaus.
Perfect for pumping the arms. Slow and controlled TUT training is one of the most effective ways to get

big biceps and cut triceps

. These bands are perfect for the role.
Pull up assistance. I've never used them for assissted pull ups since I can do them already. But if you'can't currently do a pull-up, you can tie one end of the band to a pull-up bar and the other end to your feet. This will assist you as you develop upper body pulling strength. And pull-ups are one the best exercises for a broad back.
Outdoor workouts. Other than body weight exercises, there's not much else you can do outside unless you have an outdoor gym. These bands are

perfect for garden/park/beach workouts

when the sun is shining!
Travel training. The lightweight

portability of these bands are a godsend

when it comes to convenience. They are my go-to choice when travelling or away on business trips. I used them for 3 weeks whilst travelling Japan and they were great. These bands can actually provide a better workout than a hotel gym, since many of themdon't have good-quality equipment.
Gym unavailable. I bought the bands just before the 2021 gym lockdowns. If you don't have the space or money for a decent home gym, these bands ar the next best option. You can get a good workout regardless of whether the gym is open or closed.
What To Look For In Resistance Bands:
If you don't want to spend the extra bucks on the Undersun bands, that's cool!
Just be cautious about cheap competitors who use cheap materials and designs.
Here's what to look for in a good set of bands:
Material. Different bands are made with different types of rubber. Always try to get 100% latex rubber for superior durability. And check reviews for hints they may have the undesired strong rubber smell.
Shape. Main ones are tube vs loop. Tube bands have a circular shape whilst loop bands have a flat shape. Many tube bands also have open ends with a carabiner attached, whilst loop bands come as one piece. The idea behind the open ends is you can attach the ends together or add handlebar functions. The only issue is that the stitching is usually low quality and serves as a weakpoint that's prone to snapping.
Thickness. Generally the thicker the band, the more durable it is. Always check the reviews for problems with bands that snap or break.
Handles vs no handles. Not worth it in my opinion. Handles are usually made to a bad standard, prone to breaking, uncomfortable to use, and have terrible grips. I prefer to just get a pair of gloves and get a really good grip on my bands.
Best Brands Of Resitance Bands.
I've tested 6 different Amazon brands, including the Undersun's.
In my opinion, there's no comparison at all.
The others wouldn't even qualify as "good brands" even when they aren't being compared to the Undersun's.
The Undersuns's are superior in every way.
And to be honest, they're great value for what you get.
Having personally tested them for 2 years, I'd be happy paying even more for them (obviously I'd prefer not to though, James, if you're reading).
Conclusion
If you're looking for a solid performing set of resistance bands, then I would without a doubt recommend the Undersun Fitness Bands.
They are worth every cent in my opinion.
But make sure you have a good pair of gloves to unlock the bands' full potential.
If you're looking for the cheapest way to resistance train at home, then feel free to settle for the cheaper Amazon brands.
Just be aware that they are probably going to snap at some point (if used regularly).
Alternatively, go with dumbbells.
Dumbbells are my favorite way to build muscle at home since they are generally affordable, space-efficient, and are much more fun to use.
You can find out my heavy adjustable dumbbell recommendation here.
Good Luck Bros!
Best,
Kal