Dumbbells are a great way to perform HIIT workouts at home, but you must choose the correct dumbbell weight to maximize your training results.
The ideal dumbbell weight for HIIT workouts is 35% of the maximum weight the individual can lift on a lower-body exercise. For the average male beginner, this equates to approximately 15lbs (7.5kg). For the average female beginner, this equates to around 7lbs (3kg).
After my bulk, I put on a lot of excess fat. I needed to use my dumbbells to lose fat and build a leaner more defined physique.
Other people may simply want to lose that belly fat, tone their arms, or gain a bit more definition.
Regardless of which category you belong to, dumbbell HIIT workouts can be highly effective. But only if you choose the correct weight.
This post shares my research and experience on the matter so you can maximize your results.
Let's get stuck in!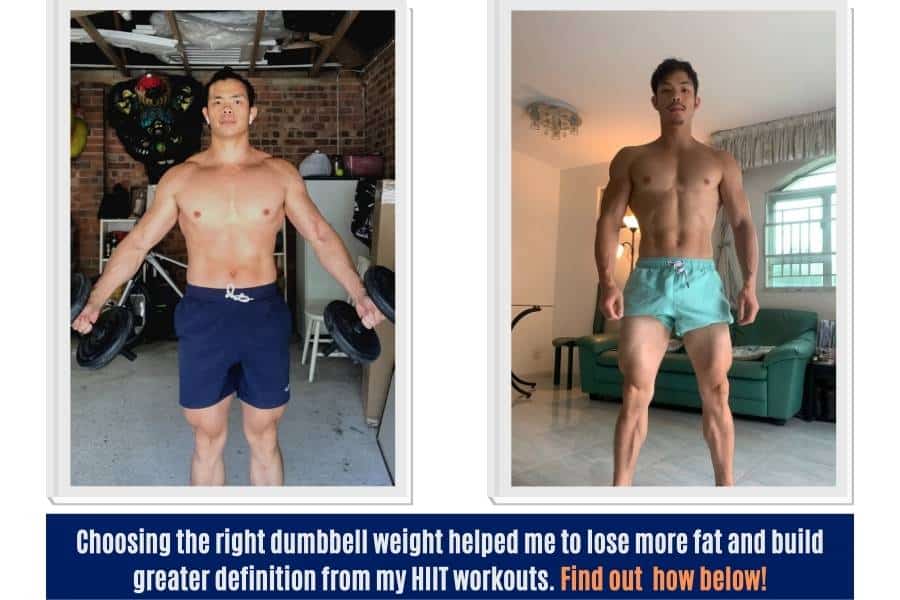 What's The Best Dumbbell Weight For HIIT?
Here are my recommendations for what weight dumbbells to use for HIIT, according to your gender and training level:
| Training Level | Recommended HIIT Dumbbell Weight For Men | Recommended HIIT Dumbbell Weight For Women |
| --- | --- | --- |
| Beginner | 15lbs (7.5kg) | 7lbs (3kg) |
| Novice | 20lbs (10kg) | 15lbs (7.5kg) |
| Intermediate | 30lb (15kg) | 20lbs (10kg) |
| Advanced | 50lbs (25kg) | 30lbs (15kg) |
Weights are for a Single Dumbbell. Based on the Strength Level's database of user-generated strength standards.
Note: beginners have been training for at least 1 month, novices at least 6 months, intermediates at least 2 years, and advanced lifters at least 5 years.
You may be wondering how I determined these values.
Firstly, they are based on my personal male experience of using dumbbell HIIT workouts to burn fat and the fact that women have around 33-40% less strength compared to men.
But don't just take my word for it.
Here are the recommendations from the guys at Muscle and Fitness for using free weights to burn fat and get lean:
"For HIIT workouts, use a weight that's equal to 50% of what you'd normally use for 10 reps"

Muscle and Fitness
50% of a 10-rep weight equates to approximately 35% of your 1-rep max.
I chose to sample male and female goblet squat 1-rep max's since this movement is typical for a HIIT workout.
Goblet squats are also on the upper end of the weight spectrum in terms of how much dumbbell weight you can lift (since lower body exercises like squats are one of your most powerful movements).
Therefore, in my opinion, the goblet squat makes a good benchmark for the maximum amount of weight you'll likely need in a good dumbbell HIIT workout.
You may also be interested in my other article to learn more about the ideal male/female beginner's dumbbell weight in lb/kg
Do Dumbbells Need To Be Heavy For HIIT?
Dumbbells do not need to be heavy for an effective HIIT workout. Light to medium weight dumbbell exercises performed with a high repetition can provide a sufficient anaerobic muscle stimulus for the average person to increase heart rate and calorie expenditure to burn fat and tone.
The dumbbells need to be at a weight that you find moderately challenging enough to perform 15+ repetitions of the same exercise.
If they are too heavy, then your workout focus will likely begin shifting towards primarily building muscle and strength rather than burning fat and increasing tone.
Therefore Muscle & Fitness' recommendation to use 35% of your 1-rep max for a given dumbbell exercise is a good target to aim for.
As long as your dumbbell weight is not too heavy or light, then the other major aspect to concentrate on for a good dumbbell HIIT workout is to make sure your heart rate increases sufficiently for each bout of exercise.
I recommend ramping your heart rate by 70 to 90% of your maximum heart rate.
You can estimate your maximum heart rate by taking 220 and minus your age (e.g. if you're 30 then your max heart rate is around 190 beats per minute and you should aim for a heart rate of 133-170 beats per minute).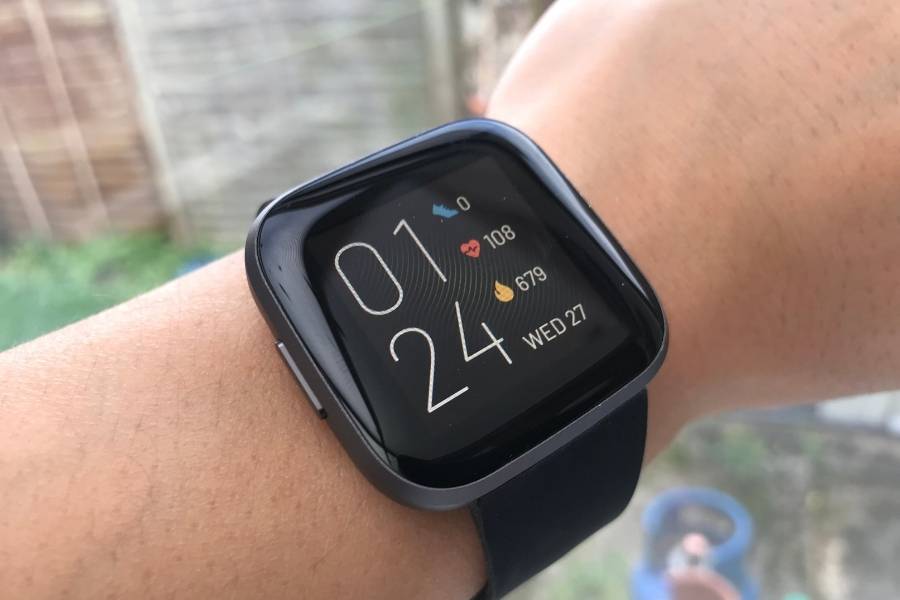 To keep track of your heart rate effortlessly, I recommend using a fitness watch.
I use the Fitbit Versa. But the basic Fitbit Inspire is just as effective at half the price.
Oh, and a good yoga mat like this one from Amazon will prevent sweat from dripping onto your floor!
You may also be interested in my other article which reveals what weight dumbbells you should use to tone your arms.
Heavy Dumbbells Are Recommended For Maximum Toning
Heavy dumbbells are recommended to maximize muscle tone. Muscle tone is highlighted when significant muscle mass is combined with a low body fat percentage. Lifting heavy weights is the most effective way to increase muscle mass. And this should be combined with dumbbell HIIT workouts to burn fat.
Despite popular belief- lifting heavy dumbbells WON'T lead to a bulky physique.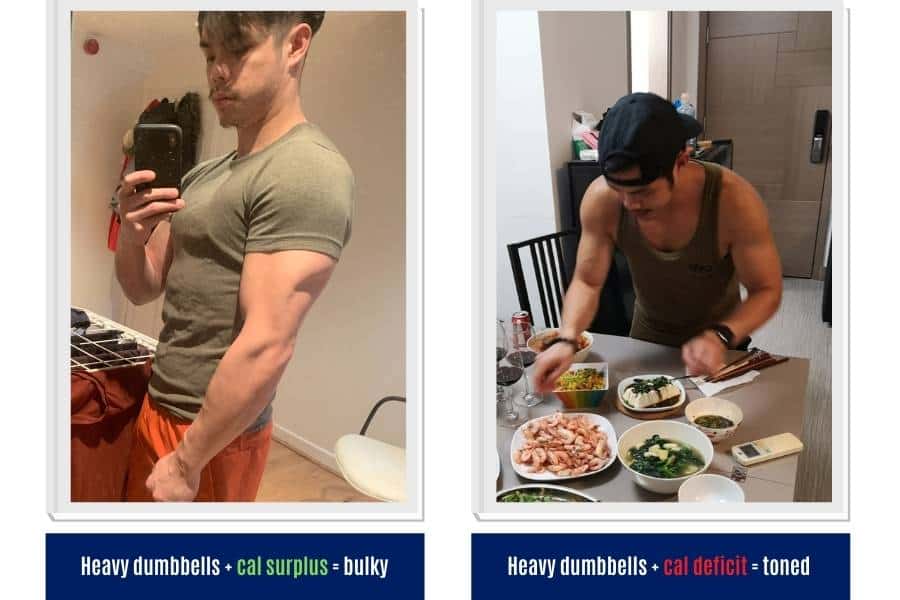 Building a bulky physique requires a consistent caloric surplus, high protein intake, and progressive overload (increasing dumbbell weight).
If you keep your protein intake high and your calorie intake at maintenance or a slight deficit, then you'll gain definition without the bulk.
Additionally, it's highly unlikely you'll end up with a bodybuilder's physique by simply lifting heavy dumbbells.
It's not uncommon for these guys to eat over 4000+ calories every day (something most beginners struggle to do even when they try).
You may also be interested in my other article to find out what dumbbell weight you should lift to build muscle.
Why Dumbbells Are Good For HIIT Training
Dumbbells are ideal for high-intensity interval training because they are cheap, durable, and space-efficient. They are also available in a variety of different resistance levels which makes them great for increasing HIIT exercise intensity for people of different training abilities.
Let's take a look at these in more detail.
Here's why dumbbells are great for HIIT training:
They are a cheap way to do HIIT at home. Compared to barbells and kettlebells, dumbbells are usually the cheaper option. Of course, it depends on which brand and model you pick.
Dumbells are durable weights for HIIT. Fixed-weight dumbbells, which commonly take the form of hand weights or hex dumbbells, are nigh indestructible. This makes them perfect for the dynamic exercises that often feature in HIIT workouts.
They are a space-efficient way to increase HIIT intensity. Dumbbells are compact weights. They can be stored anywhere that has more than a few square feet of space. Modern adjustable dumbbells also contain up to 30 different weights in a single unit. This makes them perfect for those living in small apartments.
Dumbbells come in a variety of weights. Different weights cater to different training levels. And the good news is that affordable dumbbell models can be found in each weight category.
---
If you're new to HIIT, you might want to check out my other article for signs you are doing HIIT correctly!
Dumbbell Recommendations For HIIT At Home
The best dumbbells for HIIT workouts offer a moderate weight and sturdy construction. This allows the dumbbell to be used safely and effectively for HIIT exercises that often involve dynamic swinging motions. Heavier dumbbells are recommended to maximize muscle size and tone for a defined body.
Ideally, I'd recommend getting a selectorized adjustable dumbbell.
These contain multiple weight increments in a single unit. And a decent adjustable dumbbell provides both moderate weight for HIIT, as well as heavy weight for strength training, and building muscle size/tone.
But if you're on a budget, then cheap fixed-weight dumbbells are also great for doing HIIT.
With this in mind, here are my favorite dumbbells for HIIT workouts: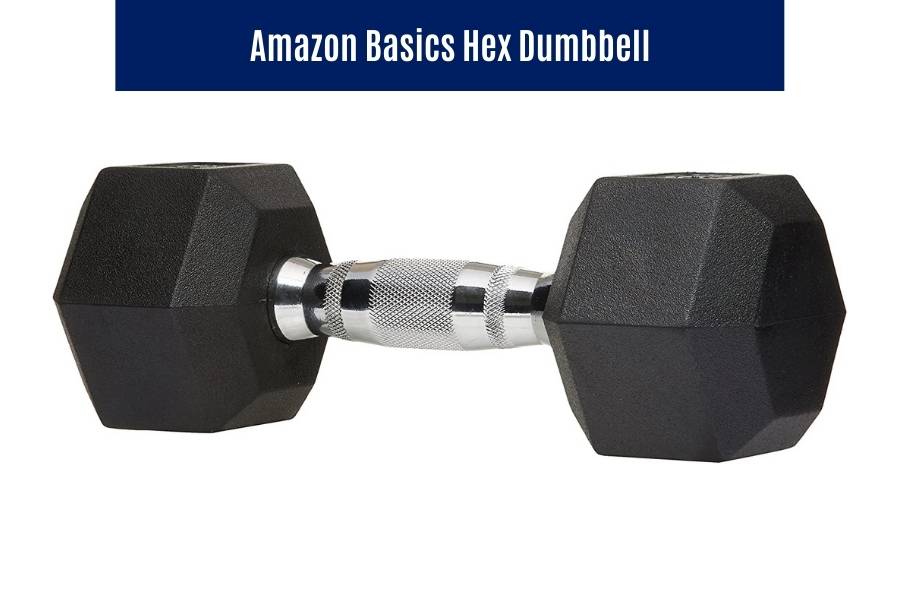 1) Amazon basics hex dumbbell.
If you're looking for a cheap single dumbbell for casual HIIT workouts, then the Amazon basics hex dumbbell is ideal.
They're sold as individual dumbbells, so you can choose a weight that's appropriate to you, and start building a defined body at home without giving up too much space or money.
They come in two varieties- cast iron and rubber-encased.
The rubber-encased model is recommended since you'll likely be swinging your dumbbells in a HIIT workout. The rubber offers better protection for your floor and property.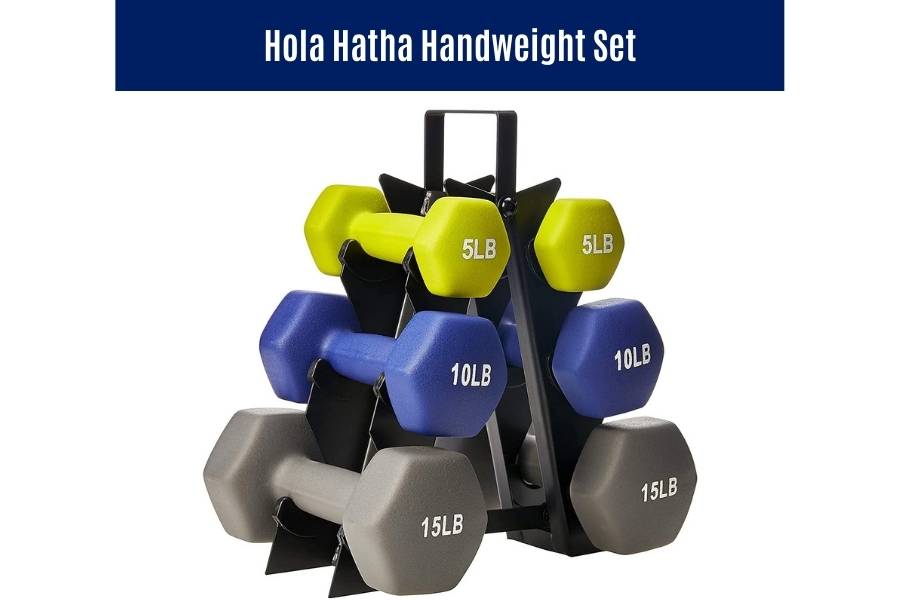 2) Hola Hatha Handweight Set.
These dumbbells are ideal for women and beginners to do HIIT at home without spending too much money.
They're a set of hand weights that offer a range of poundages to choose from.
These dumbbells are also coated in neoprene and made from a single cast-iron mold. This makes them extremely durable and minimizes damage to your floor.
The Hola Hatha set also comes with a rack for convenient storage.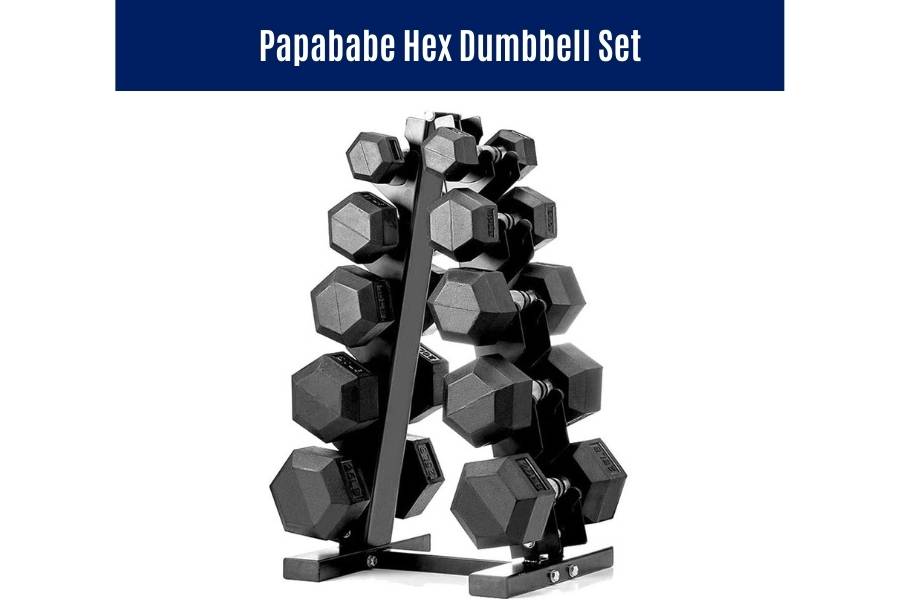 3) Papababe Hex Dumbbells.
The Papababe hex dumbbells are the jacked-up version of the Hola Hatha's.
Just like the Hola Hatha's, these are made from a solid cast iron core and encased in a synthetic (rubber). Again, this makes them less abrasive to your floor when swung about.
The major difference between the Papababe and Hola Hatha set is the weight.
These go up to 50lbs per dumbbell, making them great for men to strength train as well as do HIIT. If you're a guy looking to build a ripped V-shape, then these are for you.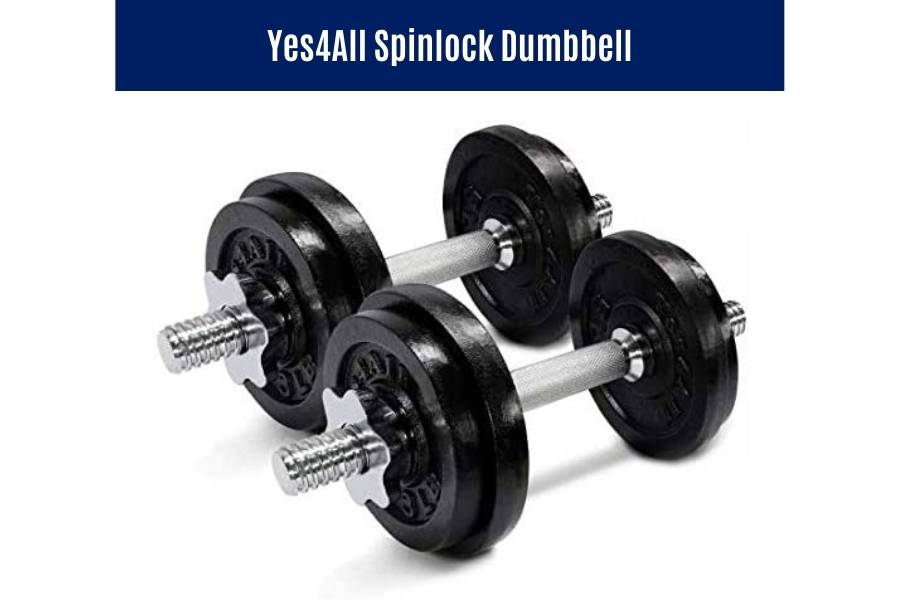 4) Yes4All spinlock.
For a good-value, adjustable, and durable dumbbell set, you can't beat the Yes4All spinlock dumbbells.
They come in a variety of poundages ranging from 20-200lbs per dumbbell.
This makes them suitable for people of all training levels to do HIIT dumbbell workouts at home.
Being constructed from solid cast iron, they're also extremely durable.
The lower poundage models are great for women whilst the high poundage models are more suitable for men.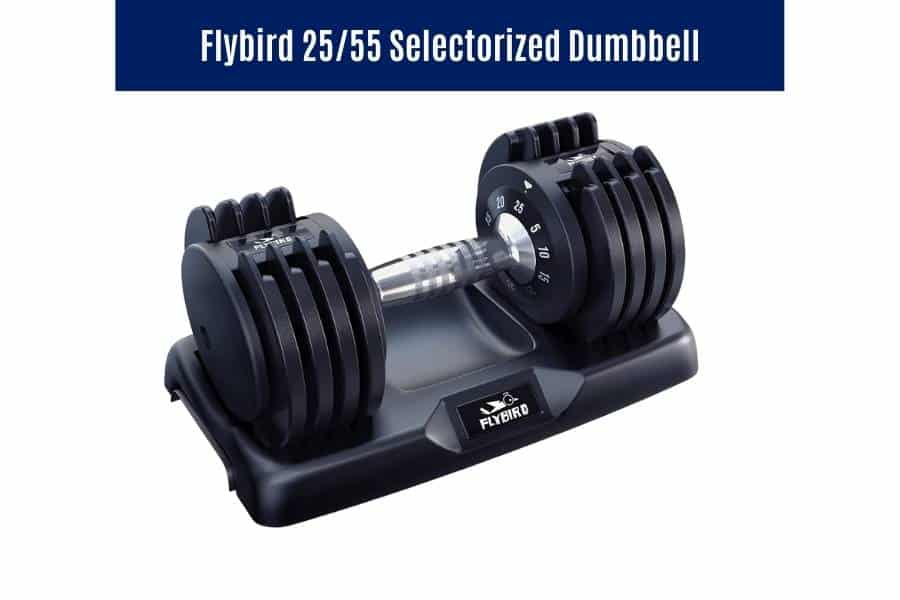 5) Flybird 25/50.
The Flybird 25/50 selectorized dumbbells are fully adjustable from 5lbs to 25/50lbs in 5lb/10lb increments (depending on which model you choose).
These dumbbells are perfect for men and women to do HIIT dumbbell workouts as well as to build muscle at a beginner's level.
The weight adjustment is made with a simple twist of the handle, making for rapid weight changes in HIIT workouts.
They are one of the cheaper selectorized dumbbells on the market.
The reviews are generally very positive, but the brand is not as reputable as the next three on this list.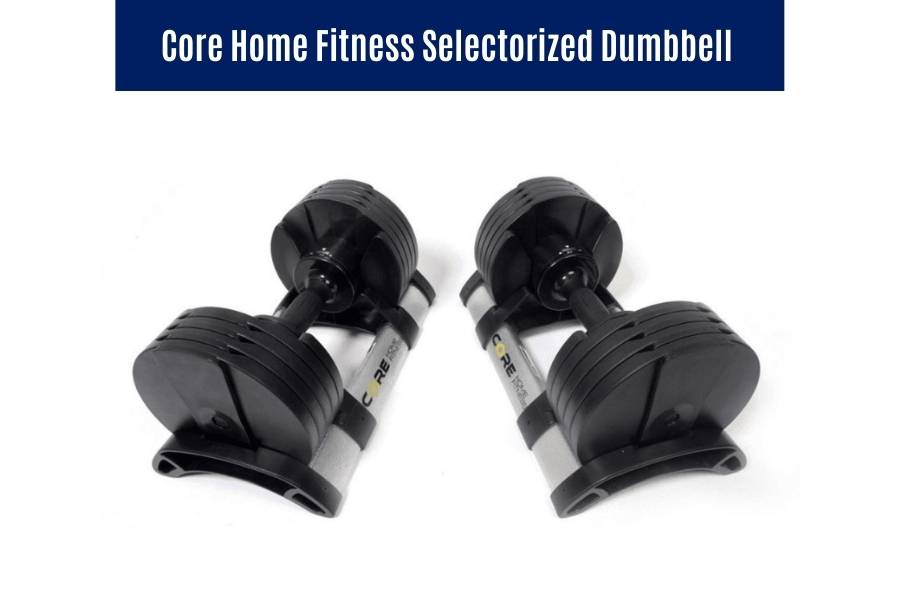 6) Core Home Fitness.
These are a bit pricier than the Flybird 55, but they feature smaller 5lb increments (vs the FLybird 55's 10lb increments).
This makes the Core Home Fitness dumbbell more suitable for progressive overloading and building muscle (since it's easier to overload with 5lbs compared to 10lbs).
Therefore the Core Home Fitness dumbbells are perfect for those who want to do HIIT as well as strength training at home.
They're ideal for female advanced lifters and male intermediates.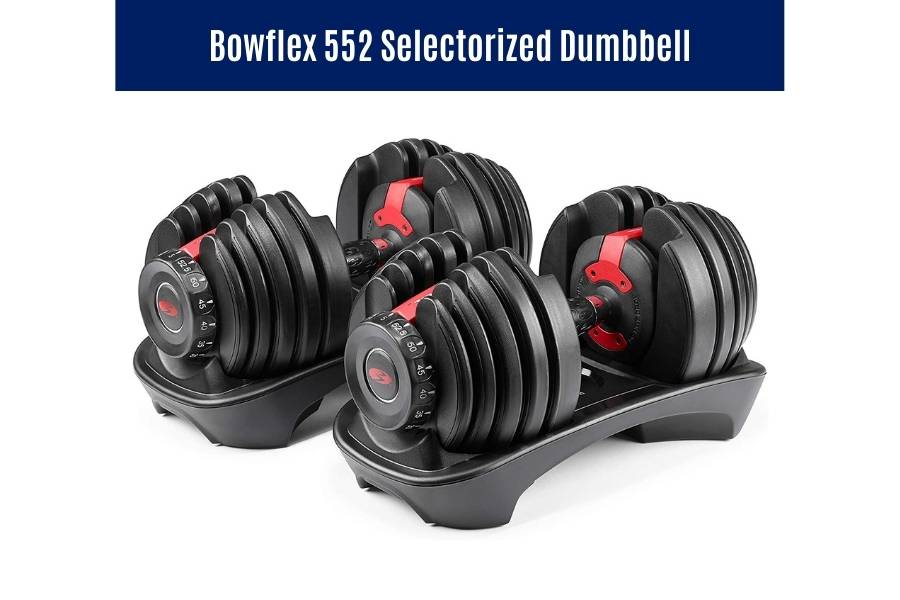 7) Bowflex 552.
The Bowflex 552's are one of the best all-around dumbbells on the market. You can find my hands-on test here.
Each dumbbell goes from 5 to 52.5lbs per hand with 2.5/5lb increments in between.
This makes them equally well suited for intermediates to do both HIIT and muscle-building dumbbell workouts.
So if you're looking for a versatile dumbbell that can be used for HIIT to help you lose fat, build muscle, and develop tone at home, then these are perfect.
I've tested these as well as their closest competitor, the Powerblocks.
I prefer the Powerblocks (find out why below).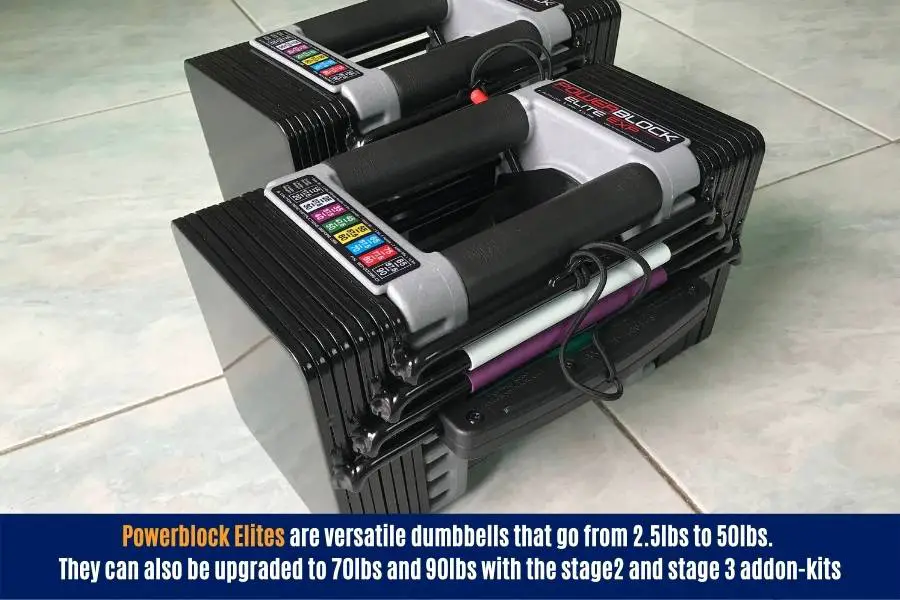 8) Powerblock Elites (My Recommendation).
These are the dumbbells that I use and recommend.
Each dumbbell goes from 2.5 to 50lbs per hand in 2.5/5lb increments.
Just like the Bowflex 552's, these are very versatile dumbbells.
I used them to help me gain almost 40lbs of muscle as well as cut down to 12% body fat for a ripped physique.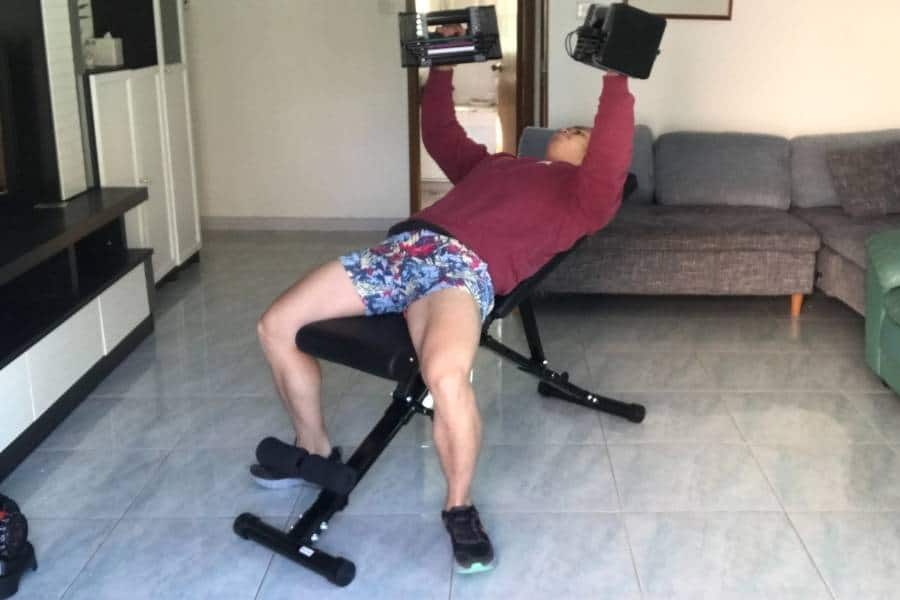 Having used them for my dumbbell HIIT program, I can fully recommend them.
They have a solid construction considering they're selectorized dumbbells. Additionally, the pin selector makes for rapid weight adjustments which are perfect for intense HIIT sessions.
The best thing about these is that they can be upgraded to 70lbs and 90lbs whenever you like.
This means they're not only great for HIIT workouts, but the heavy weight capacity also makes them awesome for building serious muscle and tone.
---
If you're interested, you can find a full list of my favorite dumbbells for HIIT here.
Conclusion
I've shared with you the ideal dumbbell weight for HIIT workouts.
For the average male beginner, I'd recommend getting 15lb dumbbells at a minimum. In contrast, the average female should get 7lb dumbbells at a minimum.
This will be sufficient for fat-burning HIIT workouts at home.
But if you want to maximize muscle tone and definition, or if you've been training for more than a year, then I'd suggest going for something heavier (all of my recommended dumbbells are great).
What weight will you be using for your dumbbell HIIT workouts?
Feel free to send me a message if you have any questions! You can find my details on the "contact us" page.
You may also be interested in the downloadable Kalibre Blueprint PDF which details exactly how I gained 40lbs of lean muscle (it's 100% free!). It details the exact exercises and nutrition (with printable worksheets) I used to go from skinny to ripped!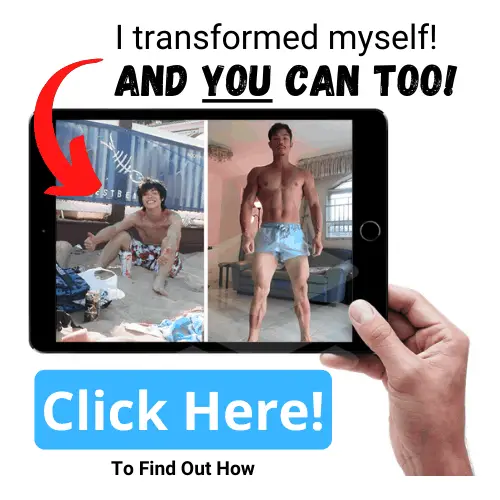 Thanks for reading guys!
Peace Out,
Kal
(Biochemistry BSc, Biomedical Sciences MSc, Ex-Skinny Guy)