Navigating the dumbbell market can be a nightmare with so many models to choose from. This post shares the 11 best dumbbells for men in 2022.
The Powerblock Elites are one of the best dumbbells for men. They offer a good variety of weight settings in a compact adjustable unit, and they also provide the flexibility to upgrade to 70lbs (30kg) and 90lbs (40kg) when the user is ready. They also come with a 5-year warranty.
I've spent months researching over 2 dozen different brands and models before buying my first set of home dumbbells.
I've also owned and tested many of these dumbbells.
So keep reading to learn why I think these 11 dumbbells are some of the best for guys looking to build muscle and get lean at home!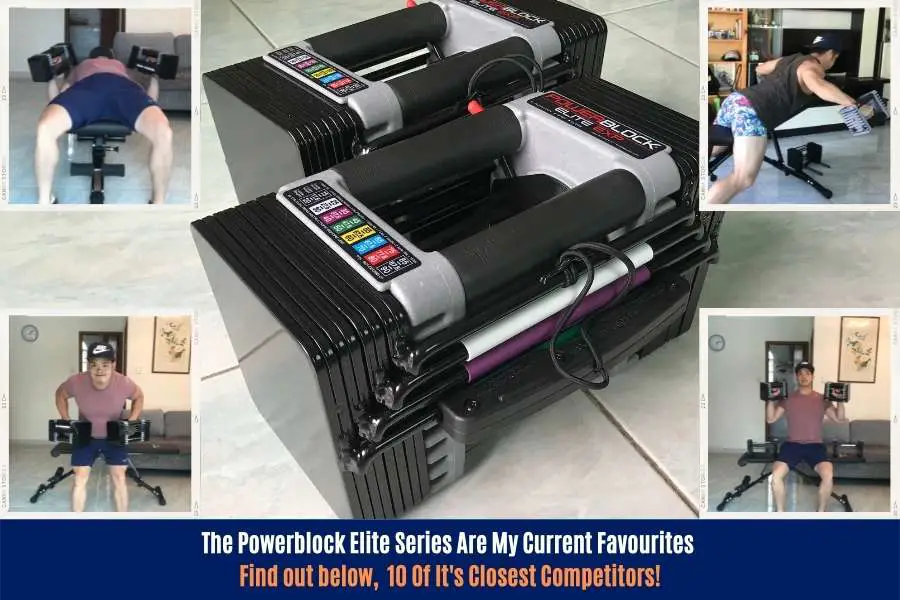 How I Determined Which Dumbbells Are Best For Men
I ranked each of the 9 best dumbbells for men from worst to best.
Each ranking has been assigned according to quantitive research tests, as well as my subjective personal opinion.
My opinion is based on a 10-year weight training journey that has seen me train in both commercial gyms as well as home gyms.
Here's an overview of how each dumbbell scored in my tests:
Here's why each score is an important factor for a dumbbell to be considered a spot on my rankings, and how each score was assigned:
Max weight- muscle strength and size develops as a reuslt of lifting progressively heavier weights. Therefore the heavier the dumbbell, the more muscle gains you can make. Weights were taken from each dumbbell's product manual.
Increments- smaller increments are generally better because they allow you to progressice overload in smaller amounts. This is beneficial for making slow but steady strength gains over time. Increments were taken directly from the dumbbell's product manual.
Compactness- space available at home is an important factor for most of us looking to invest in a home gym. Therefore dumbbells which are more compact are genenerally better for most people. Scores are based on the total footprint required to store each dumbbell (relative to each other).
Cost- this is another important factor for most of us. Price scores are based on research on Amazon and each brand's website at the time of writing this post.
Value for money- whilst pricier dumbbells generally offer more functions and a better quality, this isn't always the case. Dumbbells were assigned a "value for money score" out of 10, based on the customer satisfaction and cost (customer satisfaction / cost / 10 x 2).
Customer satisfaction- never take the opinons of one person! I gave each dumbbell a score based on the percentage of reviews that got 4 stars or more (out of 5) from public reviews on Amazon and the respective brand website (where possible).
Where To Buy These Dumbbells For Men
Other than direct from the manufacturer website, I found Amazon to be competitively priced and quick to deliver. Only select mdoels are available from Amazon though.
Best Dumbbells For Men Ranked (Worst To Best)
Without further adieu, here are the 9 best dumbbells for men ranked from worst to best.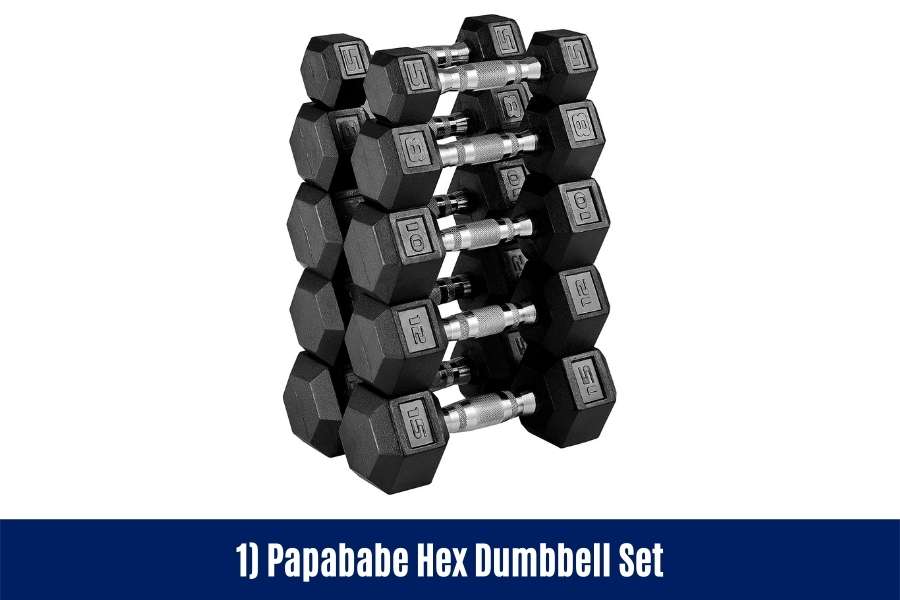 1) Papababe 100lbs Rubber Hex Dumbbell Set
The 100lbs set from Papababe comes with 5 pairs of dumbbells weighing- 5lbs (2.5kg), 8lbs (4kg), 10lbs (5kg), 12lbs (6kg), and 15lbs (7.5kg).
These are some of the best value dumbbells for men who:
Lift weights casually. Guys who do light dumbbell home workouts to maintain their general fitness.
Only need to do light isolation-type lifts. Beginner bicep curls, lateral raises, tricep extensions, weighted ab crunches, etc.
Perform dumbbell HIIT. Guys looking to burn fat through weighted HIIT circuit training at home using light dumbbells.
Ok so the 15lbs max weight capacity is hardly worth a serious bodybuilder's time.
But it's enough weight for novices looking to use their dumbbells for the above applications.
The Papababes are also some of the cheapest and most popular (in terms of total review number) fixed-weight dumbbells in this weight category.
Being fixed-weight hex dumbbells, you don't need to worry about durability issues. The single cast-iron mold will handle any drop and fall that may occur, unlike the selectorized adjustable dumbbells on this list.
Ultimately, the Papababe dumbbells offer decent build quality at an affordable price for male beginners and casual lifters.
If you're interested in any of the sets above 100lbs, then I recommend checking out the REP Fitness (see #4) or Mirafit (see #3) rubber dumbbells instead.
You can find the cheapest Papapbabe price here.
Or you can go to my other post to find out why 5kg/10lb dumbbells are enough for beginners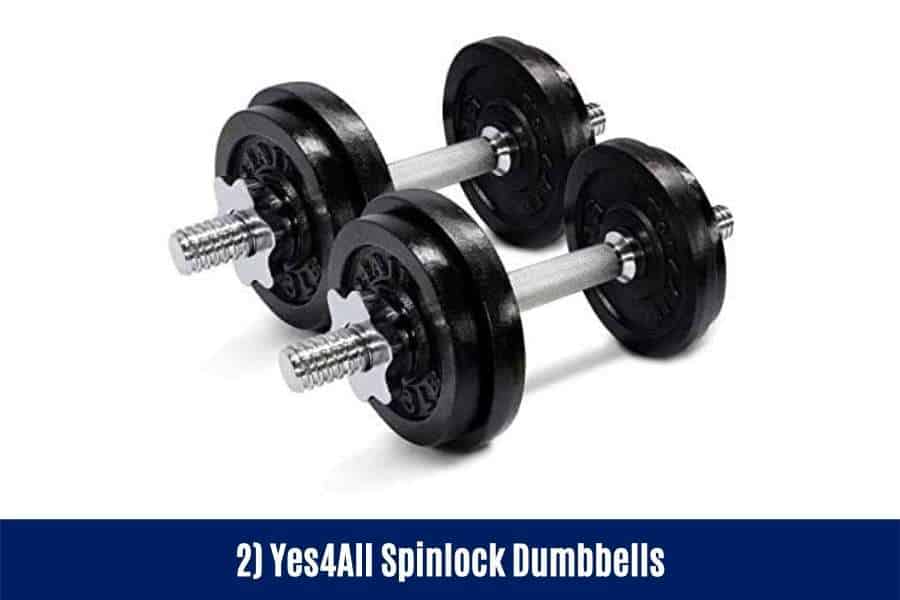 2) Yes4All Spinlock Dumbbell
Yes4All is one of my favorite dumbbell brands.
They serve a niche that in my opinion isn't all too well catered for nowadays- iron spinlock dumbbells.
The Yes4All spinlocks are some of the best dumbbells for men who:
Want to train the whole body at an affordable price. The lighter weight settings are great for the smaller isoaltion-type lifts, whilst the heavier weight settings work well for the big compound lifts (bench press, row, squat, etc).
Need a cheap and heavy dumbbell that's resistant to knocks. The cast iron weight plates and one-piece steel handle will take most falls from a home workout. Don't throw them off the balcony and you'll be fine!
Don't have much space at home. The weight plates can be stacked on top of each other or simply kept on the handle. All you need is 4 square feet of floor space to store these dumbbells.
The market for iron spinlock dumbbells is being quickly superseded by the modern selectorized adjustable dumbbells, like Powerblock and Bowflex below, mainly due to the rapid weight adjustment mechanisms on the latter.
Indeed, the major downside to spinlocks is their cumbersome weight adjustment.
"The fastest we managed a weight change for one Yes4All dumbbell was about 25 seconds"

Wire Cutter.
But selectorized dumbbells are expensive and can be susceptible to durability issues.
Spinlocks, on the other hand, are durable, cheap, and offer similar weight increment benefits to selectorized dumbbells.
And Yes4Alls make some of the best spinlock dumbbells in 2022!
You can find the cheapest Yes4All price here.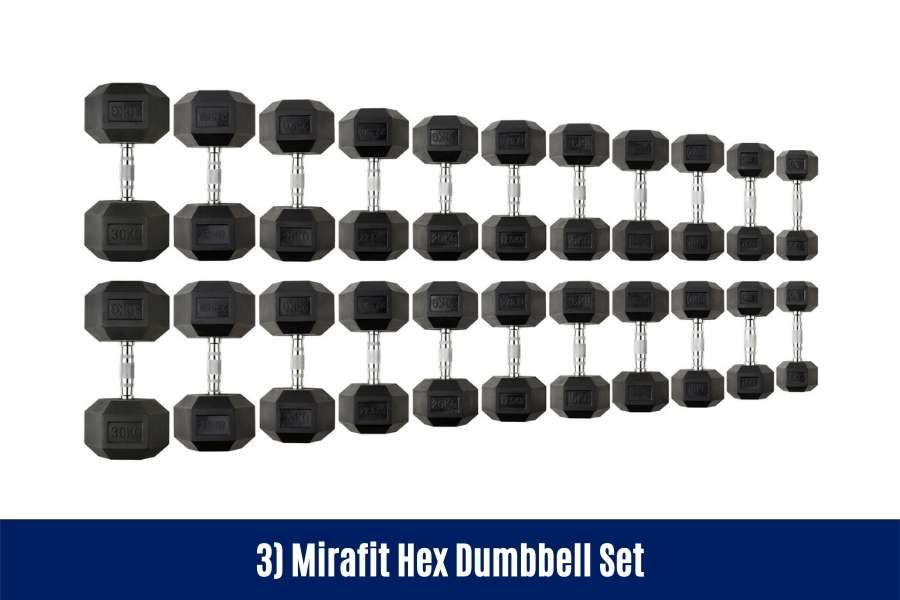 3) Mirafit Rubber Hex Dumbbell Set (UK-Only)
For guys on the British Isles.
Endorsed by influencers like Olympic sprinter Aikines, and Strongman brothers Tom and Luke Stoltman, Mirafit has taken the UK by storm.
The Mirafit hex dumbbells are best for men who:
Need a high quality hex dumbbell set for a home gym. These dumbbells offer the same quality of dumbbell you would find in a commerical gym.
Require the durability of fixed-weight dumbbells. Males who like to drop their weights after bench pressing to failure, these are the dumbbells for you.
Have the space and money for a complete dumbbell set. Gents, these will cost you north of £500 for a basic 30kg set with 5kg increments. This isn't exactly cheap. You'll also need a rack to store these bad boys.
Whilst the Mirafit dumbbells are a very good set of dumbbells, they rank low purely based on their price tag and space requirements.
Most of us mere mortal males simply don't have the space or budget for them.
But for those men who do, these are some of the best and most reliable dumbbells if you need to lift heavy on the regular!
You can find the cheapest Mirafit price here.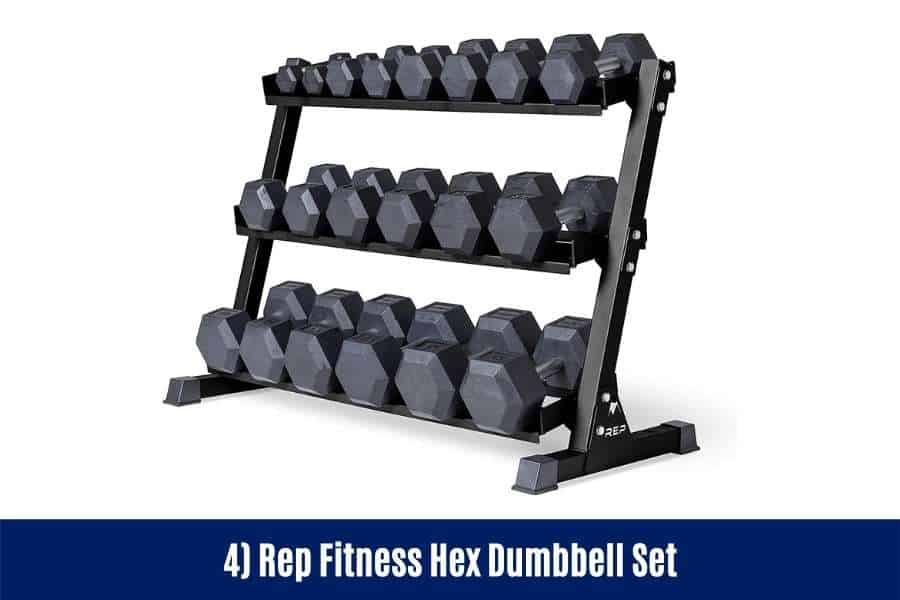 4) Rep Fitness Rubber Hex Dumbbell Set (US-Only)
For the guys who are in the States.
REP Fitness is an independent fitness retailer that has garnered a loyal following from home gym enthusiasts.
Their products are built to last.
The REP fitness hex dumbbell set offers benefits comparable to the Mirafit dumbbells (see #3).
As with the Mirafit dumbbells, REP Fitness makes a solid set of dumbbells for men who regularly lift heavy.
But for the guys who don't have the space or budget for a complete dumbbell set, then the selectorized dumbbells by Powerblock and Bowflex are great alternatives.
You can find the cheapest Rep Fitness price here.
Or check out the REP Fitness website direct to find 50lb+ dumbbells pairs that can be bought individually.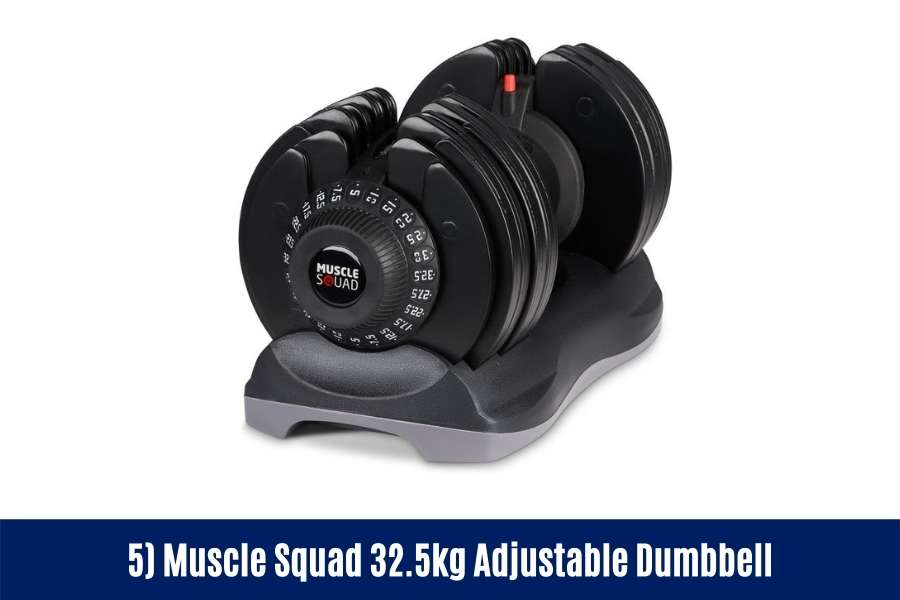 5) Muscle Squad 32.5kg Adjustable Dumbbell (UK-Only)
Selectorized dumbbells have secured a firm foothold on the global home gym market.
And for good reason.
They're convenient to use, relatively cheap, and save you a lot of space.
The guys at Muscle Squad (a UK brand) have made this selectorized adjustable dumbbell with males in mind.
The Muscle Squad 32.5 is one of the best adjustable dumbbells for men who:
Need a heavy dumbbell with lots of weight increments. The 32.5kg (70lb) max weight capacity is enough to take a male beginner to the intermediate stages of training across most compound AND isolation exercises.
Lack space in their home gym. If you're a guy with limited floor space, then a single Muscle Squad dumbbell unit packs 12 individual weight increments. This allows you to apply progressive overload reguarly in small amounts, making it great for building muscle.
Like a fast-adjusting selectorized dumbbell. The dial-a-weight mechanism is slick to use and fast to choose a weight setting. This makes for faster workouts.
The main reason why this dumbbell ranks so low is simple.
The price tag.
Whilst the Muscle Squad 32.5 is a solid selectorized dumbbell, the reality is that you can get a Powerblock or Bowflex (the OG selectorized dumbbell brands) for less money.
Hopefully, the guys at Muscle squad will consider more competitive pricing soon.
Nevertheless, if you prefer the aesthetics of this dumbbell over its competitors, you can find the cheapest Muscle Squad price here.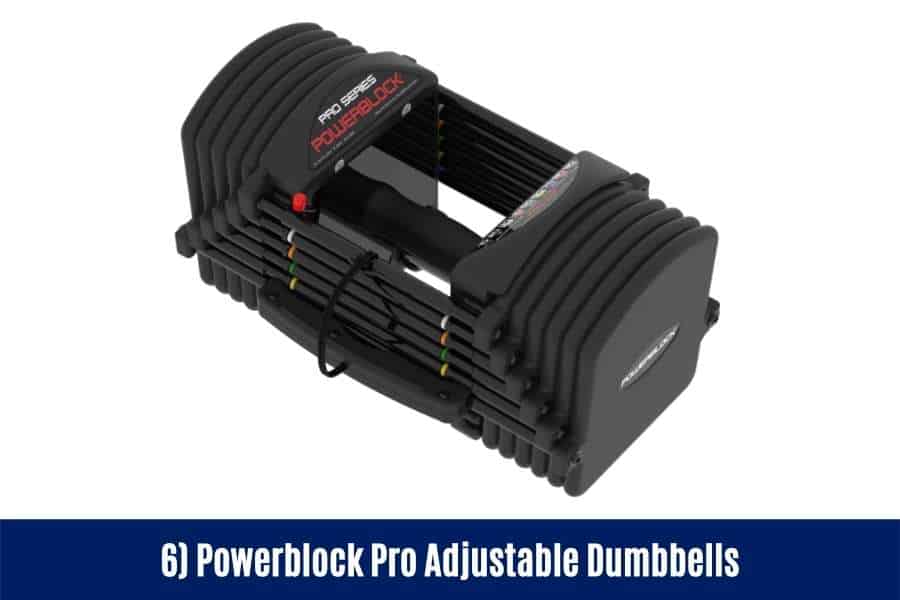 6) Powerblock Pro Selectorized Dumbbell
One of the OG brands in the selectorized adjustable dumbbell scene.
All Powerblock dumbbells have great reviews and the Pro series is the model of choice for many fitness influencers who use Powerblock as their chosen brand.
These bad boys have the space and cost-saving benefits shared by all selectorized dumbbells.
Additionally, some of the unique features that make them specifically great for men include:
90lb max capacity. These are some of the heaviest adjustbale dumbbells you can get for under $1000. Perfect for men who want to get jacked at home. You'll need the stage 2 and 3 addon kits to take the 50lb base model to 90lbs.
2.5lb weight increments. It's easier to apply progressive overload with smaller weight increments. And Powerblocks are one of few brands on the market that offer increments as small as 2.5lbs. Again, this makes them ideal for men who want to build solid muscle fast.
Compact design. Powerblocks make some of the best dumbbells for men who need a low size:weight ratio. In other words, they pack a lot of weight in a small unit.
The Pro's would rank higher on my list if it weren't for its smaller brother, the Elite series.
I personally use the Elites as I think they offer better overall value for beginners (see #11 to find out why).
But if money isn't an issue and you want a urethane-coated adjustable dumbbell, then the Powerblock Pros are for you!
You can find the cheapest Powerblock Pro price here if you're from the States. UK peeps can find the cheapest Powerblock price on Sweatband here.
You can also check out my other article to find out what dumbbell weight a male should use.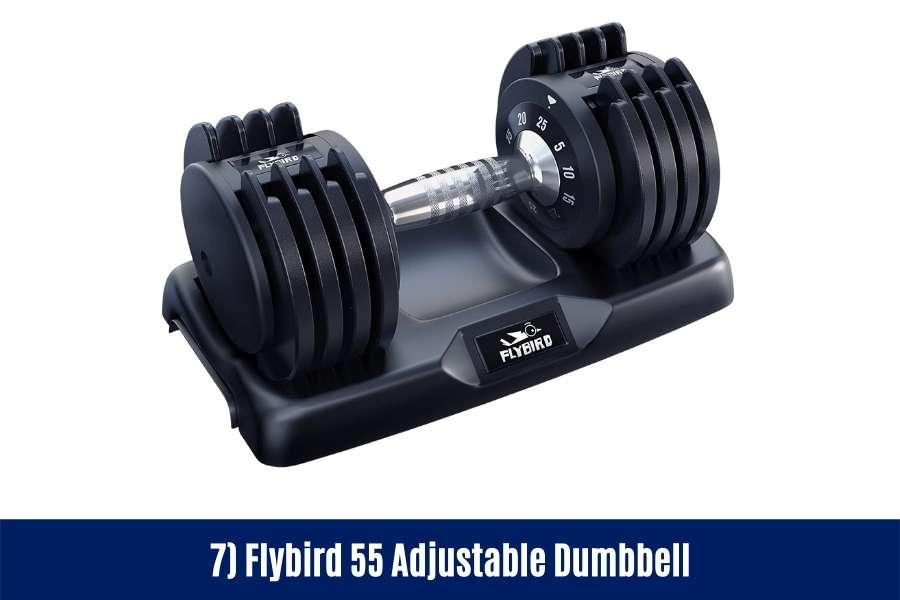 7) Flybird 55 Adjustable Dumbbells
Flybird is a relative newcomer to the adjustable dumbbell scene.
Their 55lb adjustable dumbbell is actually not priced too well in my opinion. For the same amount of money, you can get yourself a Powerblock or a Bowflex.
But their 55lb adjustable dumbbell makes it onto this list for 1 main reason:
The handle-turn weight adjustment mechanism.
This innovative design was pioneered by Nuobell, but their dumbbells are crazy expensive for what you get (in my opinion).
The Flybird 55s have the same adjustment mechanism at a fraction of the price.
Not only is the mechanism swift to use, but it also serves a protective function.
Conventional dial-a-weight designs (like the Bowflex below) have a dial on either end of the dumbbell.
Speaking from experience owning the Bowflex 552s, this is not ideal because it makes the dial susceptible to knocks and bumps.
The handle-turn mechanism, on the other hand, is well protected from being hit from the outside.
The reviews are generally great and it's one of the best space-saving dumbbells out there.
If this is a design feature you like, then you can find the cheapest Flybird price here.
Caution: these dumbbells are sold as single units. Be sure to add 2 to your basket.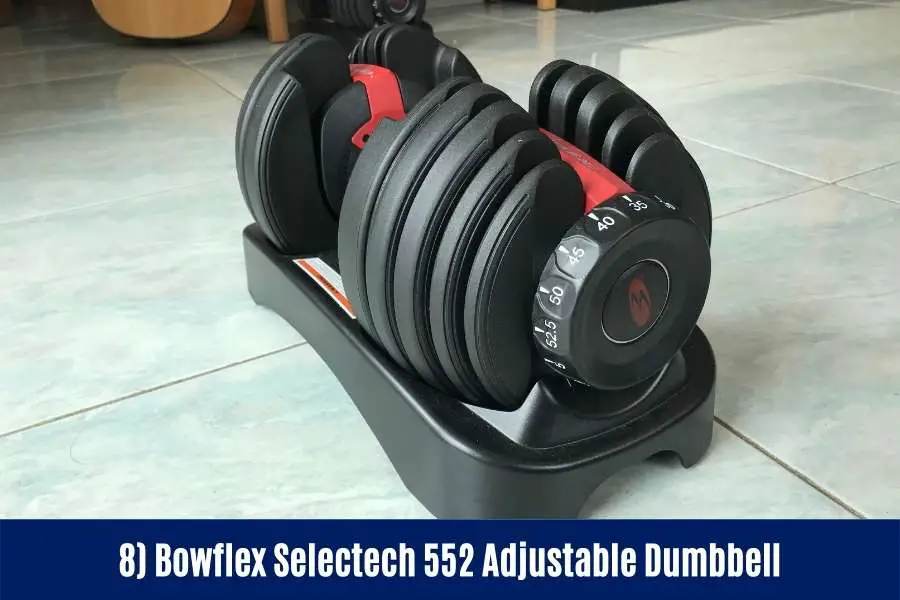 8) Bowflex Selectech 552 Adjustable Dumbbell
I couldn't make a list of the "best dumbbells for guys" without including the Bowflex 552s.
They are one of (if not THE) best-selling selectorized dumbbells on the current market.
The dial-a-weight design paved the way for modern selectorized dumbbells.
Some of the features of the Bowflex 552 that make them some of the best dumbbells for males include:
Great build quality. Having tested over a dozen different selectorized dumbbells, I can honestly say the Bowflex materials are superior to it's competitiors. The urethane and plastic-coated steel feels refined and premium. The paint is powder-coated and does not chip.
50lb max capacity. Not the heaviest adjustable dumbbell out there. But certainly enough for the average beginner male or guy who casually lifts weights. You can use them for big compound movements, isolation lifts, and even dumbbell HIIT workouts
Versatile weight settings. 15 rapid-changing weight settings take the Bowflex 552s from 5lbs to 52.5lbs in 2.5lb and 5lb increments. Great for progressive overload and building muscle as well as fast-paced HIIT workouts. The dial mechansim feels slick and each click gives a satisfying metallic "clink".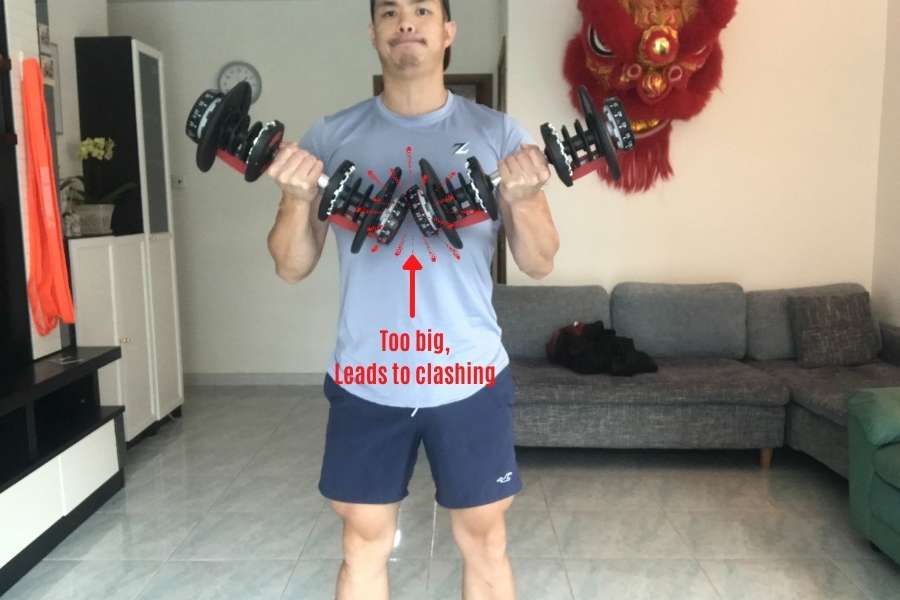 They do feel bulky though. It's not great for bench pressing or bicep curling where they tend to bump into each other.
I still have my Bowflex 552s from over 2 years ago, but prefer to use my Powerblock Elites (see #11 to find out why).
You can find the cheapest Bowflex 552 price here.
Alternatively, check out my other article for 9 of the heaviest adjustable dumbbells you can buy.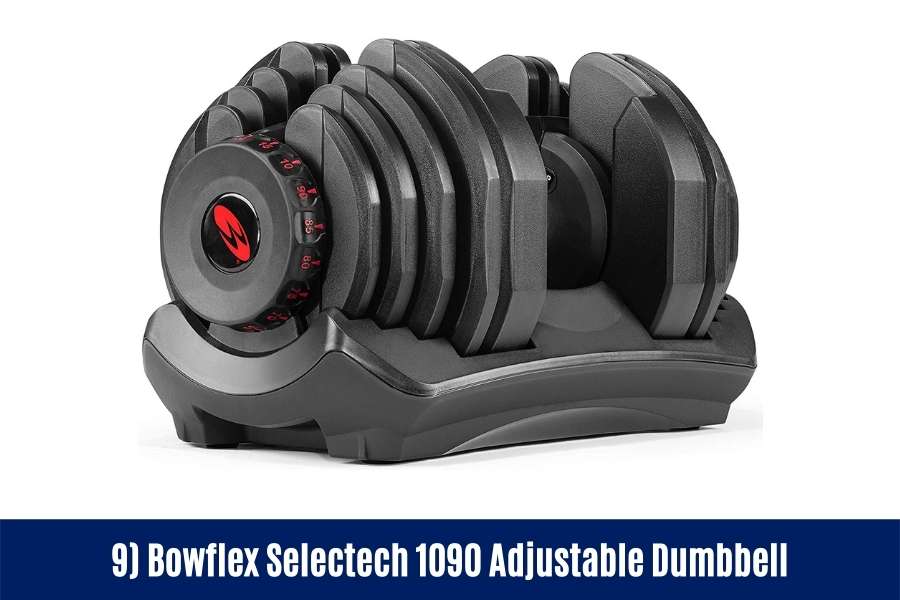 9) Bowflex Selectech 1090 Adjustable Dumbbell
The Bowflex 552s bigger and meaner brother.
This is one of the best selectorized adjustable dumbbells for guys purely based on its gargantuan 90lb maximum weight capacity.
It's designed for the heavy lifter who wants to get ripped at home.
The heavier weight settings work great for the compound lifts, whilst the lighter settings can be used for isolation-type lifts to target the biceps, triceps, shoulders, etc.
I've not personally tested the Bowflex 1090s, but based on my experience with the Bowflex 552s, I'm confident these dumbbells offer great build quality and an excellent weight adjustment mechanism.
Just like its younger brother, however, the Bowflex 1090s are bulky (even bulkier in fact).
Skip to 8:52 to see what I mean when I say these dumbbells are bulky.
I've also heard a few reviews mentioning that the internal plastic locking mechanism is insufficient for its 90lb max capacity.
All in all, this is a good dumbbell for guys who need heavy dumbbells for a relatively small amount of space.
But at this kinda price tag, there are better dumbbells you can get (see next).
Nevertheless, you can find the cheapest Bowflex 1090 price here.
You may also be interested in my other post to find out what dumbbell weight you should use for biceps.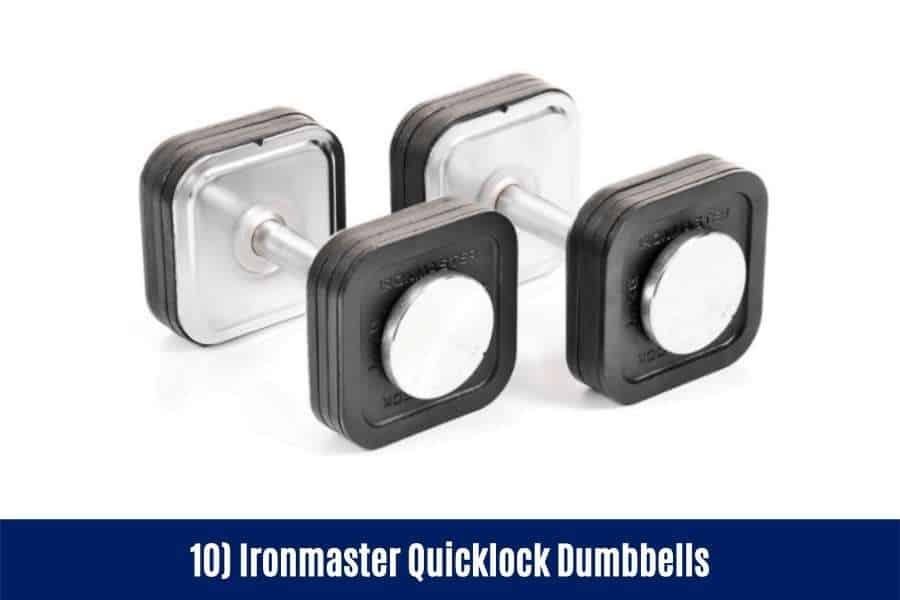 10) Ironmaster Quicklock Dumbbells
The patented Quicklock technology in these Ironmaster dumbbells is a hybrid between a spinlock and selectorized adjustable dumbbell.
As a result, they have the best of both worlds:
Providing extremely heavy weight loads with lots of increments in a compact unit.
Bullet-proof durability.
Check out Valley Fitness' durability tests on the Ironmaster Quicklocks!
Each dumbbell comprises a solid steel handle, machined cast iron weight plates, and a steel screw pin on each side.
Changing the weight plate requires you to unscrew the pin, add/remove the weight plate, and re-screw the pins.
With the addon kits, these dumbbells go to a gargantuan 165lbs (75kg) in 2.5lb (1kg) increments.
The Ironmaster Quicklock dumbbells are ideal for men who:
Are current or aspiring bodybuilders. Males who need to shift as much weight as possible to JACKED from their adjustable dumbbells need look no further. These dumbbells offer the heaviest poundages on the adjustable dumbbell market.
Want to build as much muscle as possible. Guys, you'll need to lift heavy weights to build that bodybuilder physique. The 165lb capacity (with addon kits) is plenty for most men to build serious muscle at home.
Need a a heavy adjustable dumbell that won't break. These have been dropped from rooftop balconys and still survived.
Just be aware of their main drawback- the price tag.
These dumbbells cost a buck load, making them unsuitable for most men.
But if you have the funds available, then these are some of the best heavy dumbbells a man can buy.
You can find the cheapest Ironmaster price here.
Or check out my other post for details on what is considered to be a light, medium, and heavy dumbbell.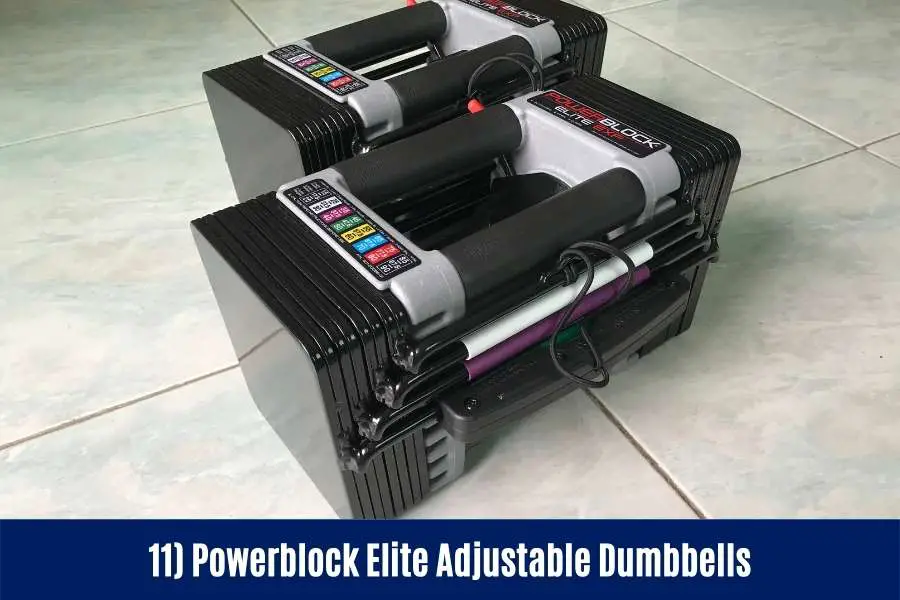 11) Powerblock Elite Selectorized Dumbbell (My Recommendation)
And finally- the best dumbbell for men (in my opinion) and the ones I currently use.
The Powerblock Elites!
Along with Bowflex, Powerblock is the other OG on the modern selectorized adjustable dumbbell scene.
Let's first start with the negatives.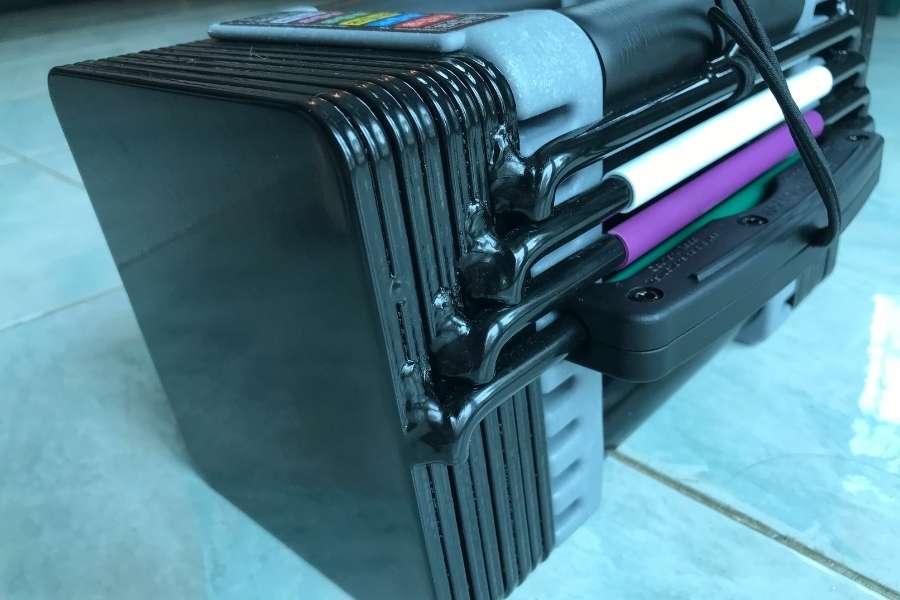 The build quality is nothing to brag about. The paint-coated steel frame feels industrial and lacks the "premium feel" of the urethane/plastic/powder-coated dumbbells on this list. It's not the best but acceptable.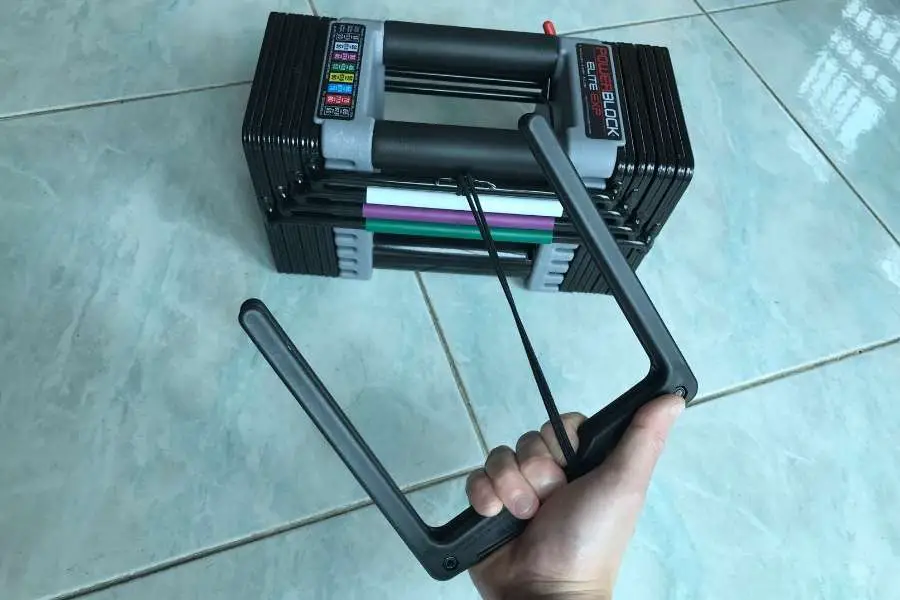 Additionally, the Powerblock pin-selector mechanism whilst quick to use is slightly slower than the dial-a-weight mechanism on the above dumbbells on this list.
It takes around 2-4 seconds to adjust the weight compared to 1-2 seconds on the Bowflex 552s for example.
Now for the positives.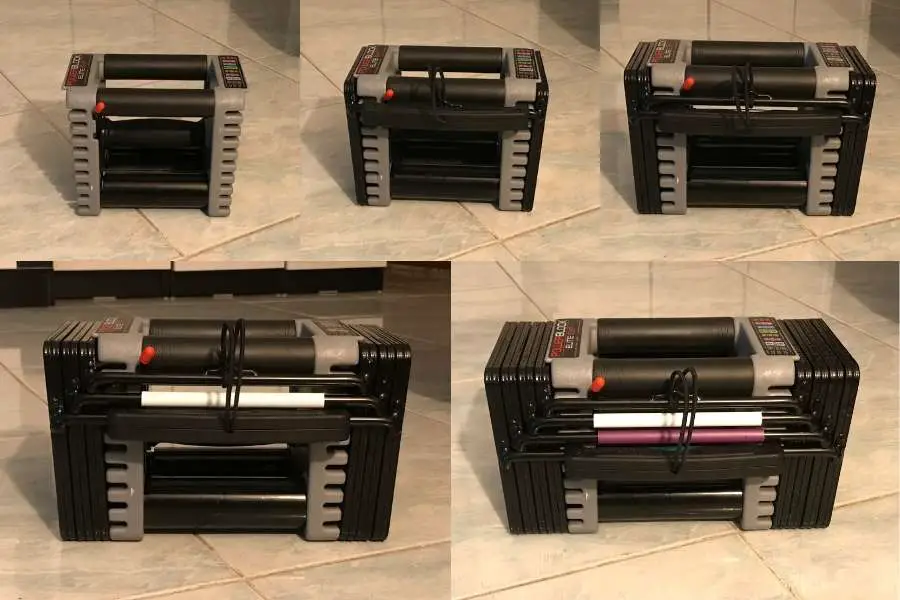 The base model adjusts from 2.5lbs (1kg) to 50lbs (25kg) in 2.5/5lbs increments. But this can be upgraded to 70lbs with the stage 2 addon kit and 90lbs with the stage 3 addon kit.
The Powerblock Elites are ideal for guys who:
Need an affordable dumbbell with plenty of weight settings. 2.5/5lbs weight increments are ideal for progressive overload (adding small amounts of weight every week as you become stronger) and targetting small and large muscle groups alike. Increments this small are also rare and mainly available on the best selectorized dumbbells.
Are beginners

AND

advanced lifters. 50lbs will take beginner males to the intermeidate stages of training. You can then get the addon kits to take them to 70lbs and 90lbs when and if you are ready to upgrade. This gives beginner males great progression flexibility because it means you don't have to splash out on 90lb dumbbells immediately. Do it when you're ready!
Want a selectorized dumbbell that can take knocks. There are minimal moving parts in the Powerblock pin-selector mechanism unlike dial-a-weight mechanisms. I've dropped these numerous times and they've stood strong. You're also backed by the 5-year Poweblock warranty which is the longest on the market (adjustable dumbbells usually come with 1 year max).
And the best thing about the Powerblock Elites?
They are the cheapest premium dumbbell (at the time of writing), but still pack most of the features of their more expensive competitors!
All in a neat and compact unit!
The more expensive Powerblock Pro series features a urethane coating (instead of a simple paint job).
This wasn't a feature that I felt I needed because I keep them indoors, so I felt it was an unnecessary premium to pay to get the Pros.
And I was right.
I've used the Powerblock Elites for over a year now and couldn't be happier with the great value for money they provide!
You can find the cheapest Powerblock Elite price here.
Why I Think The Powerblock Elites Are The Best Dumbbells For Men
The overall versatility is what I love most about these dumbbells.
I can use the light weight settings for small isolation-type moves like the bicep curl.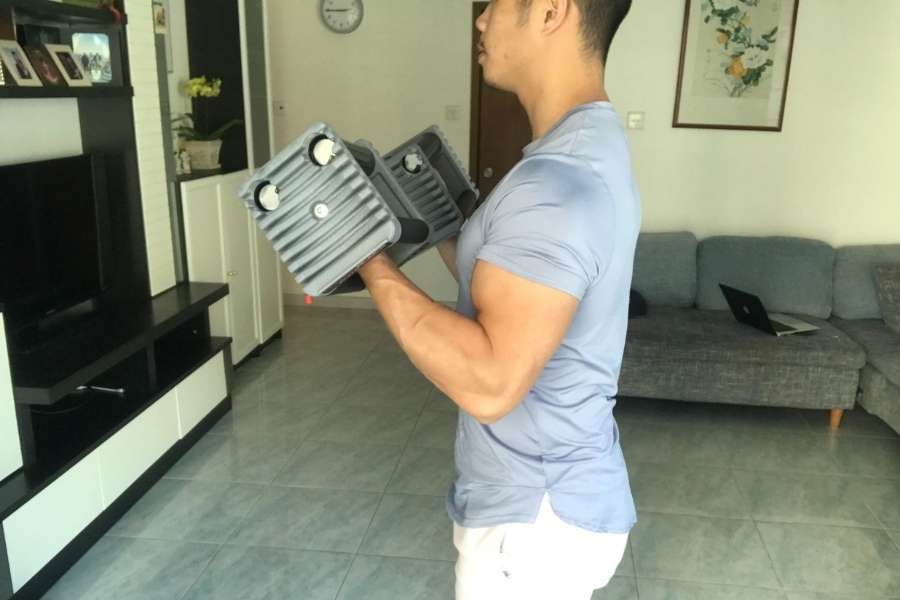 You can go to my other post to find out the 7 best dumbbells for the arms!
I can also quickly switch to the heavier settings for my big compound movements like the bench press.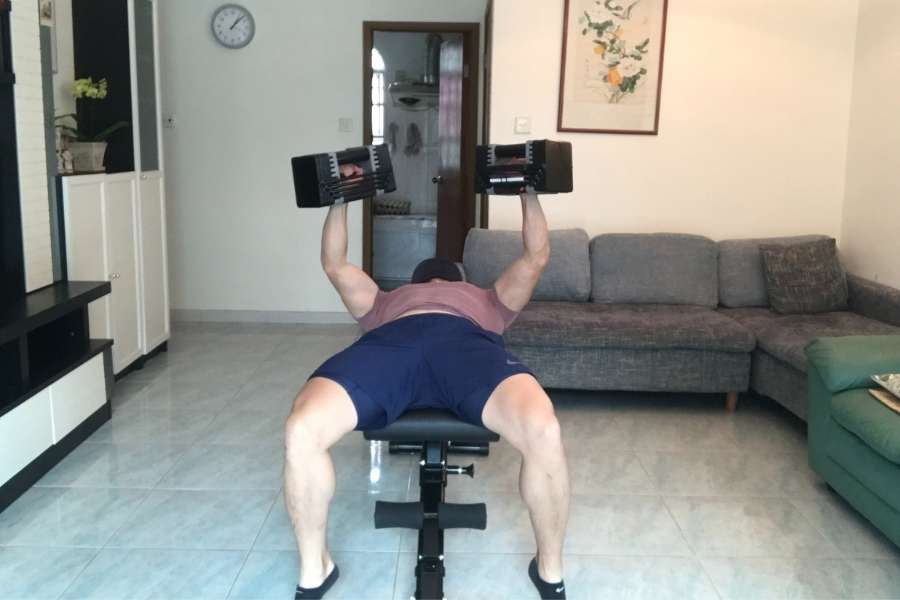 You can go to my other post to find out the 7 best dumbbells for the chest!
And since this dumbbell is so compact, they don't bash into each other as the bulkier competitors do.
The handle is comfortable to hold and the shape doesn't feel as awkward as it looks.
In fact, they feel more natural than their bulkier competitors that look like traditional dumbbells (e.g. the Bowflex 552).
But my absolute favorite feature is the upgrade flexibility that Powerblock offer.
They don't force you to choose between a light or heavy model (e.g. the Bowflex 552 and 1090).
Instead, they give you the OPTION to upgrade whenever you are ready.
This is important because not everyone needs a 90lbs dumbbell to start with. But it's also nice to know that you have the option to upgrade in the future without having to change your dumbbell completely.
The Powerblock Elites may not be the most expensive dumbbell out there, but it sure as hell packs a punch!
You can find the cheapest Powerblock Elite price here.
Recommended Dumbbells For Men Recap
Here's a recap of all the dumbbelsl for men that can be bought on Amazon.
Conclusion
I've shared the 11 best dumbbells for men.
Recommendations have been made based on my own 10-year weight training experience as well as quantitative measures researched from the web.
Each dumbbell has its own list of pros and cons
And you should ultimately choose a dumbbell that you feel matches your needs.
But if I had to recommend a personal favorite, it would definitely be the Powerblock Elites based on its affordability, versatility, weight options, and overall value for money!
Which dumbbell do you guys feel is the best?
Feel free to send me a message if you have any questions! You can find my details on the "contact us" page.
You may also be interested in the downloadable Kalibre Blueprint PDF which details exactly how I gained 40lbs of lean muscle (it's 100% free!). It details the exact exercises and nutrition (with printable worksheets) I used to go from skinny to ripped!
Thanks for reading guys!
Peace Out,
Kal
(Biochemistry BSc, Biomedical Sciences MSc, Ex-Skinny Guy)