Are you a skinny guy looking to bulk up, but would rather stay the "F%*@" away from those mass gainers?! Then keep reading. Because today I will be showing you how to make your own alternative to mass gainer powders.
Homemade alternatives to mass gainer powders require you to blend calorie-dense and high-protein foods into a shake. Ideal foods include oats, peanut butter, fruits, egg white, and plant milk. These ingredients provide your body with the protein, carbohydrates, and fats required for muscle growth.
When I first began my bulking journey 2 years ago, I tried my first weight gainer powder.
I'm not going to name and shame. That's not the purpose of this post.
But I will say this- it was bloody horrible!
It made me bloated and gassy. I was farting like a cow. And the shake itself just tasted downright unhealthy.
That's when I did some research and discovered you can actually make your own weight gainer, relatively hassle-free!
And I would like to share with you my 6 favorite mass gainer alternatives.
Are you ready?
Let's go!
What's In A Mass Gainer?
Fancy packaging and clever marketing aside, there really isn't anything too special about a store-bought mass gainer.
For those who don't know- a mass gainer is a protein shake made for one purpose.
And that's to gain weight (duh!).
They achieve this goal by packing as many calories and protein as possible into a single shake. And when consumed alongside a training program, those nutrients can be expected to fuel muscle growth.
Check out my other article for a step-by-step guide on how to lift weights to build muscle!
Most commercial mass gainers will contain a whopping 1000 to 1200 calories per shake.(1)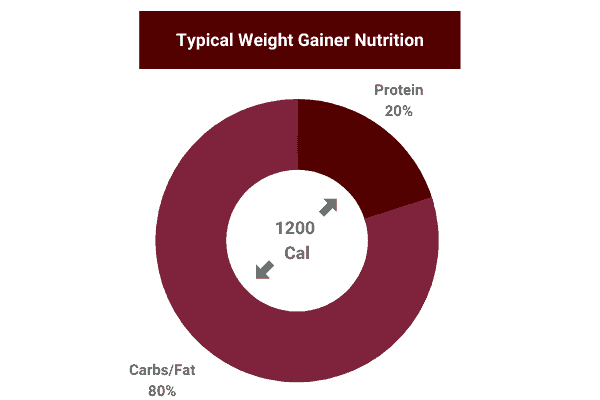 Around 20% of those calories will come from protein. And this equates to around 50g of protein in a 1200 shake.
The remaining 80% of calories will then be made from carbohydrates and/or fats. And this equates to around 150-250g of carbs/fats per 1200cal shake (depending on the ratio of carbs:fat).
As you have probably guessed- making your own mass gainer at home is relatively simple.
You just need a blender and the right ingredients.
The ideal ingredients for a mass gainer will be:
Calorie-dense (high energy, low mass food)(2)
High protein.
Packed with carbs and/or fat.
Here are some examples of popular mass-gaining ingredients.
| Calorie-Dense Ingredients | High-Protein Ingredients | High-Carb Ingredients |
| --- | --- | --- |
| Peanut Butter | Egg Whites | Oats |
| Honey | Whey Protein Powder | Beans |
| Ice Cream | Soy Protein Powder | Fruits |
| Confectionery | Cacao Powder (Coco) | Wheat |
| Fruits | Nuts And Seeds | |
| | Beans | |
Example Ingredients For Homemade Mass Gainers
As you can see- most of these ingredients are cheap and readily available at any grocery store!
Summary
Mass gainer shakes are a calorie-dense and high-protein supplement to your daily diet. They contain around 1200 calories and up to 50g of protein or more. These nutrients will supply the energy required for muscle growth when combined with a workout program.
Not sure how to train? You can check out my other post to find my home workout routine for skinny guys to gain muscle with and without equipment!
How To Make Your Own Mass Gainer
Making your own mass gainer is easy. And there are many reasons why you should make your own rather than buy from the shops.
Here are 4 advantages of making your own mass gainer shake.
Making a mass gainer is cheap.
Convenient and easy to consume.
Clean ingredients.
Quick digesting calories.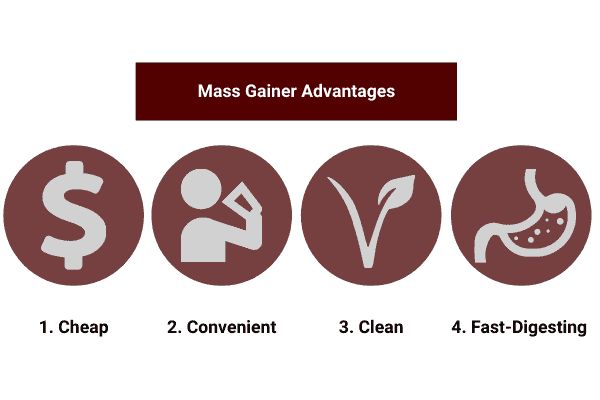 First of all, making a mass gainer is relatively cheap.
Where a bag of Optimum Nutrition Serious Mass Weight Gainer will cost you $3 per serving, you can make your own for $2-4 per serving.
Whilst making your own weight gainer is usually slightly more expensive than most store-bought powders (depending on what ingredients you use), it is still cheaper than cooking most types of high-protein meals.
Secondly, making your own mass gainer is convenient.
All you have to do is put all the ingredients into a blender and blitz it! Then you can consume it immediately or put it into a flask for a quick meal on the go.
Thirdly, homemade mass gainers can be a much cleaner way to bulk than using gainer powders.
That's because manufacturers often add a lot of sugars and fats into their blends to make up the calories. Additives are also often added to preserve freshness.(3)
In comparison, making your own shake with fresh whole foods is a much healthier way to gain muscle!
Finally, mass gainer shakes are quick digesting.
Your body will digest liquid calories (as in shakes) much quicker than it will digest a meal with a similar calorie count. This makes it ideal for guys who struggle to fit multiple meals into their daily routines.
Summary
Consuming a homemade mass gainer comes with 4 major benefits. First, you will save money by making a shake from cheap ingredients. Secondly, you will save time by reducing the need to cook your meals. Thirdly, you will gain lean muscle by using clean whole foods. And finally, you will find it easier to consume more calories when they are in liquid form.
6 Homemade Alternatives To Mass Gainer Powders
Now you know what a mass gainer is. And you also have an idea about which ingredients to include in your shake.
So here are 6 of my favorite mass gainer recipes for you to try for yourself!
1. Almond Nut Shake (858 Calories / 42g Protein)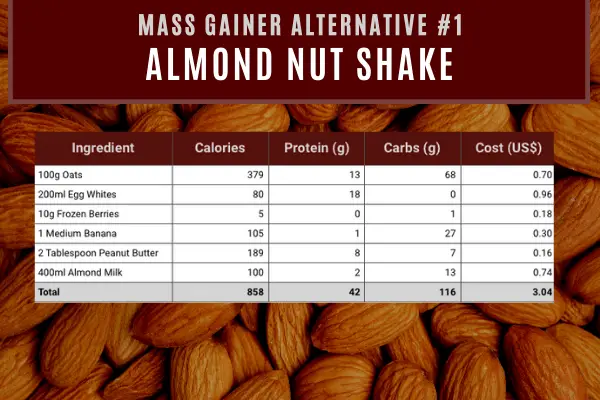 This mass gainer alternative contains 858 calories with 42 grams of protein. And comes in at around $3.04 per shake.
The almond nut shake is a solid all-around mass gainer with a good amount of protein and carbs.
Additionally, egg whites will provide a good source of animal protein.
This is important for a complete amino acid profile since plant proteins generally lack certain amino acids such as lysine.(4)
Don't worry about the egg white. You won't be able to taste or feel the texture once it has been blended with milk, fruits, and oats.
But if you insist on refraining from using egg white, you can substitute it with 100g of almond nuts. This will provide a similar amount of protein. However, using almonds will also bump up the price.
Top tip: always blitz the dry ingredients (oats and nuts) first to form a powder. This will prevent big lumps from being formed in your shake.
You can check out my other article to find out how long you should bulk for!
2. Honey Nut Shake (1060 Calories / 38.5g Protein)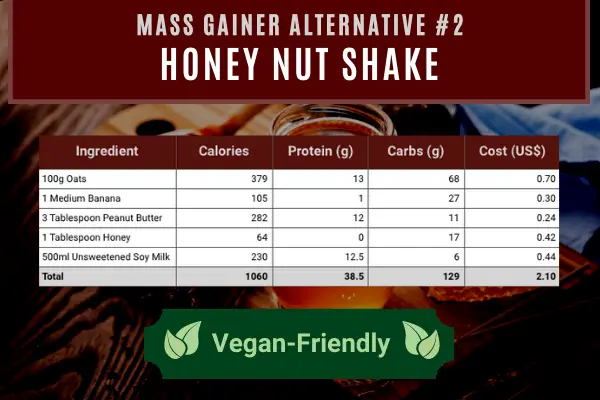 This mass gainer alternative contains 1060 calories with 38.5g of protein. And comes in at a more modest $2.10 per shake.
The honey nut shake is a good choice if you prefer your shakes to be a bit heavier on carbs and fat. This will help skinny guys bulk up fast.
This shake is perfect for those with a sweet tooth. The banana, peanut butter, and honey will combine into a tasty smoothie!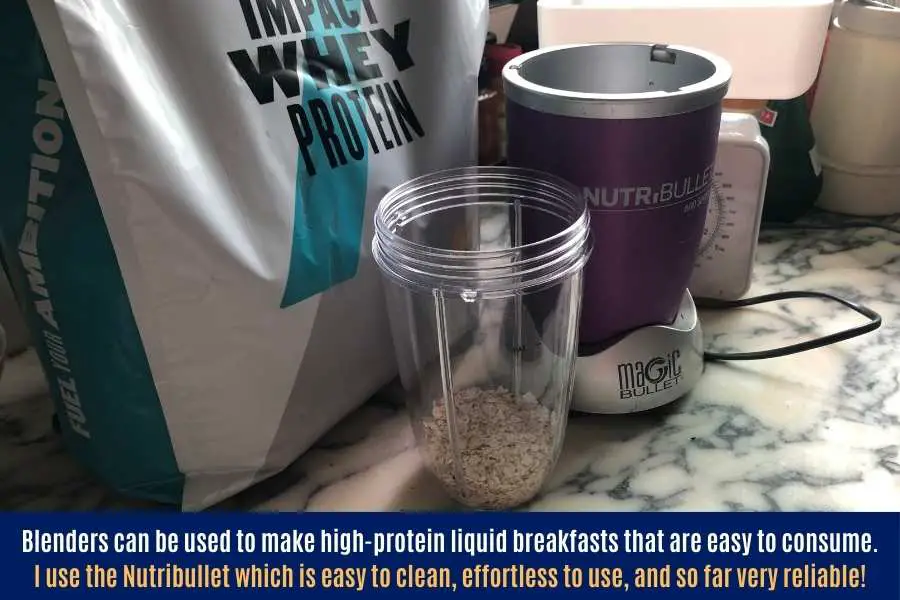 If you prefer, you can also substitute the banana for banana-flavored whey protein. And this will boost protein levels.
It will also cut down on the sugar content, which may be preferred by some people.
You may also be interested in my article to find out why bananas are great for skinny guys on a bulk.
3. Tropical Punch Shake (1473 Calories / 46g Protein)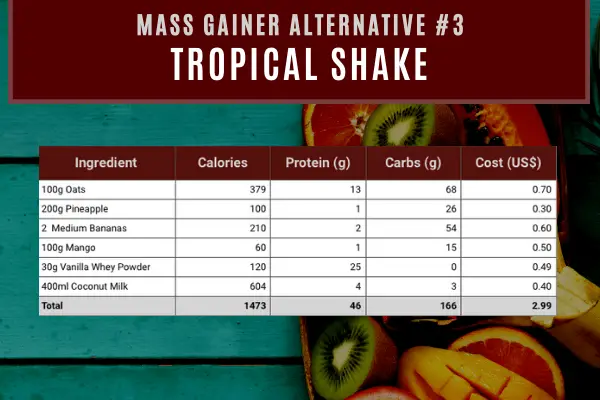 This mass gainer alternative contains a massive 1473 calories and 46 grams of protein. And costs around $2.99 per shake.
This is another one for those of you with a sweet tooth!
The tropical fruits, coconut milk, and vanilla whey come together beautifully to form a fragrant and creamy shake.
Nutrition-wise it also packs a punch (get it?!).
Most of the calories come from the fat in coconut milk. And it's a surefire way to help the skinniest of guys to gain weight.
But if you prefer not to consume so much fat, you can always substitute coconut milk with coconut water or even soy milk.
You might also be interested in my other post for a guide to gaining your first 10lbs of muscle here.
4. Green Leaf Shake (889 Calories / 53.5g Protein)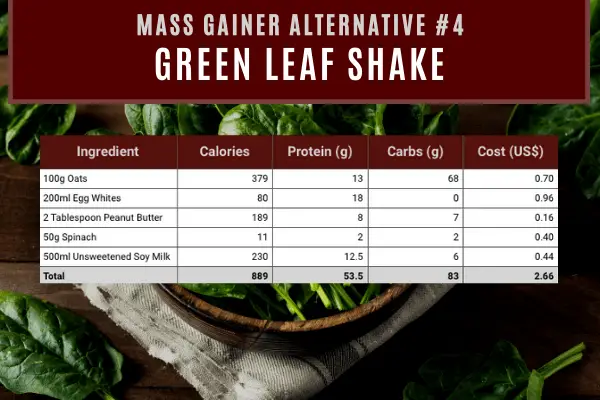 This mass gainer alternative contains 889 calories with 53.5 grams of protein. And comes in at around $2.66 per shake.
This is one of the "cleaner" shakes on this list.
Most of the calories come from protein and complex carbs, with minimal fats and sugars. And this will be suitable for guys looking to make lean muscle gains.
Additionally, the mixture of plant and animal protein will also provide a complete amino acid profile.
Furthermore, spinach will provide a hit of important minerals and vitamins. And it's also a convenient way to eat one of your recommended 5 a day fruit and veg.(5)
Spinach also contains a compound called ecdysteroids, which have been shown to facilitate muscle growth.(6)
Nutritionally, this shake is a clean and powerful mass gainer.
But it can taste a bit bland.
So you may want to consider adding some fresh fruit to liven it up!
Not sure whether you should bulk or cut first? Check out my other article here!
5. Choco Banana Shake (995 Calories / 25g Protein)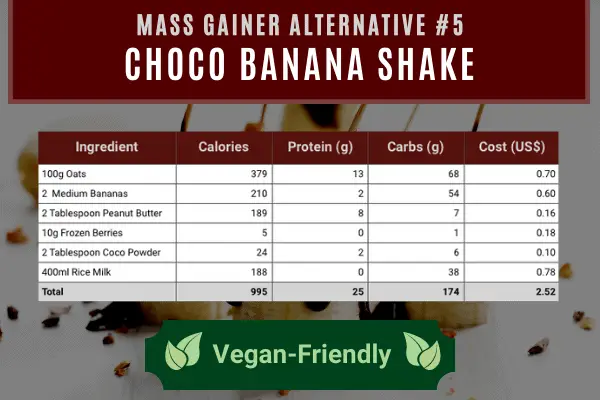 This mass gainer alternative contains 995 calories and 25 grams of protein. And will set you back around $2.52 per shake.
This is a delicious mass gainer for vegans (many of who often find it hard to hit protein targets).
Who doesn't like chocolate and banana?!
Nutritionally, this shakes is extremely carb-heavy. Additionally, the carbs are split evenly between complex and simple carbs.
This makes it great for a pre-workout meal replacement- the simple carbs will provide a ready source of explosive energy, whilst the complex carbs will maintain energy in a more controlled manner.(7)
If you prefer to add more protein, you could also add a 30g scoop of vegan protein powder!
You may also be interested in my other post for a 140g of protein per day meal plan.
6. Lima Bean Shake (467 Calories / 38g Protein)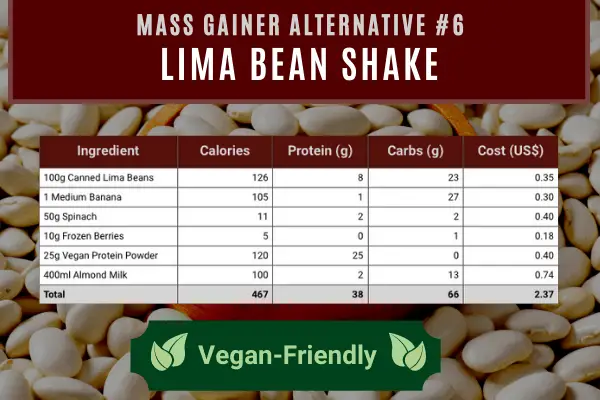 This mass gainer alternative contains 467 calories with 38 grams of vegan protein. And will cost around $2.37.
This is an awesome shake if you prefer to limit the amount of sugar in your diet.
Also, the banana and frozen berries combine with the almond milk to give a subtle but moreish flavor.
You may find it strange to add lima beans to a shake. But you can't really taste them when it's all blended together.
Additionally, lima beans are a vegan powerhouse for building muscle! They are also relatively cheap.
Although this shake is high in protein, it is relatively low in carbs.
This makes it most suitable as a post-workout supplement (consume something with more carbs for your pre-workout!).
Alternatively, you can add 50-100g of oats to bump up the carbs. And this will give you the energy to work out hard!
Looking For A Cheap And Healthy Mass Gainer?
Whilst there's no denying that a homemade mass gainer is much better for most people's digestive system, you can't beat the convenience and low price of powders.
Not all of them are expensive or packed with adulterated crap.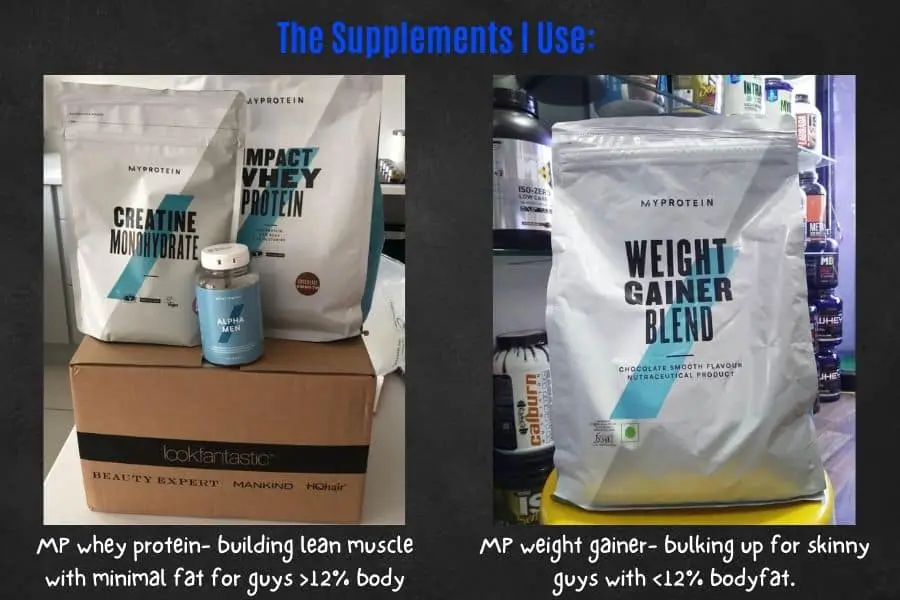 Having tried 5 of the most popular brands, I found the MyProtein Weight Gainer to be the best.
It's clean, lean, and cheap.
Each serving contains 27g of protein and 365 calories without too much sugar and fats.
For me, it goes down nicely without affecting my digestive tract or making me gassy like a lot of the others.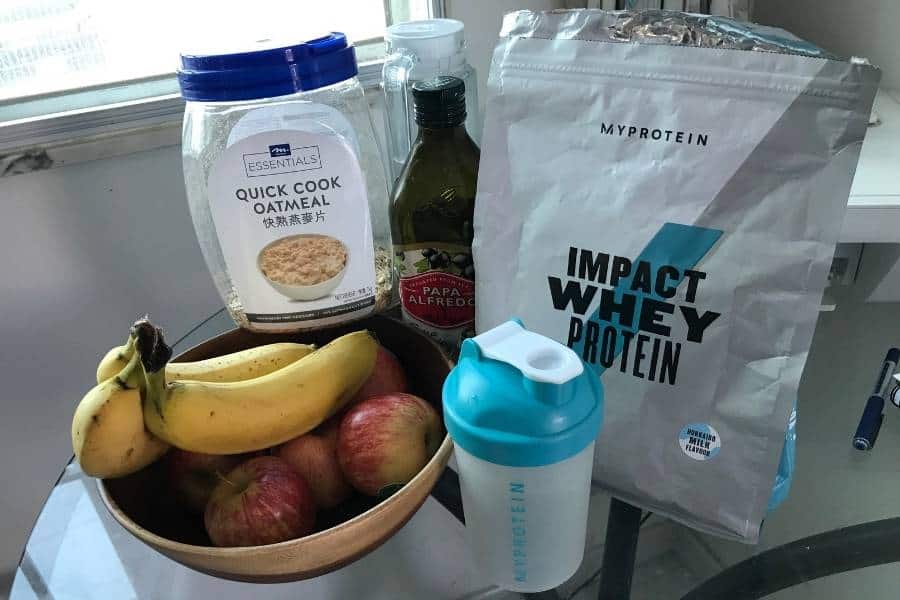 Nowadays, I use the MyProtein Impact Whey to make a homemade weight gainer.
The Impact Whey is much leaner than the Weight Gainer blend.
Each serving contains 21g of protein and just 100 calories.
I use it to provide cheap protein to my shakes and use oats and fruits to supply healthy carbs and nutrients.
Result?
A homemade mass gainer shake that's clean, cheap, and packed with healthy nutrients.
Conclusion
That's it!
Today I have taught you how to make your own alternative to mass gainer powders bought from the shops.
It's relatively hassle-free and easy to do. All you need is a blender and nutrient-dense foods.
Ideal ingredients for homemade weight gainers include oats, peanut butter, fruits, egg white, and plant milk. These are either high in calories, high in protein, or both!
If you are struggling with ideas, I would always recommend considering adding a scoop protein powder (whey or plant) to your shake.
The tubs may seem expensive, but most average around $0.50 a scoop (very cheap!). Additionally, whey and plant protein powders are much "cleaner" than mass gainers.
What ingredients do you use in your homemade mass gainer?
Please let me know in the comments below! It would be awesome to share ideas!
Alternatively, signup to the Kalibre Newsletter for weekly posts!
[mc4wp_form id="372″]
Thanks for reading guys!
Peace Out,
Kal
(Biochemistry BSc, Biomedical Sciences MSc, Ex-Skinny Guy)